General Joseph Souham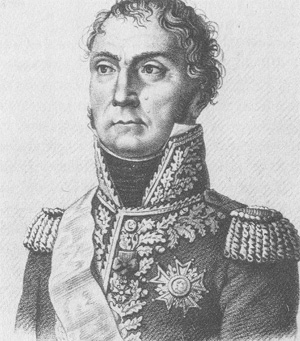 Général de division who was disgraced alongside General Moreau but later redeemed himself in Spain
---
Born: April 30, 1760

Place of Birth: Lubersac, Corrèze, France

Legion of Honor: Grand Cross

Imperial Nobility: Count

Died: April 28, 1837

Place of Death: Lubersac, France

Arc de Triomphe: SOUHAM on the north pillar
Joseph Souham began his military career by enlisting in the King's Regiment of Cuirassiers in 1782. While he did not advance for several years, when the Revolution got underway he was elected a lieutenant colonel in the 2nd Battalion of Volunteers of Corrèze in 1792. Less than a year later he was promoted to général de brigade and employed in the Army of the North. In August of 1793 he became commander at Dunkirk, and the next month he was promoted to général de division. That October he was sent to the Sambre and took command of the camp of Madeleine before taking Menin.
In 1794 General Souham took command of the 1st Division of the Army of the North and seized Courtrai before winning at Mouscron. The next month he fought at Courtrai, Tourcoing, and Pont-à-Chin. That June Souham covered the siege of Ypres and defeated Clerfayt at Deynze. In July he assumed command of the 3rd Division but then in September he was arrested by order of the representatives of the people. He was released shortly afterwards and took command of the 1st Division and began to direct the siege of Nimègue before quitting his command in mid November.
May of 1795 saw Souham retaking command of the 1st Division of the Army of the North. In 1796 he commanded the 3rd Division in Zealand and then the 24th military division at Brussels. Souham's next major command came in 1798 when he commanded a division of the Army of Mainz. In 1799 he commanded the 5th Division of the Army of the Danube and fought at Stockach in March. Souham continued to command a division until he joined the Army of the Rhine in December and then commanded the 1st Division there, fighting at Erbach in May of 1800.
Souham was suspected of having royalist sympathies and was put on non-activity in 1801. He was then placed with a military division, but after Moreau's arrest in 1804 he was also arrested due to his close association with Moreau. He was conducted to the prison of l'Abbaye in Paris and held for 40 days before being released. Despite his release, he was not given a command in the army.
Souham waited three years before he was employed by the French army again. In 1807 he was sent to Italy to command a French division there, and then in 1808 he traveled to Catalonia to command the 2nd Division of Gouvion St. Cyr's corps. That December he fought at Cardeheu and Molins del Rey. The next year Souham fought at Valls, seized Réus, served at the siege of Girona, and won at Santa-Coloma and Besalù. In 1810 he occupied Vich and defeated O'Donnell but was wounded by a shot to the left forehead, forcing him to return to France to recover. He was then rewarded as a Count of the Empire. After recovering, in November he went to the Army of Italy, and then in March of 1811 he joined the Army of Germany. Five months later he and his division joined the Army of the North of Spain.
Back in the Peninsula, General Souham commanded a division but was on leave in France during the Battle of Salamanca. After he returned, he temporarily assumed command of the Army of the Portugal in October due to Marshal Marmont's injuries. He won at Villa Muriel and took Valladolid, but then was relieved of his command and returned to France in November.
During the campaigns of 1813, Souham led the 8th Division of Ney's III Corps. At this time he was also awarded the Grand Cross of the Order of the Reunion. In April he seized Weimar and won at Weissenfels and then in May he fought at Rippach, was wounded at Lutzen, and went on to fight at Bautzen. That August he took command of III Corps and fought at Katzbach, and then in October he fought at Leipzig where he was wounded in the head by a shell explosion.
Souham finally returned to command in March of 1814 when he took command of a division defending Paris. After Napoleon's abdication, the Bourbons made him a Knight of Saint-Louis. When Napoleon escaped from Elba during the Hundred Days, Souham did not rejoin him.

Bibliography
Six, Georges. Dictionnaire Biographique des Généraux & Amiraux Français de la Révolution et de l'Empire (1792-1814). Paris: Gaston Saffroy, 2003.
Updated prior to 2014
© Nathan D. Jensen