General Jacques-Bernard-Modeste d'Anselme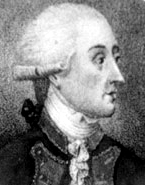 Army commander during the Revolution who seized Nice
---
Born: July 22, 1740

Place of Birth: Apt, Vaucluse, France

Died: September 17, 1814

Place of Death: Paris, France

Arc de Triomphe: ANSELME on the south pillar
Pronunciation:
The son of a captain in the army, Jacques-Bernard-Modeste d'Anselme decided to follow in his father's footsteps and join the army. His first major action came during the Seven Years War when he fought at Minorca in 1756. Four years later Anselme was promoted to capitaine and sent to Germany where he remained for the rest of the war. In 1770 he was made a Knight of Saint Louis and in 1777 he was promoted to lieutenant colonel in the regiment of Soissonnais. Anselme next went on to take part in the campaigns of the American Revolutionary War before returning to France, and he was finally promoted to maréchal de camp in 1788.
After the arrival of the French Revolution, General Anselme was made an aide-de-camp to General Rochambeau in 1791. The next year he was sent to the Army of the South and promoted to lieutenant general. While there Anselme seized Nice and then was named commander of the army at Nice which was unofficially referred to as the Army of the Var.
In December of 1792 Anselme was summoned to Paris and then relieved of his command, having been accused of supporting the pillaging and looting of Nice. He was forced into retirement but briefly served as an inspector of troops from 1798 to 1801.

Bibliography
Updated June 2014
© Nathan D. Jensen