Louis Bonaparte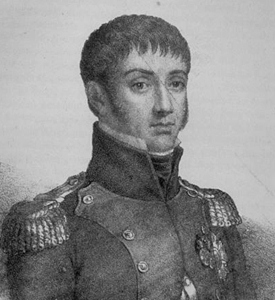 Younger brother of Napoleon who served as Napoleon's aide-de-camp and served as King of Holland from 1806 to 1810
---
Born: September 5, 1778

Place of Birth: Ajaccio, Corsica, France

Died: July 25, 1846

Place of Death: Livorno, Italy

Arc de Triomphe: L

S

BONAPARTE on the south pillar
Pronunciation:
Also joining the artillery like his older brother Napoleon, Louis Bonaparte was placed with the 4th Foot Artillery in 1794. He served at the affairs of Oneille and the expedition of Dego and then in August of 1796 he was named an aide-de-camp to his brother and given the rank of capitaine. Serving as an aide to Napoleon, Louis was present at the battles of Caldiero, Arcola , Rivoli , and the Siege of Mantua . He continued in this role on the expedition to Egypt, serving at Malta and then Alexandria. Napoleon then sent Louis back to France to present the captured flags to the Directory. In 1799 Louis joined the 5th Dragoons and he was promoted to chef d'escadrons. The following year he was promoted to chef de brigade of the same regiment.
In January of 1802 Louis married Hortense de Beauharnais, Napoleon's stepdaughter. An unhappy match, they married due to encouragement from Napoleon and Josephine in a misguided attempt to bring the Bonaparte family and Beauharnais family closer together. In 1803 Louis was promoted to général de brigade and the next year he was promoted to général de division and named a Constable of the Empire.
In 1806 Napoleon appointed Louis King of Holland and gave him command of French troops stationed in Holland. As a king Louis put Dutch interests ahead of French interests and he refused to fully implement the Continental System, Napoleon's attempted economic blockade of Great Britain. After quarreling with Napoleon over Dutch policies, he resigned as king in July of 1810 and then went to live in Germany, France, Switzerland, and finally Italy. Louis' son Charles Louis Napoleon, born in 1808, would go on to become Napoleon III in 1852.

Bibliography
Updated October 2021
© Nathan D. Jensen