General Luc-Siméon-Auguste Dagobert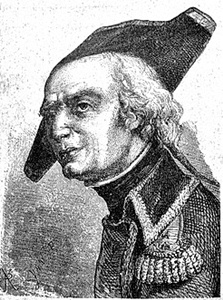 Général de division who distinguished himself in the Army of the Eastern Pyrenees
---
Born: March 8, 1736

Place of Birth: Chapelle-en-Juger, Manche, France

Died: April 18, 1794

Cause of Death: Illness

Place of Death: Puigcerdà, Spain

Arc de Triomphe: DAGOBERT on the west pillar
Pronunciation:
Coming from a noble family, Luc-Siméon-Auguste Dagobert was a career soldier, initially being commissioned as a lieutenant in the infantry regiment of Tournaisis in 1756. He served during the Seven Years War in Germany, receiving numerous wounds. The first wound came in July of 1759 when he took a shot to the cheek at Minden, while the next came less than two months later with a wound to the left hand at Ober-Weimar. Dagobert went on to fight at Wetzlar later that year where he was wounded in the shoulder, and then in 1760 he fought at Wesele where he was wounded by two shots, one of which hit his right foot.
Long after the conclusion of that war, in 1768 Dagobert received a promotion to capitaine. That year he was also sent to Corsica to serve during the campaigns there. Promotions came slowly for him, in 1781 he was named a Knight of Saint Louis and then in 1787 almost twenty years after his last promotion he was appointed a major.
With the arrival of the Revolution, Dagobert's star began to rise more rapidly. In 1791 he was appointed a lieutenant colonel, and then in May of 1792 he was promoted to colonel of the 51st Infantry. That September Dagobert received another promotion, this time to maréchal de camp, and then in October he was given command of the advance guard of the Army of the Var. The next month he won at the pass of Broons. Continuing to lead the advance guard, Dagobert won at Sospello and Negro in February of 1793.
After a brief stint with the Army of Italy, General Dagobert joined up with the Army of the Eastern Pyrenees where he was placed in command of the advance guard and promoted to général de division. Dagobert brought his forces to the Battle of Mas d'Eu to support General de Flers where they were defeated, but nevertheless he took part in the defense of Perpignan that followed. That August he led his men in seizing the Spanish camp of Montlouis and then won at the pass of Perche, entering Puycerda afterwards. In September Dagobert won at Olette and he was then named commander-in-chief of the Army of the Eastern Pyrenees. After being defeated near Perpignan, he resigned his command and resumed command of a division at Montlouis.
Dagobert continued to fight though, seizing Campredon in October of 1793 before being forced to later evacuate it. Later that month he drove the Spanish out of Monteilla and Martinet and then attacked Céret. However, by this time he had come under suspicion, and he was relieved of command by the representatives of the people. Sent to Paris, he justified his actions before the Committee of Public Safety and was vindicated. Dagobert then returned to command a division in the Army of the Eastern Pyrenees in March of 1794. That April, he won at Belver and took Urgel before falling ill and ultimately succumbing to illness. Having little to no money at the time of his death, Dagobert's men had to take up a collection to raise funds for a fitting funeral for their general.1
Notes
Bibliography
Related Pages:
Updated October 2015
© Nathan D. Jensen