General Jacques-Coquille Dugommier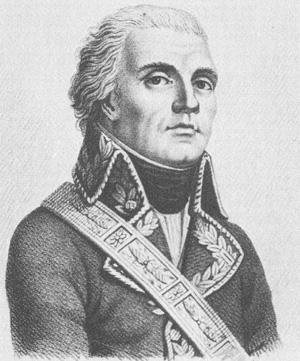 Army commander during the Revolution who took Toulon and was later killed at Montagne Noire
---
Born: August 1, 1738

Place of Birth: Basse-Terre, Guadeloupe, France

Died: November 17, 1794

Cause of Death: Killed in action

Place of Death: Montagne Noire, France

Arc de Triomphe: DUGOMMIER on the west pillar
Pronunciation:
Dugommier was a general of the French Revolution who had previous military experience during the Seven Years War. He initially joined the military in 1753 when he entered a company of gentlemen cadets of the colonies at Rochefort. After serving with the naval batteries of La Rochelle and the Isle of Rhé, he trained a company of infantry recruits and then took them to Martinique in 1758. In 1759 he helped defend Guadeloupe from the British, and then he returned to France.
A few years later Dugommier returned to Guadeloupe where he remained for some time. In 1778 he raised and equipped a unit of fifty volunteers and then took them on d'Estaing's expedition to take Saint Lucia. The attack ultimately failed but Dugommier distinguished himself and was recognized as a Knight of Saint Louis. Two years later he left the military service.
In 1789, as the Revolution was getting underway in France, back in Guadeloupe Dugommier was selected as a member of the National Assembly convening locally. In 1790 he traveled to Martinique to help the inhabitants of Saint Pierre who were revolting against the local garrison. After reestablishing the peace, he set out to return to Guadeloupe with the governor and 300 volunteers, but they were defeated and pushed back.
In 1791 Dugommier was sent to Paris as the representative of the Windward Isles to meet with the Legislative Assembly. The next year he asked to return to military service, and this request was granted. Initially he joined the Army of Italy in 1793 and defeated the Austrian and Sardinian forces at Gilette and Utelle that October. The next month he was named général de division and placed in charge of the army to retake Toulon. Leading from the front, Dugommier was wounded by two blows to the right arm and shoulder while repulsing a sortie. Following the intelligent advice of his artillery commander Captain Bonaparte, his forces took the city before long.
In the meantime Dugommier was made the first of four representatives of Martinique in the National Convention. His next assignment was as commander-in-chief of the Army of the Eastern Pyrenees which he assumed command of in January of 1794. Much more capable than his predecessors, in April Dugommier defeated the Spanish general La Union at Monts Albères and a few days later his men took the camp at Boulou. In late May he was wounded in the night attack on the Fort Saint-Elme but his forces successfully took Collioure. That August Dugommier was again victorious, this time at Saint-Laurent de la Mouga, and then in September his men took Fort Bellegarde. In November, as the Battle of Montage Noire was just about to get underway, an artillery shell landed next to him as he ate breakfast, killing him.1
Notes
Bibliography
Updated May 2014
© Nathan D. Jensen