General Charles Malo François de Lameth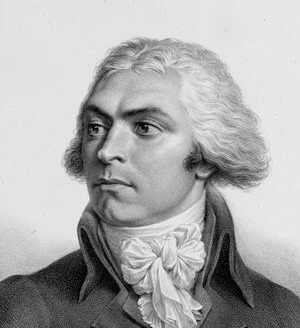 Noble who emigrated during the French Revolution and returned after Napoleon's amnesty and served in Spain from 1810-1814
---
Born: October 6, 1757

Place of Birth: Paris, Paris, France

Died: December 28, 1832

Place of Death: Paris, France

Arc de Triomphe: LAMETH, CH. on the south pillar
Pronunciation:
The son of a general and nephew of Marshal de Broglie, Charles Malo François de Lameth was commissioned as a sous-lieutenant in 1774. In 1777 he was promoted to capitaine and in 1780 he served as part of Rochambeau's forces in the American Revolutionary War. Lameth served at Yorktown in 1781 where he was wounded by two shots. After returning to France, in 1782 he was promoted to mestre de camp.
In 1789 Lameth was elected a deputy of the nobles of Artois to the Estates General. That December he became secretary of the Assembly and then in July of 1791 he served as president of the Assembly. Lameth was promoted to maréchal de camp in February of 1792 and three months later he began serving with the cavalry of the Army of the North. In August he quit the army and signed a protest against the insurrection of August 10th that happened in Paris where revolutionaries stormed the Tuileries Palace. Arrested less than a week later, Lameth was then released at the end of September and he decided to emigrate. He first traveled to England before settling in Hamburg where he founded a business with his brothers and the Duke of Aiguillon.
After Napoleon came to power and issued an amnesty for émigrés, Lameth returned to France. Reintegrated into the army as a général de brigade, many years passed before he held an active military command again. In 1809 Lameth took command of a brigade in the reserve and then in August he was named commander at Wurzburg. The next year he was called to Strasbourg to await new orders and he was then sent to Spain. Named commander of Santona in 1812, he held the city until March of 1814 when he finally surrendered.
Lameth was named a lieutenant general in August of 1814 and he retired from the army in 1819. In 1829 he became a deputy of Seine-et-Oise after his brother died, filling his brother's seat. Lameth sat on the left and in 1830 he signed the Address of the 221. He was re-elected later that year and sat in the center but in 1831 he was not re-elected.

Bibliography
Updated October 2020
© Nathan D. Jensen