Marshal Nicolas Luckner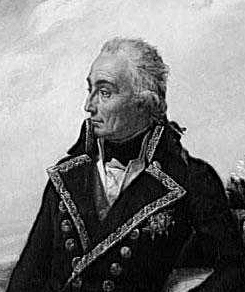 Marshal of France during the Revolution who was executed during the Reign of Terror
---
Born: January 12, 1722

Place of Birth: Camb, Germany

Died: January 4, 1794

Cause of Death: Executed

Place of Death: Paris, France

Arc de Triomphe: LUCKNER on the north pillar
Pronunciation:
A career soldier originally from Germany, Nicolas Luckner began his military career at age 15 when he joined the Morawitzky Regiment in the service of Bavaria. Sent to Hungary, he fought against the Turks until 1739 and then in 1741 he was promoted to sous-lieutenant. Two years later Luckner was promoted to lieutenant in the Ferrari Hussars, and two years after that he and his regiment passed into Dutch service. In 1757 Luckner went into the service of Hanover for the remainder of the Seven Years War, and by 1761 he had risen to the rank of lieutenant general. In 1763 General Luckner left Hanover's service and entered into the service of France as a lieutenant general. In 1778 he became a baron, and in 1784 he became a count.
After the arrival of the Revolution, General Luckner was initially posted to the 7th and 8th military divisions in 1791. When the king and royal family attempted to flee the country but were caught at Varennes, Luckner sent the National Assembly an oath of fidelity. That December he was named commander-in-chief of the Army of the Rhine and promoted to Marshal of France. The following March Luckner was awarded the Grand Cross of Saint Louis and then in May he was sent to command the Army of the North. Luckner went on the offensive, invading Belgium and successfully taking Menin and Courtrai before before forced to fall back towards Lille.
That summer Marshal Luckner met with Lafayette and then they both traveled to Paris to attempt to support a constitutional monarchy. Lafeyette fled France that August, which began to cast suspicion on Luckner. On September 1st Luckner was named commander of the Army of the Reserve, but three weeks later he was forced to return to Paris to justify and defend his actions. Finding the Revolutionaries unreceptive, Luckner retired to private life and went to reside in Metz. It did not take long for the Reign of Terror to come after him, and he was arrested for treason and transported to Paris. Luckner was tried by a revolutionary tribunal and executed on January 4th of 1794.

Bibliography
Updated May 2014
© Nathan D. Jensen