General Anne Pierre de Montesquiou-Fezensac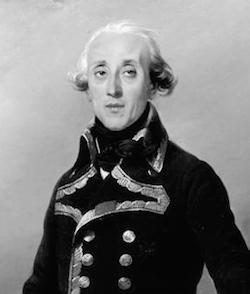 Representative of the nobility to the Estates General who later became an army commander
---
Born: October 17, 1739

Place of Birth: Paris, Paris, France

Died: December 30, 1798

Place of Death: Paris, France

Arc de Triomphe: MONTESQUIOU on the south pillar
Of the old nobility, Anne-Pierre de Montesquiou Fezensac first joined the army in 1754. Three years later he was promoted to capitaine and then in 1758 he was appointed colonel of the Grenadiers of France. In 1761 Montesquiou became colonel of the Royal Regiment of Vaisseaux and then in 1763 he was named a Knight of Saint Louis. He continued to make use of the privilege of his birth, becoming the equerry of the Count of Provence in 1771 and then being promoted to maréchal de camp in 1780. In 1784 Montesquiou was inducted into the Académie Française.
With the arrival of the financial crisis of 1789, Montesquiou was elected the tenth of ten deputies of the nobility of Paris to the Estates General. He was one of the first members of the nobility who went to the Third Estate and joined them that summer. Acknowledged as an expert on the economy, Montesquiou submitted reports on ways to revive the economy and was named to the commission monitoring the treasury. Montesquiou also supported replacing the Order of Saint Louis with a new Order of Military Merit.
In May of 1791 Montesquiou was designated the commander of the 9th military division. After the failed attempt of the royal family to escape the country before they were caught at Varennes, Montesquiou resigned as the equerry of the Count of Provence. That October he was named administrator of the département of Paris.
April of 1792 saw Montesquiou being given command of the Army of the South. While in this command, he brought Avignon back into French control before he was recalled to Paris. Allowed to return to his command, Montesquiou then invaded Savoy and took Chambéry. Next he was named commander of the Army of the Alps in October, however in November he was accused by the National Convention of overstepping his authority for having made a treaty with the government of Geneva allowing Swiss troops safe passage to retreat. When Montesquiou learned he was relieved of command, he fled France and took refuge in Bremgarten. In July of 1795 he returned to France and two months later his name was removed the list of proscribed emigrés.

Bibliography
Updated June 2014
© Nathan D. Jensen