Doctor Pierre François Percy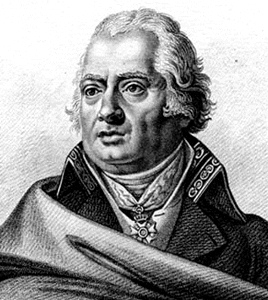 One of the most talented doctors serving with the French army throughout the Revolution and Empire
---
Born: October 28, 1754

Place of Birth: Montagney, Haute-Saône, France

Died: February 18, 1825

Cause of Death: Illness

Place of Death: Paris, France

Arc de Triomphe: PERCY on the north pillar
Pronunciation:
The son of a surgeon, Pierre François Percy decided to follow in his father's footsteps and become a surgeon too. After studying in Paris, in 1776 he entered the medical service at the time of its creation. Six years later, in 1782 Percy became a surgeon to the Cavalry Regiment of Berri.
After the arrival of the Revolution, in 1792 Percy became a consultant surgeon to the Army of the North. He served as a surgeon throughout the Revolutionary Wars, at different times serving the Army of the North, the Army of the Moselle, the Army of the Sambre and Meuse, and the Army of the Rhine. At the time, Percy's rival Doctor Larrey was inventing an ambulance service designed to transport wounded soldiers away from the battlefield to awaiting doctors, but Percy had different opinions about how to help the wounded. In 1799 Percy invented a "wurst" wagon that was a padded wagon designed to transport medical staff and their supplies to the front for immediate treatment of wounds. However, his invention never achieved the success or widespread use in comparison to Larrey's. Percy would go on to further differentiate himself from Larrey by recommending against amputation as much as possible, in direct contrast to Larrey's belief that amputation was often necessary and should be performed immediately.
During the Consulate and Empire, Doctor Percy continued to serve as a surgeon to the army while he argued for the medical service to be recognized as an independent branch of the military. In 1807 he was elected to the Academy of Sciences and he later became a Baron of the Empire. Two years later in 1809 Percy left the army due to eye problems and he spent the rest of the Empire serving in the faculty at Paris.
When Napoleon returned from Elba in 1815 for the Hundred Days, Percy rallied to him and was appointed Surgeon-in-Chief for the campaign that June. However, after serving at Ligny he fell ill and left the army. For rallying to Napoleon, he was forced into retirement by the restored Bourbons.

Bibliography
Updated September 2014
© Nathan D. Jensen