General Claude Prost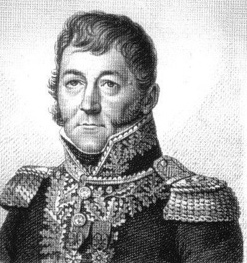 Artillery general who took part in many sieges during the Peninsular War
---
Born: February 5, 1764

Place of Birth: Auxonne, Côte-d'Or, France

Died: July 4, 1834

Place of Death: Paris, France

Arc de Triomphe: PROST on the north pillar
Enlisting in the artillery regiment of Strasbourg in 1780, Claude Prost saw action well before the Revolution for in 1782 he participated in the Siege of Gibraltar where he was wounded by a ball to the right shoulder. Ten years later with the Revolution underway Prost joined the horse artillery and was employed in the Army of the North. In 1793 he was sent to the Army of the Moselle, promoted to lieutenant, and later promoted to capitaine. The next year Prost fought at Arlon, and then in 1796 he was with the Army of the Sambre and Meuse when he distinguished himself at Altenkirchen that September. A year later he was promoted to chef d'escadrons. In 1799 Prost served with the Army of the Danube and later the Army of Switzerland and he fought at the Battle of Zurich where he commanded the artillery of the reserve. The year 1800 saw Prost serving with the Army of the Rhine and fighting at Messkirch and Rosenheim.
During the peaceful years that followed, Prost temporarily joined the foot artillery for a time before rejoining the horse artillery. In 1803 he was promoted to colonel and appointed director of artillery at Perpignan. During the year 1805 Prost was employed in the Army of Naples and then in 1806 he was named director of artillery at Maestricht and he later took part in the Siege of Gaeta. The next year Colonel Prost took command of the mobile artillery stationed in the Loire and Gironde and he continued to command artillery throughout France until he was sent to Portugal as the chief of staff of the artillery of I Corps. In August of 1808 he fought at Vimiero where he was wounded. In early 1809 Prost became chief of staff of the artillery of VII Corps and he took part in the Siege of Gerona.
Rewards followed for Prost as he was made a Baron of the Empire in 1810 and promoted to général de brigade in 1811. That year he also served during the Siege of Figuières. After years of service with the artillery, Prost had become deaf and returned to Paris to retire. In January of 1814 he was recalled out of retirement to command the artillery defending Paris. After Napoleon's abdication and the Bourbon Restoration he was readmitted to retirement and then rewarded as a Commander of the Legion of Honor and Knight of Saint Louis.

Bibliography
External Links:
Updated October 2015
© Nathan D. Jensen