General François d'Avranges d'Haugeranville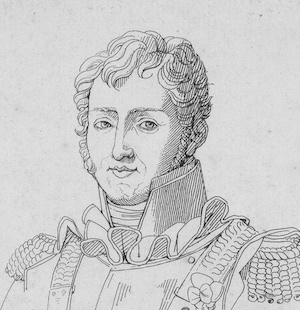 Brother-in-law to Marshal Berthier and father of General d'Avrange d'Haugeranville
---
Born: November 4, 1745

Place of Birth: Saint-Avold, Moselle, France

Died: April 20, 1827

Place of Death: Sarreguemines, France


Pronunciation:
Initially serving as a gendarme, in 1757 François d'Avranges d'Haugeranville volunteered to serve in the infantry regiment of Angoumois. He served with them through 1760 and then in 1761 and 1762 he served with the gendarmerie in Germany. The next recorded service of d'Avranges d'Haugeranville was in the colonies with the regiment of Angoumois in 1771 again. Seven years later he was commissioned as a lieutenant in October of 1778 and then only two months later he obtained a commission as a capitaine attached to the regiment of Roussillon. In 1779 d'Avranges d'Haugeranville served as a major in the Guards of the Gate of the King and then five years later in late 1784 d'Avranges d'Haugeranville became a lieutenant colonel of infantry and a Knight of Saint Louis. Next in 1786 he was promoted to colonel commanding the Guards of the Gate and he was confirmed as a baron.
By the time of the Revolution, d'Avranges d'Haugeranville's unit of the Guards of the Gate had been disbanded and he was therefore available for service. In March of 1791 he was promoted to maréchal de camp but not actively employed. Finally in the year 1800 Haugeranville was again employed, this time as the inspector of reviews in the 26th military division. In 1801 he was named inspector of reviews of the Consular Guard and then in 1802 he served in the 15th military division. In 1804 d'Avranges d'Haugeranville was sent to the 1st military division and he was named a Knight of the Legion of Honor. The following year he was appointed inspector of reviews of the Army of the North, and then when that army was disbanded in 1806 he was available without employment again.
In May of 1812 d'Avranges d'Haugeranville returned to active duty in the 1st and 15th military divisions. He remained there until after Napoleon's abdication in 1814, and he finally retired from the army in 1820. He was married to Charlotte Thérèse Berthier, sister of Marshal Berthier, and his son François Charles Jean Pierre Marie d'Avranges d'Haugeranville led a successful military career.

Bibliography
Related Pages:
Updated August 2017
© Nathan D. Jensen