Marshal Louis Alexandre Berthier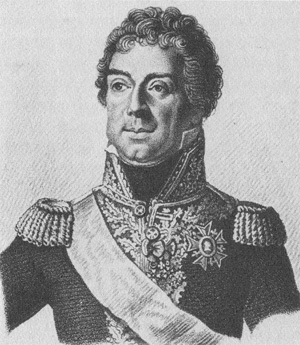 Napoleon's most indispensable marshal, a brilliant chief of staff who served by Napoleon's side from 1796 to 1814
---
Born: November 20, 1753

Place of Birth: Versailles, Yvelines, France

Died: June 1, 1815

Place of Death: Bamberg, Germany

Arc de Triomphe: BERTHIER on the south pillar
Pronunciation:
The most indispensable of Napoleon's marshals, Louis Alexandre Berthier was born the son of a senior officer in the Topographical Engineers. Following his father's career path, he joined the Topographical Engineers at only thirteen years old, and then four years later he was made a lieutenant. In 1776 Berthier joined the dragoons,and the following year he was promoted to capitaine. In 1780 Captain Berthier volunteered to join the Soissonnais regiment to participate in the American Revolutionary War. As part of the expedition to America, he served on Rochambeau's staff and witnessed the Siege of Yorktown. Back in France, his life was uneventful except for a trip with General Custine to study the Prussian army.
The year 1788 saw Berthier promoted to major and becoming a Knight of Saint Louis, but the following year would bring about bigger change. In 1789 he was promoted to lieutenant colonel and then given command of the National Guard of Versailles. During this time he helped the aunts of the king escape from the country. In 1792 Berthier was promoted to maréchal de camp and employed in the Army of the North under General Rochambeau. That May he became chief of staff to General Lafayette, and then he became chief of staff to Marshal Luckner in July before being relieved of command in August. As a Knight of Saint Louis and associate of such generals, he was suspected of being a royalist. Despite this setback, in May of 1793 General Berthier was authorized to serve in the army again as a volunteer. He joined the Army of the Coast of the West, but in June he was requested to serve as chief of staff to General Biron. In this capacity he was wounded and had been serving for less than a month before he traveled to Paris to request better troops. Back in Paris, the Committee of Public Safety refused to allow him to rejoin the army and Berthier went into retirement.
In March of 1795, the Director Lazare Carnot returned Berthier to active duty as a général de brigade and chief of staff to the Army of the Alps and Italy. A few months later he was promoted to général de division. He began to advocate an offensive into northern Italy, and when General Bonaparte was appointed commander-in-chief of the Army of Italy, Berthier became the chief of staff to the Army of Italy after General Duvigneau refused. Once paired with Napoleon, both generals realized the value of each other, with Napoleon's brilliance and audacity being organized into action by Berthier's staff work. Berthier was one of the few who could read Napoleon's handwriting, and with his amazing attention to detail he could understand Napoleon's orders and translate them into clear orders for all of his subordinates. Soldiers began to refer to Berthier as "Napoleon's wife" due to their mutual dependence and the amount of time they spent together.1
Berthier was also brave, for during the Italian campaign he was one of the officers who led the charge across the bridge at the Battle of Lodi . The next year at the Battle of Rivoli he proved this again, leading a cavalry charge. That year he also met and fell in love with the beautiful Madame Visconti despite her being married to an Italian diplomat. After a short stint as the commander of the Army of Italy, he was named chief of staff to the Army of the Orient. Taking part in the expedition to Egypt and Syria, Berthier continued to serve well as Napoleon's chief of staff, directing the appropriate subordinates so that Napoleon's orders were carried out. However, he missed his love Madame Visconti and was happy to be selected by Napoleon to return to France alongside him.
After Napoleon's coup d'état in November of 1799, Berthier was appointed Minister of War and he began organizing the army to have the strength to stabilize France. He organized the Army of the Reserve and then nominally took command of it even though Napoleon was truly in command. Participating in that campaign in Italy, he was wounded by a ball in the arm at the Battle of Marengo. Berthier was next appointed Minister of War again, and this time he held the position until August of 1807. In 1804 when the Empire was proclaimed, he was named the senior Marshal of France and then further rewarded as Grand Huntsman and given a Grand Eagle of the Legion of Honor.
When the Grande Armée marched to war in 1805, Marshal Berthier was named Major General, the chief of staff to the Grande Armée. Berthier continued to work by Napoleon's side throughout the campaigns of 1805-1807, and as usual he was known for his prodigious amount of work with little to no sleep. By the time these campaigns were complete, Berthier had received numerous rewards. Napoleon made him Prince of Neuchâtel and Valangin, Grand Dignitary of the Iron Crown of Italy, and later Vice Constable. French allies gave Berthier the Grand Cross of the Order of Military Merit of Maximilian Joseph of Bavaria, Grand Cross of Saint Henry of Saxony, Grand Cross of Fidelity of Baden, Grand Cross of Hesse, Grand Cross of Saint Joseph of Wurzburg, and made him a Knight of the Gold Eagle of Wurtemberg, Knight of the Crown of Saxony, and Grand Commander of the Crown of Westphalia. Meanwhile the Prussians made him a Knight of the Black Eagle and the Russians a Knight of Saint André.
In 1808 Napoleon finally succeeded in pushing Marshal Berthier to marriage, marrying him to the niece of the King of Bavaria. Berthier was incredibly upset when two weeks later Madame Visconti's husband died. He exclaimed, "To what a miserable condition I am reduced! With a little more constancy, Madame Visconti might have been my wife!"2 Nevertheless, somehow Berthier, his young wife, and Madame Visconti worked out an agreeable arrangement, for the three became close friends.
After serving in Spain with Napoleon in late 1808, he returned to France and then took command of the Army of the Rhine in March of 1809. When Austria attacked and Napoleon was still away in Paris, Berthier made a mess of things. While he was frequently quarreling with Marshal Davout, the Austrians gained significant advances against the French until Napoleon arrived on the scene. Berthier was an incredible staff officer but when given independent command he was woefully inadequate. Now serving Napoleon again, he participated as chief of staff as usual and after the campaign Napoleon made him the Prince of Wagram in recognition of his organizational feats. Napoleon also gave him the chateau of Chambord.
Over the next few years, Berthier did not participate in any active campaigns, but he did travel to Vienna to request the hand of the Archduchess Marie Louise to marry Napoleon. For the campaign of 1812 against Russia, Berthier organized the largest force to date and continued by Napoleon's side. During the retreat from Russia, when Napoleon decided to return to Paris to stabilize the government, he did not take Berthier with him. Berthier was in tears at this decision, but continued to do his duty, serving as chief of staff to Marshal Murat and then Prince Eugene. In 1813 Marshal Berthier rejoined Napoleon as chief of staff and served throughout the campaign in Saxony. The next year as the fighting entered France, he was wounded by a lance blow to the head at Brienne. After Napoleon's abdication, the Bourbons rewarded him as a Peer of France and Commander of Saint Louis.
When Napoleon escaped from Elba in 1815 for the Hundred Days, Berthier followed King Louis XVIII into exile, accompanying him to Ghent. Once there he found the king and his advisors distrustful of him, and Napoleon struck him from the list of marshals for leaving France in the company of the king. Unsure of what to do, Berthier traveled to his in-laws' home in Bamberg.
While in Bamberg, on June 1st he was looking out a third floor window, watching the Russian cavalry march through the town, when he fell out the window and to his death. His death was a mystery, with some saying it was an accident of him leaning too far out the window. Others suggested it was a suicide since he was rejected by both the king and Napoleon and now was forced to watch Russian troops march against France again. Still others considered it an assassination, with stories of masked men entering his room and pushing him, intent on not allowing Napoleon's indispensable marshal to rejoin the Emperor. If it was assassins, they may have altered the course of history, as after the Battle of Waterloo Napoleon said, "If Berthier had been there, I would not have met this misfortune."3
The cause of Berthier's death has never been solved. The historian Charles Mullié alleged that six masked men belonging to a secret society of Neuchâtel entered his room and pushed him to his death.4 Colonel Maceroni, a former aide-de-camp to Marshal Murat, recorded in his memoirs that the former Minister of Police Joseph Fouché implied to him that Berthier's death was ordered, but would not say more. Meanwhile, Fouché's successor as Minister of Police, Count Decazes, told Colonel Maceroni that Berthier's death was directly related to the death of an important man in November of 1814 in Paris under mysterious circumstances.5
Notes
Bibliography
Related Pages:
External Links:
Updated February 2022
© Nathan D. Jensen