General Armand-Louis de Gontaut Biron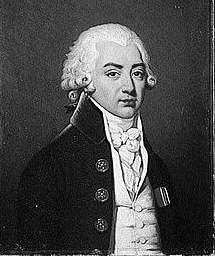 Noble officer who served during the American Revolutionary War and was executed during the Reign of Terror
---
Born: April 13, 1747

Place of Birth: Paris, Paris, France

Died: December 31, 1793

Cause of Death: Executed

Place of Death: Paris, France

Arc de Triomphe: BIRON on the south pillar
Pronunciation:
Of the nobility, Armand-Louis de Gontaut Biron first joined the army at age fourteen when he joined the French Guard in early 1761. Before the year was over he was promoted to sous-lieutenant, and three years later he received a promotion to lieutenant. In 1767 Biron was promoted to capitaine and became the Duke of Lauzun, and then in 1769 he became a Knight of Saint Louis.
In 1778 Biron took command of a corps of Foreign Volunteers of the Navy, and with them he took an expedition to Senegal and Gambia. By 1780 he had risen to the rank of mestre de camp and took command of a hussar regiment named after himself, the Lauzun Hussars. With these troops he took part in the American Revolutionary War under the command of Rochambeau. In 1784 Biron was promoted to maréchal de camp and then in 1788 he became the Duke of Biron.
General Biron was named a deputy of the nobility of Quercy to the Estates-General of 1789. In 1790 he was sent on a mission to Corsica, and then in 1791 he was named commander at Valenciennes as part of the Army of North. That December Biron became Rochambeau's chief of staff and then the next month he was promoted to lieutenant general. Biron was next sent on a mission to London and he returned to the French army in April of 1792. He next served under Marshal Luckner in the Army of the North until that July when he was named commander-in-chief of the Army of the Rhine.
Biron served with the Army of the Rhine until December of 1792 when he was named commander-in-chief of the Army of Italy. The next April he was transferred again, this time to take command of the Army of the Coasts of the West, the Army of the Loire, and the Army of Saint-Malo. July of 1793 saw the Revolution catching up to Biron for he was relieved of command and arrested due to his noble birth. That December he was tried and condemned to die, being executed by guillotine on the last day of the year.

Bibliography
Updated May 2014
© Nathan D. Jensen