Joseph Bonaparte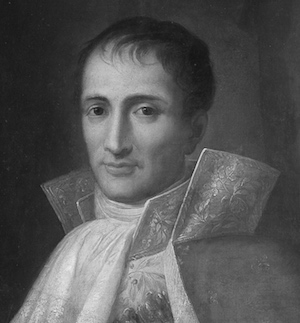 Older brother of Napoleon who was a succesful diplomat and who served as King of Naples from 1806 to 1808 and King of Spain from 1808 to 1813
---
Born: January 7, 1768

Place of Birth: Ajaccio, Corsica, France

Died: July 28, 1844

Place of Death: Florence, Italy


Pronunciation:
The oldest son of the Bonaparte family and Napoleon's older brother, Joseph Bonaparte was educated at Autun. He returned to Corsica but was forced to flee with the Bonaparte family during Paoli's revolt in 1793. Joseph took refuge at Marseille where he married Julie Clary, the daughter of a rich merchant. He was employed in the Army of the Alps in 1793 and then in 1796 he followed his brother Napoleon to Italy. Next Joseph was sent on a mission to Corsica and then in 1797 he was elected a deputy of the département of Golo to the Council of 500. Serving as a diplomat, he was sent as ambassador first to Parma and then to Rome. While in Rome, General Duphot, who was engaged to his wife's sister Désirée, was killed at Joseph's side during a riot. Joseph returned to France where he was re-elected a deputy of Golo to the Council of 500 and in 1799 he was appointed secretary. Employed as a diplomat again, he took part in the negotiations with the United States for the Convention of Mortefontaine, the negotiations with Austria for the Treaty of Lunéville, and the negotiations with Great Britain for the Peace of Amiens.
With the creation of the French Empire in 1804, Joseph Bonaparte was named a Grand Elector of the Empire and a senator. In 1806 he was appointed a général de division in the French army and named commander of the Army of Naples. After the Bourbons fled Naples, Napoleon named Joseph King of Naples and the Two Sicilies. Joseph ruled Naples well but in 1808 Napoleon pressured him to abdicate the throne of Naples to accept the throne of Spain. Reluctantly, Joseph agreed. His reign was tenuous in Spain as he was not accepted by many of the people and Joseph offered to resign, but Napoleon would not let him. After the defeat of the French army at the Battle of Vitoria , Joseph was allowed to leave Spain and he retired to his home of Mortefontaine. During the defense of France of 1814 he served as commander of the National Guard of Paris.
After Napoleon's abdication and the Bourbon Restoration, Joseph was ordered to leave France and he went to live in Switzerland at Prangins. When Napoleon returned from exile in 1815, Joseph returned to France where Napoleon named him a Peer of France. He presided over the council of ministers while Napoleon was absent from Paris. After Napoleon's second abdication, Joseph went to the United States and began calling himself the Count of Survilliers. For a time he stayed in Great Britain before returning to America and then ultimately residing in Florence.

Bibliography
Updated October 2021
© Nathan D. Jensen