General Léonard Duphot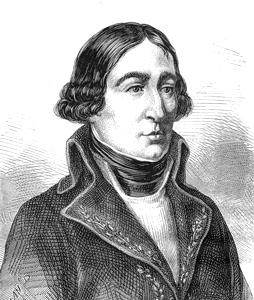 Fiancée to Désirée Clary and friend of Joseph Bonaparte who was killed during a riot in Rome
---
Born: September 21, 1769

Place of Birth: Lyon, Rhône, France

Died: December 27, 1797

Cause of Death: Assassinated

Place of Death: Rome, Italy

Arc de Triomphe: DUPHOT on the south pillar
Pronunciation:
Enlisting in the regiment of Vermandois in 1785, Léonard Duphot had risen to the rank of sergeant before he decided to join the 1st Battalion of Volunteers of Cantal in early 1793. Assigned to the staff of the Army of the Eastern Pyrenees, he worked at Perpignan for a while and was later promoted to chef de bataillon. In 1794 Duphot saw combat while serving under General Augereau and he distinguished himself at Figuières. Over the next few days Duphot made quite a name for himself, being the first soldier past a formidable redoubt and personally slaying a Spanish general there. A promotion to chef de brigade followed for Duphot's achievement, but some sources state that the Spanish general was trying to surrender by offering his sword to Duphot.1 Duphot went on to seize Navata at the end of the year and then he served at the combat on the Fluvia in June of 1795. Once peace was signed with Spain, Duphot was sent to help with the administration of 20th military division.
In September of 1796 Duphot went to Italy to take command of the advance guard of Augereau's division. Four months later in January of 1797, Duphot encountered the superior numbers of Austrian General Provera's advance guard, but he and his men resisted and retired in good order to Legnago. A week later they fought at Anghiari, and then in February Duphot was wounded by a ball to the thigh at the combat of the Piave. Duphot received a promotion to général de brigade in March, and then in June of 1797 he was given command of the 2nd Brigade of light infantry of Augereau's division. Two months later in August he was sent to Genoa to organize a contingent of Ligurian troops.
Sometime during his career Duphot met and became engaged to Désirée Clary, sister of Joseph Bonaparte's wife, Julie Clary, and one time fiancée of Joseph's brother Napoleon.2 During the autumn of 1797, Duphot accompanied his future brother-in-law Joseph Bonaparte to Rome, where Joseph was serving as the French ambassador. At one point, tensions were high and the people of the city began to riot against the Papal troops. A confrontation was brewing and Duphot, hoping to avoid bloodshed and with the young Arrighi de Casanova by his side, placed himself between the Papal troops and the rioters, trying to defuse the situation. It was to no avail, as before long he was shot in the chest, and the mob rushed forward and massacred him. His fiancée Désirée Clary would go on to marry General Bernadotte.
Notes
Edward Ryan, Napoleon's Shield and Guardian: The Unconquerable General Daumesnil, (London: Greenhill Books, 2003), 38.
Bibliography
Related Pages:
Updated June 2016
© Nathan D. Jensen