General Jean-Toussaint Arrighi de Casanova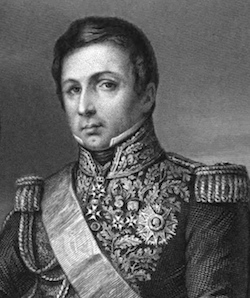 Cousin to Napoleon and notable cavalry general
---
Born: March 8, 1778

Place of Birth: Corte, Corsica, France

Died: March 2, 1853

Place of Death: Paris, France

Arc de Triomphe: ARRIGHI on the south pillar
Pronunciation:
A cousin of Napoleon Bonaparte, Jean-Toussaint Arrighi de Casanova first embarked on a military career when the king's orders admitted him to the military school at Rebais. By 1793 he was a student at the University of Pisa, but the Revolution was soon to change his path. After the English left Corsica in 1796, Arrighi joined the army and was elected a sous-lieutenant in the 3rd Free Company of Liamone, a département of Corsica at the time. Within a month, he was promoted to lieutenant.
In April of 1797, his now famous cousin General Napoleon Bonaparte appointed Arrighi as a lieutenant in the 75th Demi-Brigade of the Line of the Army of Italy. Soon afterwards he worked as the secretary to the French ambassador to Rome, Joseph Bonaparte. While in Rome he was by the side of General Duphot when that general was unfortunately killed in a riot.
In 1798 Arrighi was appointed to the staff of the Army of the Orient. That year he distinguished himself at the Battle of Salahieh, receiving a saber blow to the head but also being promoted to capitaine after the battle by General Bonaparte. Arrighi next became an aide-de-camp to Berthier in February of 1799, and he was one of the first soldiers through the breach during the assault on Jaffa.
Soon thereafter Arrighi took part in the assault on Acre with General Lannes. While there, he arrived at the front only to be hit by a ball that passed through his neck. Blood spurting everywhere, Arrighi fell to the ground, and a soldier rushed to him and put a finger in each hole on the sides of his neck, slowing the bleeding. Dr. Larrey was called for, and he quickly applied bandages while ignoring the shots falling all around them, saving Arrighi de Casanova's life.1
This wound was enough to put Arrighi out of action for a while, and he did not fight again until the Battle of Marengo in June of 1800, where he again served as Berthier's aide-de-camp. Promotions and rewards followed for Arrighi, for in 1800 he was promoted to chef d'escadrons, in 1803 he was promoted to chef de brigade of the 1st Dragoons, and in 1804 he became a Commander of the Legion of Honor.
When war broke out in 1805, Arrighi led the 1st Dragoons into battle, receiving saber blows to the head at the combat of Wertingen and then fighting at Austerlitz. In May of 1806, he became Major-Colonel of the Dragoons of the Guard. The next year Arrighi fought at Friedland and afterwards he was promoted to général de brigade but retained his rank in the Imperial Guard.
One of the new nobility, Arrighi became Duke of Padoue in March of 1808. When the French moved into Spain in 1808, he continued to command the Dragoons of the Guard. His brother Ambroise was serving in the line dragoons and was killed at Vimiero.2 Nevertheless, Arrighi continued to lead his men and he fought at Benavente in December.
Returning to serve in the Danube campaign of 1809, Arrighi fought at Aspern-Essling and after the battle he was promoted to général de division, replacing the fallen General Espagne as head of the 3rd Division of Cuirassiers. Leading his new unit, he fought at Wagram that July.
In July of 1810, Arrighi de Casanova became the inspector general of cavalry and for the next few years filled administrative posts, mostly with the National Guard. In February of 1812 he married Zoé de Montesquiou, daughter of Napoleon's chamberlain.3
Returning to an active command with the III Cavalry Corps in March of 1813, General Arrighi drove out partisans in his area and then became Governor of Leipzig, successfully defending Leipzig from an attack by the Russian General Czernischeff on June 7, 1813. Continuing to lead his cavalry corps, Arrighi fought under both Marshal Oudinot and Marshal Ney in the coming months, distinguishing himself at Dennewitz. After fighting at Leipzig , he was pushed back to Weimar, and then he fought at Hanau.
During the defense of France of 1814, Arrighi fought at many battles,notably at Neuilly-Saint-Front, Craonne, Reims, and Fère-Champenoise in March. Later that month he was wounded while defending Paris, and then after Napoleon abdicated, the Bourbons put him on non-activity. With Napoleon's escape from Elba and return to power in 1815, Arrighi was appointed Governor of Corsica for the duration of the Hundred Days. The vengeful Bourbons proscribed him upon their return, and he escaped to Lombardy. Finally in 1819, he was allowed to return to France.
Notes
Robert Richardson, Larrey: Surgeon to Napoleon's Imperial Guard, (London: Quiller Press, 2000), 67-68.
Albert Du Casse, Le Général Arrighi de Casanova: Duc de Padoue, (Paris: E. Dentu, 1866), 228-229.
Bibliography
Updated June 2016
© Nathan D. Jensen