Marshal Michel Ney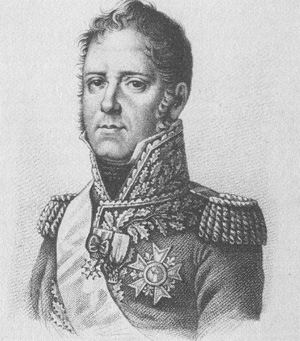 Marshal known as the Bravest of the Brave for his indomitable spirit during the retreat from Russia
---
Born: January 10, 1769

Place of Birth: Sarrelouis, Moselle, France

Died: December 7, 1815

Cause of Death: Executed

Place of Death: Paris, France

Arc de Triomphe: NEY on the east pillar
Pronunciation:
Beginnings
The "bravest of the brave", Michel Ney was the son of a cooper who would one day rise to being one of Napoleon's most famous marshals. After enlisting in a hussar regiment in February of 1787, Ney quickly gained prominence within his unit for being an excellent rider and fencer. His skill with a sword was so good that when his unit's fencing instructor was beaten in a duel by a rival regiment, he was selected to avenge the unit's honor. Just as the dual began, the colonel charged in and stopped the fight, disciplining Ney for dueling. But the men were not to be deterred, and another duel was arranged with more secrecy, where Ney successfully defeated the other regiment's fencer.
With the Revolution underway, Ney's unit of the 5th Hussars was assigned to the Army of the North. With them Ney fought at the Battle of Valmy and he then took on extra duties of serving as an aide-de-camp to General Lamarche. In late October of 1792 Ney was promoted to sous-lieutenant and then the next week he was promoted to lieutenant and he fought at the Battle of Jemappes . In 1793 he fought at the Battle of Neerwinden . In April of 1794 Lieutenant Ney was promoted to capitaine and then the next month General Kléber gave him command of a mobile squadron of 500 cavalrymen. That summer his unit joined the Army of the Sambre and Meuse and General Kléber promoted Ney to chef d'escadrons over Ney's objections that he was not yet ready. During this time Ney captured some French émigrés but he pretended to not recognize them as such and he let them identify themselves as foreign prisoners of war, sparing them from harsher treatment. That October he fought at Aldenhoven and he then received a promotion to colonel. The next month Ney served during the Siege of Maestricht and he then moved on to the Siege of Mainz. During that siege, while leading an attack he was separated from his men and he was shot in the left shoulder. He managed to break free of the enemy and return to safety but he was sent home to recover.
Ney returned to the army in 1795, with his first notable battle being at Poladen in September. Over the following months, he would serve in Colaud's division and fight at Lahn, Friedberg, Dierdorf, and Montabaur. In June of 1796 he fought at Altenkirchen and Uckerath before fighting at Niedermerle, Wurzburg, and Forchheim in July. That August he received a promotion to général de brigade and he fought at Amberg.
General of the Revolution
In 1797 General Ney took command of the hussars of the Army of the Sambre and Meuse under General Grenier. That April he fought at Neuwied and Dierdorf before winning at Kirchberg and Herborn. At Giessen on April 21st he was fighting when enemy dragoons cut off his retreat and cut down his horse, taking him prisoner. A little over a month later Ney was exchanged for an Austrian prisoner and he returned to the Army of the Sambre and Meuse.
Ney continued to serve with the army but he did not fight for the rest of 1797 and 1798. In February of 1799 he was given a cavalry command in Bernadotte's Army of the Lower Rhine. Ordered to take Mannheim, Ney disguised himself and went ahead to the city. Being bilingual, he moved throughout the city, making note of the defenses and then meeting a pregnant woman that told him she had special permission to enter the city whenever her labor began. Armed with this knowledge, Ney returned to his men and selected 150 of them to accompany him. He and his men waited for nightfall and then snuck close to the city, waiting for an opportunity. As luck would have it, the pregnant woman arrived and the drawbridge was lowered and and the gate opened. Ney and his men charged inside and intimidated the local commander into surrender, taking the fortress without a costly siege. At the end of March Ney received a promotion to général de division, which he tried to refuse but was overruled.
In early May of 1799 General Ney was given command of the light cavalry of the Armies of Switzerland and the Danube, and then on May 23rd he took command of a division of the advance guard under General Oudinot. He fought at Frauenfeld and Altikon and then at Witherthur where he was wounded by a shot to the leg, shot to the hand, and bayonet to the foot. He relinquished his command due to these wounds, and then he returned in late July. In August he was named to the Army of the Rhine, and then for one month from late September to late October he was given temporary command of the Army of the Rhine. General Lecourbe then arrived for the command and Ney was given command of the advance guard, leading them into action at Heilbronn, Lauffen, Wissloch, Hochheim, and Ludwisbourg. Ney was defending Mannheim when a cannonball killed his horse and wounded his leg, and then when he stood up he was hit by a bullet to the chest which threw him to the ground. Luckily for him, the bullet was spent and did not pierce him, instead only giving him a bad bruise.
In March of 1800 Ney took command of the 1st Division of Gouvion St. Cyr's corps in the Army of the Rhine. With this division he fought in May at Engen and Messkirch, then in June at Guttenzell and Hochstaedt. He went on fight at Ingolstadt and Wasserbourg before a cessation of hostilities called a halt to the campaign. Once hostilities were resumed that November, Ney fought at Ampfing before playing a decisive part in the Battle of Hohenlinden.
The next major command Ney held was as commander of the French army in Switzerland. Switzerland was nearing civil war, and First Consul Bonaparte sent Ney with a small force to Switzerland to mediate between the opposing factions. Ney and his troops set up position in Zürich and brought the two sides together, eventually brokering a peace and stable government.
Marshal of the Empire
After returning to France, on the 5th of August, 1802 Ney married Aglaé Auguié who was the daughter of a lady-in-waiting to Marie Antoinette and also a friend of Josephine's daughter Hortense. In August of 1803, Ney was sent to command the camp at Compiègne, and then in December the camp of Montreuil. The following May he was one of the first marshals created by Napoleon with the creation of the First French Empire. At one point during their training at Montreuil, Ney hired a balloon expert to explore the possibility of balloons assisting with warfare, but the man took the money and disappeared.
In 1805 Ney was rewarded with the Grand Eagle of the Legion of Honor, and the men of his camp became the VI Corps of La Grande Armée. As the Third Coalition began to threaten France, his corps marched east and took part in the campaign against the coalition. Ney ferociously led his men into action and their victories that October at Gunzbourg and Elchingen helped to seal the trap around General Mack's Austrian army at Ulm. Next he and his corps were ordered to the Tyrol, which he took from the Austrians, seizing Scharnitz, Innsbruck, and Hall.
In the autumn of 1806, Ney again took command of VI Corps for the campaign against Prussia. In this capacity he fought at the Battle of Jena but he was reprimanded by Napoleon for launching his attack before he was supposed to and needing to be extricated by the other French corps. Following the twin victories of Jena and Auerstädt, Ney's men took part in the pursuit of the shattered Prussian forces, taking Erfurt, Magdeburg, and Thorn and hundreds of cannons and thousands of prisoners. In December he was victorious at Soldau, and following that he took Mlawa and won at Lauterbach.
Ordered to go into winter quarters, Ney disregarded these orders in an attempt to find more supplies for his men. The Russians regarded the movement of his men as a continuation of the campaign and correspondingly restarted their campaign. Napoleon was furious, and again Ney was reprimanded as the campaign began again despite the brutal winter. In February, Ney and his men fought at Deppen and Ziegelhoff in their pursuit of Lestocq's Prussian corps, and then his corps arrived late at the Battle of Eylau. While his men only minimally participated in the fighting at Eylau, their arrival was enough to convince the Russians to withdraw.
As the campaign resumed later that year, in June Marshal Ney's VI Corps was at Guttstadt where he resisted the Russian offensive despite being heavily outnumbered. He eventually retreated to a safer position and the Russians gave up on their attempt to destroy his corps. Barely more than a week later, his corps arrived at Friedland where Marshal Lannes' Reserve Corps had baited the Russian Army into putting their backs to a river. Napoleon ordered that Ney's VI Corps would be the main attack on the right, to roll the enemy up along the river. Ney led his men in the attack and contributed significantly to the victory that brought about the Treaty of Tilsit.
The Spanish Peninsula
In the summer of 1808, Ney was rewarded by being created the Duke of Elchingen in recognition of his victory from three years earlier. In September he arrived in Spain to take command of VI Corps, and over the coming months he and his men took Bilbao, Logrono, and Soria. In January of 1809 Ney was named commander of Galicia where he had to contend with guerrilla warfare for the first time in his career.
Ney continued to support the French operations in Spain. After the Battle of Corunna , Major Napier of the British army had been sent as a prisoner to Ney's command, where Ney treated him with respect and released him on parole to return to England. That May Ney's troops successfully took Oviédo, but not long thereafter Marshal Soult and his II Corps arrived in the area. At one meeting where Marshal Soult was making demands of Ney, Ney began to draw his sword and challenge Soult to a duel until his staff officers stopped him. Next the army began to retreat out of Galicia, but Ney ordered his men to set fire to twenty six villages as they left. Ney's troops ensured the people were evacuated but it was needless destruction, with their only excuse being frustration at the brutality of the guerrillas.
In the meantime Ney was named a Knight of the Order of Christ of Portugal, and he fought and won at Banos in August. In October he received an order from Joseph Bonaparte to take over Marshal Victor's I Corps, and Ney refused to follow the order without proof that it was Napoleon's wish. He was ordered on leave and returned to France to rest but it was not to last. In November he was ordered back to Spain to take command of VI Corps.
In April of 1810, Ney's VI Corps became part of Marshal Masséna's Army of Portugal with the task of taking Portugal and driving the British out. Ordered to take Ciudad Rodrigo, Ney's forces successfully took it after a month of siege, and then they moved on to take the fortress at Almeida. Ney was almost relieved of command again when he refused to let Masséna choose his staff, but he eventually relented. In September he fought at Busaco where Masséna chose to ignore Ney's thoughts on how they should attack. When the army finally had to retreat in March of 1811, Ney's qualities came to the fore as he took command of the rear guard, winning at Pombal and Redinha and frustrating the British. By this time Ney had lost all confidence in his commander Marshal Masséna, and now Masséna gave him new orders that stood little chance of success. Ney refused the orders without written confirmation from Napoleon, and exasperated, Masséna relieved him of command, sending him back to France. In the end Ney would receive a new command while Napoleon would relieve Masséna two months later.
Hero of the Retreat from Russia
Once back in France, Marshal Ney was allowed time to rest before being given command of the camp of Boulogne until early 1812. In April of 1812 he took command of the III Corps of La Grande Armée and led them on the campaign to Russia that year. Leading his men, in August Ney won at Krasnoe, was wounded in the neck at Smolensk , and won at Valutina. When the Russians finally made a stand at the Battle of Borodino, Ney led his men into battle in full dress uniform and distinguished himself throughout the bloody battle. Afterwards, Napoleon was so impressed he rewarded Ney as Prince of the Moskowa.
As the Tsar Alexander refused to negotiate with Napoleon, eventually Napoleon ordered the army to retreat back to the west, hoping to escape destruction. Marshal Davout's I Corps initially served as the rearguard, but on the 3rd of November they had been cut off from the rest of the army by the Russians. Ney turned around and cut a hole through the Russians to allow I Corps to escape the trap, and afterwards Napoleon appointed Ney and his III Corps as the new rearguard. On the 6th of November, as the Russians attacked his men they began to falter, and Ney rushed up to them, grabbed a musket and began firing. His men were inspired and the Russians fell back, looking for easier prey.
But a few weeks later, the Russians under General Miloradovitch successfully cut him off from the rest of the army, isolating his forces. Nevertheless, Marshal Ney launched attack after attack to try and break through, but none succeeded. When a messenger arrived to take their surrender, Ney responded, "A Marshal of France never surrenders! One does not parley under the fire of the enemy!"1 As soon as it was dark, Ney ordered his men to light campfires, and despite having no maps or guides, he led his men across country in the hopes of eluding the Russian trap. After they spotted a frozen stream, they broke the top of the ice to see the way the water was flowing, and then decided it must lead to the Dnieper River. Luckily, they found a peasant who told them where a bend in the river had caused an ice jam. Once they found the ice jam, the men carefully crossed the Dnieper River in single file. Next they brought the wagons, but the first broke through the ice and fell in. Ney crawled along the edge and pulled a man from the freezing water.
After a few days of seeing no Russians, Ney's remnants of III Corps were attacked by a band of Cossacks. Ney led a bayonet charge but was repulsed, and their way was again blocked. A messenger got through during the fighting, and headed to Orcha with the hope that the French army was still there. Luckily for Ney's men, parts of the army were still there, but the army had presumed that Ney's force had been taken prisoner or destroyed. When Napoleon heard the news that Ney was still fighting, he exclaimed, "At last, I have saved my eagles! I have three hundred millions in francs at the Tuileries. I'd give up the lot to save Ney. What a soldier! The army of France is full of brave men, but Michel Ney is truly the bravest of the brave!"2 Prince Eugene wept when he heard the news, and he immediately set out with a force to rescue Ney and his men, breaking through to them the next day.
Ney's rearguard was reinforced, and their next major combat came at the Battle of the Berezina. After Marshal Oudinot was wounded during that battle, Ney assumed his command. After the battle, Ney resumed command of the rear guard, making a stand first at Vilna and then later at Kovno. At Kovno he was awakened by cannon fire and ran to the defensive gate to find it had been abandoned by most of the artillerymen. Enraged, Ney raised his sword to strike down the remaining artillery officer, but one of his aide-de-camps raised his own sword and blocked the blow. As the remaining French infantry began to arrive, their commanding officer was struck down by a cannonball. Seeing his mortal wound, this officer drew his pistol and shot himself in the head, and his troops threw down their weapons and ran. Ney began to pick up each of the loaded muskets and fire them one by one, and a few soldiers joined him. General Marchand sent a few reinforcements, and then Ney and the remaining men slowly backed out of town, fighting every step of the way. The Russians finally broke off pursuit when the French left Russian territory.
Campaigns of 1813 - 1814
After receiving a brief amount of time off to recover, Ney rejoined the army in Germany in March of 1813, taking command of a rebuilt III Corps. At the end of April he fought at Weissenfels and then a few days later he was wounded by a shot to the right leg at Lützen. A few weeks later he commanded the French left at the Battle of Bautzen, where he contributed to the victory but his mistakes caused the victory to not be as complete as possible. Afterwards his men entered Silesia and seized Breslau before a temporary armistice was signed. When hostilities were resumed in August, Marshal Ney commanded the left at the Battle of Dresden. In September he was defeated at Dennewitz by the Swedes commanded by his former colleague Bernadotte. A few weeks later Ney was given command of four corps which he led during the Battle of Leipzig in October. At Leipzig Ney lost two horses killed under him and he took a shot to the left shoulder, and then when the bridge was accidentally destroyed early, he rode his horse across the river to escape being trapped.
Ney continued to fight during the defense of France of 1814, taking command of the Young Guard in January. With these men he fought at Brienne, La Rothière, Champaubert , Montmirail , Château Thierry, Craonne, Laon, Reims , Châlons-sur-Marne, and Arcis-sur-Aube. After the surrender of Paris due to Marshal Marmont's treachery, Ney became convinced that the war was unwinnable. After discussions with Marshals Lefebvre and Moncey, he led them to Napoleon and insisted that Napoleon should abdicate in favor of his son. Unwilling to accept defeat, Napoleon argued with them. When Marshals Macdonald and Oudinot arrived, Ney also convinced them that abdication was the correct path. Faced with such defiance from so many of his commanders, Napoleon relented and agreed to abdicate in favor of his son with his wife Marie-Louise as regent. Instead the victorious Allies chose to reinstate the Bourbon dynasty as the rulers of France.
With the Bourbons returned to power in France, Marshal Ney rallied to them in the hopes of a peaceful and stable France. In response, he was made a Knight of Saint-Louis and Peer of France and he was placed in charge of the cavalry. However, despite these rewards he could only watch as the government grew inefficient and old privileges granted to the nobility were restored, going against the very changes that had allowed him to rise so high. Furthermore, since he was the first Duke of Elchingen and first Prince of the Moskowa, he and his wife were frequently snubbed by the returned nobility with famous ancestors. One day he returned home to find his wife in tears over more ill treatment received from the Duchess of Angoulême. Enraged, Ney charged to the Tuileries where he burst in, politely and quickly paid his respects to the king, and then verbally berated the Duchess, beginning with, "I and others were fighting for France while you sat sipping tea in English gardens," and ending with, "You don't seem to know what the name Ney means, but one of these days I'll show you!"3
The Hundred Days
When in 1815 Napoleon escaped from Elba and began his triumphant march back to Paris, Ney was horrified by the prospect of civil war. Despite his dislike of the Bourbons, he told the king he would bring Napoleon back to Paris in an iron cage. As Ney led his troops in a march to intercept Napoleon, his doubts began to grow. The people of France and the army all seemed to be cheering for Napoleon, and no one had fired a shot to stop Napoleon. During every step of Napoleon's progress, more and more had joined his side. If Ney ordered his men to fight Napoleon and his men, Ney might be the cause of civil war, presuming that his men would even follow his orders and shoot at their former emperor. After receiving a message from Napoleon, Ney decided that he could not fight the tide and told his men that the legitimate dynasty of France as chosen by the people was Napoleon. His men began cheering, and he sent off messages stating his intent to rejoin Napoleon.
Napoleon initially sent Ney to inspect the frontiers of northern France in case war was to break out. The Allied Powers had no intention of negotiating with France while Napoleon was in power, and so Napoleon began to form a new army, intending to defeat the British and Prussians before the Austrians and Russians could mobilize. Once Ney's report on the frontier was complete, Napoleon gave him no new command or tasks, possibly due to his memory of Ney leading the marshals in favor of abdication, or Ney's well publicized statement about Napoleon in an iron cage.
Finally on the 11th of June, Napoleon sent Ney a letter telling him if he wanted to partake in the upcoming campaign, he should join the army immediately. Ney decided to take up the offer, eventually catching up to Napoleon on the 14th of June to assume command of the left wing of the Army of the North. Almost immediately he was thrust into action, fighting the British at Quatre-Bras on June 16th. Two days later he fought at the Battle of Waterloo, leading from the front and having four horses killed underneath him over the course of the battle. When the French began to break and be overrun by the combined Prussian and British forces, Ney said, "Come and see how a Marshal of France dies!"4
Ney escaped from Waterloo and returned to Paris where the Minister of Police Fouché gave him passports which he did not use. After Napoleon's second abdication, Marshal Davout took command of the army and refused to surrender until a treaty was signed that granted amnesty to those who had rejoined Napoleon. Ney went into hiding at a friend's chateau, but he was soon spotted and arrested. Even the king was upset that he had not fled the country, hoping to avoid a trial that could expose the internal divisions of the people. After giving his promise to not flee, Ney was escorted back to Paris without being bound. On the way General Exelmans came to his rescue, but Ney refused to go against his word to his captors, and he continued back to Paris.
Trial and Execution
Initially Ney was to be tried by a military court run by Marshal Jourdan, however his defense team argued that this court could not try him, and instead his case should be tried in the Chamber of Peers. His defense team won in this regard when the court declared itself incompetent, though that may have been due to the military court not wanting to convict him but also not wanting to defy the Bourbons by acquitting him. Next Ney would be tried by a group populated by Royalists and without the same sense of honor as his military colleagues.
During the trial in the Chamber of Peers, Ney's lawyers brought up how the trial was in direct violation of the treaty Davout had negotiated, and secretly in response a new law was then passed forbidding mentioning that treaty in court. With such an act, it became clear to everyone that the trial was a witch hunt. As a last attempt, his lawyers argued that since Ney's hometown of Saarelouis was ceded to Prussia, he could not be tried as a Frenchman, but Ney vehemently denounced this tactic and demanded to be tried as a Frenchman. Some of Ney's supporters appealed to the British for assistance, but they refused, claiming that they could not meddle in France's internal affairs despite spending the past twenty five years trying to change France's government.
On December 6th, Ney was convicted by the Chamber of Peers and the Peers also voted on his sentence, with the majority voting for death by firing squad. The execution was to be carried out the next day. When news of Ney's sentence reached the public, a mob began to form where the execution was to take place, and a new place of execution was quickly arranged at a different location. When faced with the firing squad, Ney gave the order to fire.
Not long thereafter, a French veteran known as Peter Stuart Ney arrived in the United States of America. Many people he came into contact with believed him to be Marshal Ney, suspecting that his death had somehow been faked, but this has never been proven.
Recommended Biography: Military Politics from Bonaparte to the Bourbons: The Life and Death of Michel Ney, 1769-1815 by Raymond Horricks.

Notes
Bibliography
Related Pages:
External Links:
Updated May 2019
© Nathan D. Jensen