Marshal Etienne Jacques Joseph Alexandre Macdonald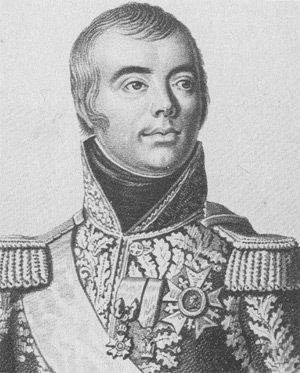 Marshal of France after the Battle of Wagram, known for his outspoken and frank statements
---
Born: November 17, 1765

Place of Birth: Sedan, Ardennes, France

Died: September 25, 1840

Place of Death: Beaulieu-sur-Loire, France

Arc de Triomphe: MACDONALD on the east pillar
Pronunciation:
Soldier of the Revolution
The son of a Scottish soldier who had supported Bonnie Prince Charlie's failed attempt to take the English throne, Etienne-Jacques-Joseph-Alexandre was born in France since his father had fled from Scotland after the failed uprising. Due to Macdonald's Scottish heritage, Napoleon was known to joke that he dared not let Macdonald within the sound of bagpipes, lest he defect and join the British.1 Macdonald's parents intended for him to become a priest, but he had other ideas and decided to become a soldier. He initially served briefly in the Irish Legion and then in the service of Holland, but in 1786 Macdonald joined the Dillon regiment. The following year he was promoted to sous-lieutenant, and then before long the Revolution arrived and his career took off.
Macdonald married in 1791 and that year he also received a promotion to lieutenant. In 1792 he became an aide-de-camp to General Beurnonville and then received another promotion, this time to capitaine. That August Macdonald became Dumouriez's aide-de-camp and he served at Jemappes in November. Macdonald would continue to rise quickly, in March of 1793 he was promoted to chef de brigade and then in August he was further promoted to général de brigade, having gone from lieutenant to general in two years. That August Macdonald also fought at Tourcoing and then in September he fought at Werwicq and Menin. Continuing to fight, in October he served in Souham's division and then commanded the troops at Dunkirk, and in November he won at Werwicq.
1794 proved to be another busy year for General Macdonald. That May he fought at Courtrai and then a week later he served at the Battle of Tourcoing . During this time he also met and worked with General Moreau, forming a close friendship and respect. Macdonald continue to lead well, serving at Hooglède in June and then covering the siege of Bois-le-Duc in September and October. That November he was promoted to général de division and took command of the 1st Division in the Army of the North. In January of 1795 Macdonald's men seized the fort of Knotzembourg and then he continued to command a division until he went on leave in October due to illness. Macdonald returned to command in February of 1796, again serving with the Army of the North and in Holland. That July he was sent to the Army of the Sambre and Meuse where in September he took command of the left wing.
After Macdonald's wife died in 1797, in April of 1798 he was sent to the Army of Italy where he took command of the troops stationed at Rome. That December he won at Faventino but was forced to evacuate Rome before he won at Civita Castellana and Otricoli. After retaking Rome, Macdonald fought at Calvi and then attacked Capua but failed to take the city. On January 11, 1799, Macdonald resigned due to disagreements with General Championnet, whom he considered incompetent. However, Macdonald had also acquired a reputation for being difficult, always ready with frank and barbed remarks. Ultimately, in February the Directory ruled in favor of Macdonald and named him to replace Championnet in command of the Army of Naples. Leading the army that June, Macdonald was defeated at Modène on June 12th when his guides failed to protect him, allowing him to take a cut to the head and be knocked down and ridden over. Struggling with his wounds, the next week he was beaten on the Trebbia.2
Disgrace and Redemption
Macdonald returned to France and Paris at roughly the same time as General Bonaparte returned from Egypt. Macdonald, who knew Napoleon's wife Josephine, agreed to assist in the coup and took command at Versailles during Napoleon's coup d'état of 18th Brumaire. In recognition of his services, the next year Macdonald was given command of the Army of Grisons. Macdonald led the men across the Splugen Pass in December of 1800 and afterwards seized Trente before the terms of peace were finalized between France and Austria.
General Macdonald was next selected to be the ambassador to Denmark, but he disliked diplomacy and requested to be recalled, finally returning to France in early 1802. That year he also remarried, this time to the widow of General Joubert. When in 1804 General Moreau was implicated in yet another assassination attempt on Napoleon, Macdonald came to Moreau's defense. Moreau was exiled after a trial, and while nothing was proven against Macdonald he was disgraced enough to not receive a command for a number of years. Macdonald retired to private life in his chateau but was struck by further sadness when his second wife died.
Five years later, in March of 1809, Macdonald was recalled to service and sent to the Army of Italy. Taking command of a corps under Napoleon's stepson Eugene de Beauharnais, Macdonald led the right wing of the army and became one of Eugene's chief advisors. That May he fought at the Battle of Piave where he was wounded, and then he went on to seize Laibach and Graz. When the Army of Italy linked up with Napoleon's main force, they took part in the Battle of Wagram , where Macdonald launched his corps into the Austrian center with precision and ferocity. In recognition of his contributions to the victory, Napoleon named Macdonald a Marshal of the Empire on the battlefield. Further rewards followed for Macdonald, as he received the Grand Eagle of the Legion of Honor and was named the Duke of Tarente.
Marshal of the Empire
During the spring of 1810, Marshal Macdonald was sent to Spain to take command of the Army of Catalonia. While there he won at Ververa, but in 1811 he fell ill and returned to Paris again. In 1812 Macdonald was given command of the X Corps of the Grande Armée for the campaign against Russia. Macdonald's corps missed most of the fighting of 1812 due to being ordered to hold the left flank, but also due to his command being primarily composed of Prussian and German soldiers, with only his headquarters staff being French. Macdonald's corps laid siege to Riga in August, but they lifted the siege in December during the retreat, just in time for the majority of his force to defect away from the French side due to Prussian nationalism.
Napoleon needed experienced commanders for the campaigns of 1813, and in April of that year Macdonald was given command of the XI Corps. He won at Mersebourg and then commanded the right at the Battle of Lützen. Macdonald continued to lead his men into action, winning at Bischofswerda and then commanding the right at the Battle of Bautzen. That August he was placed in charge of multiple army corps but was then beaten by General Blucher at the Katzbach. Nevertheless, Macdonald continued to serve, and he fought at Leipzig , where after the bridge was blown early he had to swim the Elster River to escape capture. After surviving that escape unlike his fellow marshal Poniatowski, Macdonald resumed his command and then fought at Hanau.
Marshal Macdonald served during the defense of France of 1814, initially defending the Rhine but then being forced to fall back to Meaux. That February he fought at Mormant and Ferté-sur-Aube and then in March he fought at Provins and Saint-Dizier. By Napoleon's side, Macdonald along with Marshal Ney convinced Napoleon that he should give up the war and abdicate in favor of his son, Napoleon II. Macdonald, Ney, and Caulaincourt were then sent to negotiate with the Allies, but ultimately they were unable to secure the throne for Napoleon's son. When Macdonald returned to Napoleon to deliver the terms of surrender, Napoleon gave him the sword of Murad Bey, the Mameluke leader that he had defeated in Egypt.
Service to the Bourbons
With the return of the Bourbons to lead France, Macdonald was named a Peer of France and became governor of the 21st military division. Due to his honest and frank statements, the king nicknamed Macdonald, "His Outspokenness".3 When Napoleon escaped from Elba to return for the Hundred Days, Macdonald attempted to rally the army to stop Napoleon's approach. Realizing the futility of convincing the army to resist Napoleon, he then returned to Paris and escorted the king to the French border. Returning to Paris once again, Macdonald refused Napoleon's summons but agreed to serve in the National Guard.
After Napoleon's second abdication, Macdonald took command of the Army of the Loire from Marshal Davout. In the meantime he also helped some of the officers who were proscribed by the vengeful Bourbons to escape from France. In 1821 Macdonald married again.
Notes
Bibliography
Related Pages:
External Links:
Updated May 2019
© Nathan D. Jensen