General Arthur Dillon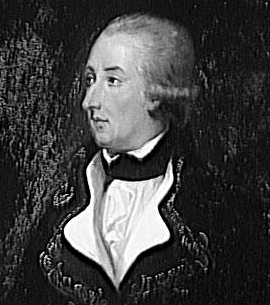 Colonel of the Dillon Regiment who served during the American Revolution and was executed during the Reign of Terror
---
Born: September 3, 1750

Place of Birth: Braywick, Ireland

Died: April 13, 1794

Cause of Death: Executed

Place of Death: Paris, France

Arc de Triomphe: DILLON on the north pillar
Born into a military family of Irish descent, Arthur Dillon joined his family's regiment as a cadet at age fifteen in 1765. The next year he was promoted to sous-lieutenant and in 1768 he became colonel of the Dillon Regiment. As France allied itself with the American revolutionaries, Dillon's regiment was first sent to the Antilles in 1777. During the American Revolutionary War, he led his men into combat at Grenada, Saint Lucia, Tobago, Savannah, and Saint-Eustache. In 1782, Dillon became Governor of Saint-Christophe and the following year he was promoted to maréchal de camp. In 1786 he was appointed Governor of Tobago.
As the king called for the Estates General in 1789, Dillon was elected as one of two deputies of the nobility for Martinique. In 1792 he was promoted to lieutenant general and he took command of his regiment and the left wing of the Army of the North under Lafayette. After revolutionaries stormed the Tuileries Palace on the 10th of August of 1792, Dillon swore fidelity to the king and a week later he was replaced by General Dumouriez. However, a week after that he was reintegrated into the army in command of a division under Dumouriez, where he took command of the advance guard. That September he served in the Argonne, but then in October he returned to Paris to defend his conduct.
Back in Paris, Dillon was suspended of his command and then accused of conspiring with the enemy for having written a letter to the Landgrave of Hesse. Nevertheless, his suspension was lifted but he then refused to serve under General Custine in the Army of the Rhine. He was suspended again in June of 1793 and then arrested the following month. Imprisoned at the Luxembourg Palace, he was tried and condemned to death by a revolutionary tribunal. On April 13th, 1794, as he approached the guillotine he shouted, "Long live the king!" before he was executed.1 His daughter, Fanny Dillon, would go on to marry General Bertrand in 1808.
Notes
Bibliography
Related Pages:
Updated October 2017
© Nathan D. Jensen