General Rémy-Joseph-Isidore Exelmans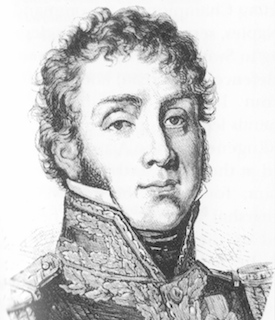 Aide-de-camp to Marshal Murat and notable cavalry commander
---
Born: November 13, 1775

Place of Birth: Bar-le-Duc, Meuse, France

Died: July 22, 1852

Cause of Death: Accident

Place of Death: Sèvres, France

Arc de Triomphe: EXELMANS on the south pillar
Pronunciation:
Like many others during the Revolution, Rémy-Joseph-Isidore Exelmans first joined the army as a volunteer, joining the 3rd Battalion of the Meuse in 1791. Serving under Oudinot, he served with the Army of the Moselle until 1794 when he was sent to the Army of the Sambre and Meuse. A promotion to sous-lieutenant finally came in 1796, and then in 1798 he was promoted to lieutenant and became an aide-de-camp to General Eblé. In 1799 Exelmans was with the Army of Naples and took part in the fighting at Naples and Trani. That April General Macdonald promoted him to capitaine in 16th Dragoons, and he then joined the Army of Italy. Next Exelmans became an aide-de-camp to General Broussier.
In 1800 Exelmans served with the Army of the Reserve, serving at Castelnuovo, the crossing of the Adda, and Crémone. In late June he joined the 15th Chasseurs à Cheval but continued to serve as an aide to Broussier. The next year Exelmans began a long association with General Murat, becoming his aide-de-camp in the Army of the South. In 1803 he received a promotion to chef d'escadrons.
After war broke out in 1805, Exelmans continued to serve as Marshal Murat's aide-de-camp. In October he distinguished himself at Wertingen where he had two horses killed underneath him, and then he served at Austerlitz in December. At the end of the year he was promoted to colonel of the 1st Chasseurs à Cheval and placed with a brigade in III Corps. In 1806 Exelmans took part in the campaign in Prussia, occupying Posen in November, then fighting at Tsarnowo and Golymin in December. Next he took part in the Battle of Eylau, and then in May of 1807 he was promoted to général de brigade. Exelmans then returned to Murat's side as an aide and served in this capacity at the Battle of Friedland.
Rewards followed as Exelmans was made a Baron of the Empire and Grand Dignitary of the Order of Two Sicilies. In 1808 Exelmans followed Murat to Spain, and in June he took part in the expedition against Valencia. He was captured at this time and eventually transported to England as a prisoner of war.
In 1811 General Exelmans broke parole and escaped England, arriving back in France in April. By this time Murat was King of Naples, and Murat appointed him as Grand Marshal of the Palace, but he desired an active command and instead returned to France as a major in the Chasseurs à Cheval of the Imperial Guard. Serving in Russia, he joined the Grenadiers à Cheval of the Guard in July, and then after the Battle of Borodino he was promoted to général de division and took command of Pajol's division since Pajol had been wounded. During the retreat from Russia, Exelmans was wounded by a shot to the thigh at Wilna on December 10th.
Back in friendly territory, General Exelmans took command of the 4th Light Cavalry Division at Mainz in February of 1813 and his unit became part of II Cavalry Corps. He served during the campaigns in Germany and that September he was made a Count of the Empire. During the defense of France of 1814, Exelmans served in the defense of Châlons-sur-Marne and evacuated Vitry-le-François. That March he served at Méry-sur-Seine, Berry-au-Bac, Craonne, Reims, Méry-sur-Seine again, Plancy, and Arcis-sur-Aube.
After Napoleon's abdication, the returning Bourbons made Exelmans the inspector general of cavalry of the 1st military division and a Knight of Saint Louis. In December of 1814, he wrote to Murat but his letters were intercepted by the police. For this action, he was put on non-activity and ordered to leave Paris. Exelmans refused to leave and was arrested, but he escaped and went to Lille. In Lille he went before a council of war presided over by General Drouet d'Erlon. Exelmans was accused of correspondence with the enemy, in this case being Marshal Murat, of spying, and of offenses towards the king. Thrown in prison on January 14th, he was acquitted unanimously by the council on January 23rd.
On March 18th of 1815, General Exelmans traveled to Saint-Denis and got in contact with officers on half pay nearby, rallying them to Napoleon's cause. He seized the artillery there, helping to ensure Napoleon's return to Paris. Napoleon ordered Exelmans back to the cavalry and to follow King Louis XVIII on his flight from France as far as the Belgian frontier. Napoleon also made Exelmans a Peer of France.
During the short campaign that summer, Exelmans commanded the II Cavalry Corps consisting primarily of dragoons. He fought at Fleurus, Ligny, and Wavre, then after the Battle of Waterloo he fell back to Paris and then Versailles. When the Prussian army went too far, Exelmans led his cavalry against the Prussian cavalry at Velizy and Rocquencourt, winning the last engagement of the Napoleonic Wars.
As the Bourbons returned again, Exelmans was dismissed from command. He tried to help Marshal Ney escape custody but was unsuccessful, and he was then exiled from France. Exelmans settled in Brussels, then moved to Liége, and finally the Duchy of Nassau. He was finally authorized to return to France in 1819. In 1831 he was made a Peer of France, and when Armand Carrel was on trial, Exelmans told the Chamber of Peers that the death of Marshal Ney was an abominable assassination.
In 1851, Louis-Napoleon made Exelmans a Marshal of France and in 1852 he joined the Senate. That year he died from a fall from a horse at age seventy-six.

Bibliography
Updated May 2014
© Nathan D. Jensen