General Claude Pierre Pajol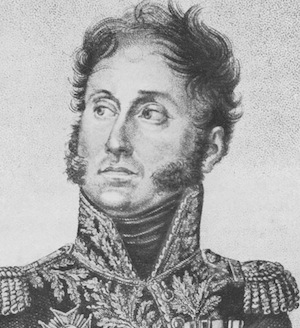 Aide-de-camp to General Kléber who became a talented light cavalry general
---
Born: February 3, 1772

Place of Birth: Besançon, Doubs, France

Died: March 20, 1844

Place of Death: Paris, France

Arc de Triomphe: PAJOL on the north pillar
Pronunciation:
The son of a lawyer from Besançon, Claude Pierre Pajol first joined the army in August of 1791 when he joined the 1st Battalion of Volunteers of Doubs. The next year he was commissioned as a sous lieutenant in the infantry, then promoted to lieutenant, and then he fought at Spire in September where he was wounded by two bayonet blows, one to the stomach and one to the left hand. In 1793 Pajol took part in the Siege of Mainz and during one of the many sorties his arm was broken. That August he returned to Besançon to recover from his wounds. In 1794 Pajol received a promotion to capitaine and he became an aide-de-camp to General Kléber. Serving with the Army of the Sambre and Meuse, he took an Austrian flag at the Battle of the Ourthe in September of 1794 and then two months later he took the captured flags from Maestricht back to the National Convention in Paris. Pajol continued to serve as Kléber's aide-de-camp throughout 1795 and he received a promotion to chef de bataillon in February of 1796. That July he transferred to the cavalry but he continued to serve with Kléber until the end of the year.
In early 1797 Pajol joined the 4th Hussars and that April he served at Neuwied . At the end of the year he joined the Army of Mainz, and then in March of 1799 he fought at Pfullendorf and Stockach. That May Pajol was fighting at Winterthur when he was taken prisoner by the enemy, but his comrades came to his rescue and freed him during the battle. Pajol then went on leave to recover from his wounds, returning in July of 1799 with a promotion to chef de brigade and taking command of the 23rd Cavalry. He was next sent briefly to the Army of Italy before he traveled to Dôle and Nancy and then rejoined the Army of the Rhine in May of 1800.
Pajol served in garrison during the years of peace that followed, and eventually he was sent to the camp of Utrecht in 1803. In 1805 his unit served under Sébastiani in Holland and that fall he took part in the campaign against Austria as part of II Corps, serving at Ulm and Leoben. In 1806 Pajol was sent to Istria and then Frioul and then in 1807 he was promoted to général de brigade and recalled to serve on Napoleon's staff. In May of 1807 he took command of the 1st Brigade of Lasalle's division and he led them into action in June at Guttstadt and Heilsberg. With the successful conclusion of the war, Pajol remained in Germany with Lasalle's division and he was recognized as a Knight of the Order of the Lion of Bavaria and a Knight of the Order of Military Merit of Bavaria. In 1808 he became a Baron of the Empire and he married Marie-Louise-Elise Oudinot, the daughter of General Oudinot.
When Austria declared war and invaded Bavaria in 1809, Pajol took command of the 1st Brigade of Light Cavalry of Montbrun's division. That April he fought at Dinzling, Schierling, Eckmühl, and Ratisbon. After chasing the enemy to Bohemia, Pajol then returned to the main force to serve at the Battle of Wagram . In 1810 Pajol went on leave and returned to France, and in 1811 he took command of the cavalry at Danzig.
Preparing for war against Russia in 1812, General Pajol took command of the 1st Brigade of Light Cavalry of Marshal Davout's I Corps. Commanding Davout's advance guard, in June he took Kovno and Vilna and then he defeated Bagration at Ochmiana. That August Pajol was promoted to général de division and he took command of the 2nd Division of II Cavalry Corps. The next month he charged at Borodino and escaped that battle unscathed, only to be seriously wounded two days later at Mojaisk. Pajol was evacuated from Russia due to his wounds and therefore missed the horrors of the retreat.
Pajol was finally fit to serve again in May of 1813 and he led a new cavalry division to Germany to join the army. That June he took command of the 10th Light Cavalry Division and then in August he joined XIV Corps under Marshal Gouvion St. Cyr. Pajol fought at the Battle of Dresden later that month and then in September he took command of V Cavalry Corps. That October he was fighting near Leipzig at Wachau when a shell exploded and killed his horse, throwing Pajol violently to the ground and seriously injuring him. In recognition of his services, he was named a Count of the Empire in November.
Pajol returned to the army in mid January of 1814 for the defense of France. Taking command of a reserve division of cavalry, that February he charged at Montereau and was again wounded. Sent to Paris to recover from his wounds again, he would not fight again before Napoleon's abdication. After Napoleon's abdication, the restored Bourbons named Pajol a Knight of Saint Louis and gave him command of a cavalry division.
When Napoleon returned from Elba in 1815 for the Hundred Days, Pajol rallied to him and raised the tricolor flag at Orléans. However, Marshal Gouvion St. Cyr ordered the flag to be brought down, but once it became clear that Napoleon was resuming power, Napoleon named Pajol commander of Orléans. Napoleon named Pajol a Peer of France, gave him the Grand Eagle of the Legion of Honor, and placed him in charge of the I Cavalry Corps under Marshal Grouchy. Pajol served at the Battle of Ligny and the Battle of Wavre that June and he and his men were instrumental in protecting the army on its retreat to Paris. After Napoleon's second abdication Pajol became deputy commander of the troops at Paris. He was put on non-activity by the restored Bourbons, but he never ceased to act against them. In 1830 he finally got his chance to serve against the Bourbons when during the unrest in July he marched at the head of Parisian insurgents against Charles X.

Bibliography
External Links:
Updated September 2019
© Nathan D. Jensen