General Antoine-Charles-Louis Lasalle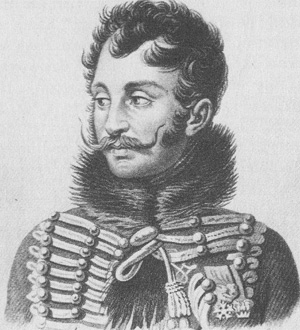 The idol of the light cavalry, famous for his courage and swagger, who was killed at Wagram in 1809
---
Born: May 10, 1775

Place of Birth: Metz, Moselle, France

Died: July 6, 1809

Cause of Death: Killed in action

Place of Death: Wagram, Austria

Arc de Triomphe: LASALLE on the east pillar
The idol of the light cavalry, General Lasalle was an a flamboyant adventurer who once remarked that any hussar who wasn't dead by age thirty was a blackguard, though he himself made it past age 30 by a few years.1 Lasalle was known for his swagger, proficient swearing, and ability to drink, but it was his daring that was legendary for exploits both on and off the battlefield, for he sometimes snuck past enemy lines at night for encounters with the enemy's women. Even so, many saw a different side of him, a charming and witty man who cared about his family. Among his friends he counted Napoleon's most famous spy, Karl Schulmeister.2
The son of a minor noble, Lasalle's father was an ordonnance officer, but Lasalle was also the great grand nephew of Marshal Fabert. These connections enabled him to become a sous-lieutenant in an infantry regiment at age 11 in 1786, but the infantry was no place to contain him. In 1791 Lasalle joined the cavalry, but he resigned the next year due to questions surrounding his nobility.
In 1794 Lasalle was back in action, joining the 23rd Chasseurs à Cheval and the Army of the North. The next year he was promoted to lieutenant and became an aide-de-camp to General Kellermann. In 1796, Lieutenant Lasalle joined the Army of Italy, this time assisting Kellermann's son. During the fighting at Brescia that July he was taken prisoner, but he was released later and then promoted to capitaine in November. That December Lasalle distinguished himself at Vicenza, and then in early January was promoted to chef d'escardons by General Bonaparte. At the Battle of Rivoli , Lasalle and his men charged an Austrian unit and took an entire battalion prisoner. Two months later, he distinguished himself at the crossing of the Piave, and then he was wounded by several saber blows at the crossing of the Tagliamento.
During 1798, Captain Lasalle joined the Army of the Orient and traveled with them to Egypt. Fighting at the Battle of the Pyramids , he was particularly impressive, and two days later Napoleon promoted him to chef de brigade. That August he also fought at Salhieh. January of 1799 was a busy time for Lasalle, for he fought at Souagui, saved General Davout's life at Redemieh, and fought at Samanhout. The next month he fought at Thebes and later won at Djehmali, before leaving Egypt to return to France, finally arriving in July. Once back in France, Lasalle received a sabre and pistols of honor in recognition of his services.
For the next few years, Lasalle served in Italy. Sometime in this time frame, he began an affair with the wife of General Victor Leopold Berthier, brother of Napoleon's chief of staff. After the lady and her husband divorced, Lasalle married her in December of 1803 and became a devoted husband and father, even taking care of his wife's children from her previous marriage. Despite Lasalle's sometimes rowdy behavior, Napoleon thought highly of him and would pay off his debts and forgive his behavior unfitting of an officer. Once when a prefect asked why Napoleon didn't discipline Lasalle for his conduct, Napoleon responded that it only took a stroke of a pen to create a prefect, but it took twenty years to make a Lasalle.3
In 1804 Lasalle was stationed with the Army of the Coasts, and in 1805 he was promoted to général de brigade and he took command of a brigade of Klein's dragoons in Amiens. He commanded his brigade throughout the campaign of 1805 and at the Battle of Austerlitz. At the end of the year, he took command of a brigade of light cavalry in V Corps.
In October of 1806, as La Grande Armée moved against Prussia, Lasalle was in the thick of it, leading his men. After the victorious battles of Jena and Auerstädt, Lasalle participated in the pursuit of the Prussians, and with only 800 cavalry soldiers he forced Hohenlohe to surrender at Prentzlow with his 6000 men. He next convinced the governor of Stettin to surrender his fortress to Lasalle, despite the fact that Stettin had over 5000 soldiers defending it, and Lasalle's cavalry stood no chance of being able to breach the walls.
The November Lasalle fought at Lübeck, and then in December he fought at Golymin and received a promotion to général de division. To start the new year, Lasalle took command of a new light cavalry division that was created as part of the Cavalry Reserve. Detached on Marshal Soult's order, he fought at Ziegelhoff in February, but then returned to Marshal Murat's Cavalry Reserve in March. That summer, during the Battle of Heilsberg, Lasalle saved Murat's life during the combat, and then Murat returned the favor and saved Lasalle's life. After the campaign, Lasalle was rewarded by being named a Knight of the Iron Crown.
The next year, 1808, General Lasalle was sent with a division of light cavalry to Spain under Marshal Bessières. In March he was again recognized for his contributions, being made a Count of the Empire. That summer, Lasalle fought in numerous battles, including Torquemada, the bridge at Cabezon, and Medina del Rio Seco. In September he received another award, this time being made a Grand Officer of the Legion of Honor. Lasalle continued to fight, serving at Burgos in November and then taking seven cannons and four flags at Villa Viejo. His next notable action came the following March, when he and his men charged and won the day at the Battle of Medellin .
At the same time, orders had been sent for Lasalle to travel to Germany to take up a command there against the expected Austrian attack. He left Spain in April and then on May 19th took up command of the 1st Light Cavalry Division under Marshal Bessières. A few days later he led his men into action at the Battle of Aspern-Essling . The next month, he and his men participated in the siege of Raab.
A few weeks later, on the morning of the Battle of Wagram , Lasalle had a presentiment about his death. He drew up a petition to the Emperor to take care of his children, and gave it to one of his friends to deliver to Napoleon if he was killed at Wagram.4 Towards the end of the battle, Lasalle decided to pursue the Austrian VI Corps that was falling back. He took command of the nearby cuirassiers and led them forward but did not account for them being slower than his typical hussars. He appeared as a lone figure out in front, and an Austrian grenadier lined up the shot and fired, hitting Lasalle in the forehead and killing him instantly.5
Notes
Bibliography
Related Pages:
External Links:
Updated January 2017
© Nathan D. Jensen