Marshal Laurent Gouvion St. Cyr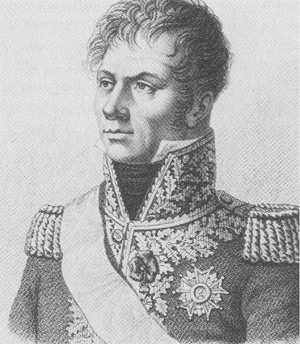 A painter who distinguished himself as a general during the French Revolution and rose to become one of Napoleon's marshals
---
Born: April 13, 1764

Place of Birth: Toul, Meurthe-et-Moselle, France

Died: March 17, 1830

Cause of Death: Apoplexy

Place of Death: Hyères, France

Arc de Triomphe: GOUVION S

T

CYR on the east pillar
Pronunciation:
Laurent Gouvion St. Cyr, nicknamed the Owl, was known for an icy but honest disposition and the cerebral approach he took to war. Many considered him an intellectual who fought war as if it were a chess game, showing little emotion or élan and leaving most inspiration of his soldiers to his subordinates.
As a child, Laurent's father was a tanner and his mother left the family when he was four, forcing him to develop a strong individualism. His mother also took up the name St. Cyr.1 Growing up, Laurent refused to follow in his father's footsteps as a tanner and he added his mother's new name to his own. At age 18 he left France for Italy with dreams of becoming an artist. Four years later in 1786 he returned to France and traveled to Paris where he tried his hand at acting and carved out a small living as a painter.
With the Revolution gaining steam, in September of 1792 Gouvion Saint-Cyr volunteered with the 1st Battalion of Republican Chasseurs. Serving with the Army of the Rhine, two months later he was promoted to capitaine and saw action at Mainz. Later General Custine rode by and saw Gouvion St. Cyr sketching a drawing, and impressed by his drawing skills, added him to his general staff.2 During this time Gouvion St. Cyr also met and became good friends with Desaix.
In September of 1793 Gouvion St. Cyr was promoted to chef de bataillon and made chief of staff to General Ferey. On the 14th he distinguished himself in the fighting at Landremont and he seized Hohenburg and Nothweiler. Two months later he became chief of staff to Férino's division, then in December he commanded a brigade and distinguished himself at Bertsheim. In recognition of his accomplishments, in January of 1794 he was promoted to chef de brigade.
In May of 1794, Gouvion Saint-Cyr joined the advance guard at Kaiserslautern. During the first week of June he was promoted to général de brigade by a representative of the people, and five days later the same representative promoted him to général de division. With this new rank, he took command of the 2nd Division of the Army of the Rhine and then led them into action at Schweigenheim and Trippstadt in July. That October Gouvion St. Cyr took command of the 9th division and then went on to serve during the blockade and siege of Mainz. Despite his campaigning, Gouvion St. Cyr took leave to return to Toul and marry his sweetheart, his cousin Anne Gouvion, in early 1795. Once he returned to the army, he served under Schaal and again participated in the blockade of Mainz. That November he took command of the 11th Division but was then defeated on the Pfrimm.
1796 was a very busy year for General Gouvion St. Cyr. In April he took command of the 7th Division of the Army of the Rhine and then at the end of May he took command of a corps. That July he fought at Rastadt, played a decisive part in the battle of Ettlingen, seized Stuttgart, and attacked Kannstadt, and then in August he fought at Neresheim and Friedberg. Gouvion St. Cyr continued to be busy, serving at Geisenfeld and Freising in September and then at Biberach, Emmendingen and Schliengen in October. Afterwards, he participated in the defense of Kehl until early 1797 when he took command of the left wing of the Army of the Rhine. Later in 1797 he took interim command of the entire Army of the Rhine and Moselle when General Hoche gave him the command on his deathbed.
Gouvion St. Cyr was next sent to Italy to take command of the Army of Rome in March of 1798. While there, he ordered the French civil consuls to return some jewels they had taken, and they used their political influence to get him removed from command and sent back to France.3
In 1799 Gouvion St. Cyr took command of the left corps of the Army of the Danube, and in March he served at Pfullendorf and Stockach. That May he was transferred to the Army of Italy and he commanded the ring wing at the Battle of Novi in August. Falling back, he became governor of Genoa in September, and then won at Bosco in October, Novi in November, and Albaro in December. For these feats he received a saber of honor. At the very end of 1799 Gouvion St. Cyr was sent back to the Army of the Rhine to serve under General Moreau. In May of 1800 he served at Engen and then won at Biberach and Erbach before quitting his command to return to France, claiming poor health.
First Consul Bonaparte made Gouvion St. Cyr a Councilor of State, and then in early 1801 he was sent to Spain as an ambassador. In 1803 he was sent to Naples and in 1804 he refused to sign a proclamation praising the creation of the Empire. Needless to say this did not go over well with Napoleon. Nevertheless, Gouvion St. Cyr was given the Grand Eagle of the Legion of Honor in early 1805.
When war broke out in 1805, Gouvion St. Cyr was still in Italy and given command of the right wing of the Army of Italy. That November he defeated the Prince of Rohan at Castelfranco and then in December he was made commander of the Army of Naples. Learning that he would be placed under Marshal Masséna, he was furious and quit his command without permission and returned to Paris. Napoleon ordered him back to Naples for disobeying orders, but then in late 1806 Napoleon sent him to Boulogne to command the 1st Reserve Corps. Gouvion St. Cyr spent 1807 in Boulogne and the surrounding areas, enjoying the fairly easy command and using the time to draw the countryside. In 1808 he was not forgotten with the new nobility and he became a Count of the Empire.
Gouvion St. Cyr's easy way of life came to an end in August of 1808 when he was sent to Spain as commander of the Army of Catalonia, which would become VII Corps. While in Spain, in December of 1808 he took Roses, won at Cardeheu, delivered Barcelona, and won at Molins del Rey. In 1809 he won at Valls, occupied Reus, won at Fornell, and then began the siege of Gerona. When Gouvion St. Cyr learned that Marshal Augereau was to replace him, he was incensed and quit his command without permission, much as he had years before. Napoleon ordered him placed under house arrest and investigated, but the only punishment he received was a reprimand for inappropriate transfer of command.
The Russian campaign of 1812 proved to be Gouvion St. Cyr's opportunity to shine. He was given command of the VI Corps which was primarily made up of Bavarians. That August he was ordered to Polotsk to support Marshal Oudinot's II Corps. Annoyed by Oudinot's attitude at the Battle of Polotsk on the 16th, Gouvion St. Cyr refused to run the battle for Oudinot. Whenever Oudinot would ask him for advice, he would reply simply, "Napoleon made you the marshal. Who am I, a mere general, to advise you?"4 That evening, both Oudinot and Gouvion St. Cyr were wounded, but Oudinot was wounded badly enough to be forced to leave the field and therefore he turned command over to Gouvion St. Cyr. Despite his wounds and the fact that Oudinot considered the battle to be lost, Gouvion St. Cyr led the French to a brilliant victory the next day. In recognition of this victory, Napoleon rewarded him with a marshal's baton.
Two months later at the second Battle of Polotsk , Gouvion St. Cyr was badly wounded by a ball to the foot. His men were defeated and he ordered the retreat before handing over his command due to his wound. He was out of action for months until February of 1813 when he was recovered enough to resume a command, but it was not to last. He took command of the XI Corps, but he soon became sick with typhus and and was forced to return to France to recover.
Marshal Gouvion St. Cyr finally returned to activity with the army in August of 1813, taking command of the XIV Corps. He defended Dresden and took part in the Battle of Dresden, commanding the center. The next month he received the orders to abandon Dresden too late, and he was therefore blockaded in the city by the Allies. Having only limited supplies, he was forced to surrender in November and the terms of the surrender were disregarded by the Allies. Instead of allowing him and his men to return to France, they were made prisoners of war.
Finally released and returned to France in June of 1814, Gouvion St. Cyr was made a Peer of France by the restored Bourbons. However, he refused any commands and spent the time on his estate at Reverseaux instead. When Napoleon escaped from Elba and returned, Gouvion St. Cyr refused to take sides and sat out the Hundred Days.
After the once again restored Bourbons resumed power, they sacked Marshal Davout as Minister of War and replaced him with Gouvion St. Cyr. In this position, Gouvion St. Cyr tried to lessen the punishments for those who had joined Napoleon, including Marshal Ney. Having a military trial for Ney was his idea, hoping that his fellow marshals would at best give Ney a slap on the wrist, or at worst have him exiled. Unfortunately, this backfired when the marshals who were to sit in judgment on Ney refused to judge him. When Ney was then tried by the Chamber of Peers, Gouvion St. Cyr voted for deportation of Ney, though ultimately Ney was executed. Frustrated by the Bourbons, Gouvion St. Cyr retired to his estate with his wife.
Two years later he was asked to become the Minister of Marine, and then later Minister of War again. He retired in 1819 and then in 1830 died of a heart attack.
Notes
Bibliography
Related Pages:
External Links:
Updated June 2019
© Nathan D. Jensen