Marshal Nicolas-Charles Oudinot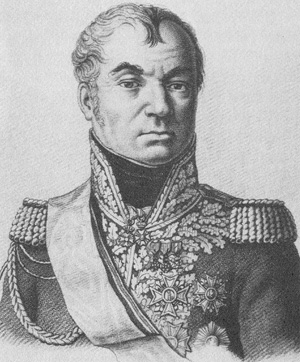 Commander of an elite grenadier division and Napoleon's most wounded marshal
---
Born: April 25, 1767

Place of Birth: Bar-le-Duc, Meuse, France

Died: September 13, 1847

Place of Death: Paris, France

Arc de Triomphe: OUDINOT on the east pillar
Pronunciation:
Beginnings
One of the most wounded soldiers of the time, Nicolas-Charles Oudinot was the son of a brewer who would rise to become one of Napoleon's marshals. In 1784 at age seventeen he ran away from home and enlisted in the infantry, but three years later his father bought out his enlistment and he returned home. That was not enough to keep him out of the military though. When the Revolution started in 1789, Oudinot volunteered to join a company of volunteers and the following year he joined the National Guard of Meuse.
In 1791 Oudinot became a lieutenant colonel of the 3rd Battalion of Volunteers of the Meuse and then he went on to serve in the Army of the Rhine and the Army of the Moselle. In November of 1793 Oudinot was promoted to chef de brigade and took part in the defense of Bitche before being wounded by a shot to the head at Haguenau in December. Back in action before long, in May of 1794 he cleared a passage at Kaiserslautern with the bayonet and then fought at Morlautern. That June he was promoted to général de brigade and then in August his leg was broken by a shot and fall from a horse at the bridge of Wasserbillig.
Despite his wounds, Oudinot would frequently return to combat as soon as possible. In October of 1795 he fought at Neckerau where he was wounded by five saber blows and a shot and then taken prisoner. Transported to Ulm, he was exchanged and released in January of 1796. Next Oudinot was named commander at Phalsbourg, and then in September he became chief of a brigade of cavalry. That month he fought at Ingolstadt where he was again wounded, taking four saber blows to the neck and a ball to the thigh. Nevertheless he continued to serve and fought at Ettenheim the next month.
A series of administrative positions followed for Oudinot until he was sent to the Army of Switzerland in October of 1798. At Feldkirch in March of 1799, he took a number of prisoners on the first attempt to break through but then failed to break through on two more attempts. General Masséna praised Oudinot and promoted him to général de division, giving him command of a division. Oudinot's next major action came in June of that year when he was wounded by a ball in the chest at Rosenberg. At the end of July, he became chief of staff of the Army of the Danube and Switzerland, and then in August he was again wounded, this time by a ball to the shoulder blade while fighting at Schwyz. As usual, Oudinot continued to serve despite his wounds, and in September he played an important part in the Battle of Zurich where he was wounded by a ball to the chest. A few weeks later Oudinot fought at Andelfingen.
General Oudinot next traveled to Italy in late 1799, following Masséna as his chief of staff. In this capacity he took part in the defense of Genoa with Masséna. In August of 1800 he became Brune's chief of staff, and then he distinguished himself at Monzembano in December where he took an enemy battery. Afterwards, the First Consul presented him with a saber of honor and a cannon he had captured.
Administrative positions followed during the Peace of Amiens. Oudinot became inspector general of cavalry and then took command of an infantry division at Bruges. During this time he became good friends with General Davout and acquired an aide named Pils, who always carried a first aid kit with him, so sure was he that it would be needed soon enough to treat Oudinot's wounds.
Commander of Elite Grenadiers
In 1805 Oudinot was given command of an elite division of grenadiers and he received the Grand Eagle of the Legion of Honor. During a review at the Camp of Boulogne that year, Oudinot and his men proudly paraded past Emperor Napoleon. Suddenly, Oudinot's horse stopped, and refused to go forward. In vain he tried to spur it forward, but the horse refused to budge, and even went so far as to attempt to buck him off. Thoroughly annoyed, Oudinot dismounted, drew his sword, and slid it through the horse's neck, killing it almost instantly. Napoleon later asked him, "Is that way you treat all your horses?" "Sire, that is my way when I am not obeyed," Oudinot replied.1
As war broke out that year, Oudinot's elite division became part of Marshal Lannes' V Corps. That November, as the French were pursuing the Russians, Oudinot and his men encountered some of the Russian rearguard. As he and a squadron of cavalry were scouting the area, suddenly they were surprised by Russian infantry hiding in the woods. Oudinot rode straight up to them and ordered them to lay down their weapons, to which they complied.2
Continuing to campaign, Oudinot took part in the famous capture of the Tabor Bridge. As Lannes and Murat and a few aides walked straight across the bridge, talking about a cease fire and being a distraction, Oudinot and his elite soldiers snuck up across the bridge, disabled the fuses, and seized control of it.
Oudinot was wounded shortly thereafter by a ball to the thigh at Hollabrun. He was recovering in Vienna when he learned of the imminent Battle of Austerlitz. Despite his wounds, he hurried to Napoleon and asked to be allowed to command his division in the battle. Napoleon was impressed by Oudinot's dedication, but knew his grenadier general was not up to full strength. Referring to Oudinot's wounds, Napoleon explained, "Your courage surpasses your strength. I have given your division to Duroc."3 Oudinot still wished to command his division, and went to Duroc to ask to serve under him. Duroc agreed and they shared the command for the battle.
Oudinot again took command of a division during the campaign in Prussia in 1806, though initially he commanded a division of dismounted dragoons. That November he organized a division of grenadiers and voltigeurs, and he led them into action in February of 1807 at Ostrolenka, where he was almost taken prisoner. Next Oudinot and his division were sent to the Siege of Danzig , where they contributed to the success. One day during the siege, Oudinot and Lannes were on horseback talking, when a ricocheting ball flew into Oudinot's horse, killing it, then ricocheted and hit Lannes, then fell to the ground. Neither officer was hurt, but both were a little unnerved by just how lucky they had been.4
After the successful conclusion of the siege, Oudinot's grenadier division became part of Lannes' Reserve Corps. During the fighting at Heilsberg, Oudinot noticed that the Emperor was within range of the enemy fire, and warned him, "Sire, if you remain exposed to enemy fire, I will order my grenadiers to seize you and lock you inside a caisson." Napoleon was annoyed but moved to safety, convinced that Oudinot would actually carry out his threat despite protocol.5
A few days later Oudinot and his men were engaged in combat at Friedland, holding out against the Russian onslaught. Lannes had been frantically sending aides to Napoleon to bring the entire army to Friedland, but Napoleon, not appreciating the scope of what Lannes was facing, did not want to commit the entire army unless the entire Russian army was there, which it was. Frustrated by their desperate need of reinforcements and not getting any near as quickly as he would like, Oudinot sent one of his aides galloping off to Napoleon with the message, "Even my little eyes see the entire Russian army is here!"6
After the victory at Friedland and the following Treaty of Tilsit, Oudinot and Marshal Mortier occupied their time by having fun in Danzig, with the most notable of their activities being how they would attempt to put out candles with pistol shots. Despite surprisingly fighting at Friedland unscathed, Oudinot's luck with regards to injury was still not good. In December that year his horse fell, rolled over him, and broke his leg. Worse, the doctors failed to set it correctly and it did not heal correctly, forcing better doctors to then re-break his leg and re-set it, though the second time it healed correctly. In the meantime he received numerous rewards, becoming a Knight of the Order of the Iron Crown, a Commander of the Order of Saint Henry of Saxony, a Knight of the Order of Saint-Wladimir of Russia, a Grand Cross of the Black Eagle of Prussia, a Grand Cross fo the Red Eagle of Prussia, and a Count of the Empire.
In 1809 General Oudinot returned to active campaigning when the Austrians declared war again. Taking command of a grenadier division again, he won at Pfaffenhofen and fought at Landshut and then his unit became part of Lannes' II Corps. He fought at Aspern-Essling that May and was wounded again. After Marshal Lannes' death, the command of II Corps was given to him, and he led them into battle at Wagram where he was again wounded, this time by a ball to the thigh. Further rewards followed for he was given the Grand Cross of the Order of Maximilien Joseph of Bavaria and created a Marshal of France alongside Marmont and Macdonald. The three new marshals were collectively nicknamed "Lannes small change" for being named marshals barely a month after Lannes' death. The army considered the three of them combined were equal to that of their now deceased marshal, Lannes.
The next year Oudinot was given command of the Army of the North to peacefully transition the Dutch into the French Empire. After Louis Bonaparte had abdicated the throne of Holland, the French under Oudinot moved in to complete the transition . As the mayor of Amsterdam handed the keys of the city to Oudinot, he broke out in tears. Oudinot, who was sympathetic to the mayor, told him, "Oh come, don't cry like that, or I'll do the same, and then we'll both look silly!"7
Russian Campaign of 1812
In the meantime Marshal Oudinot received more rewards, including the Grand Cross of the Order of the Low Countries and becoming the Duke of Reggio. In 1812 Oudinot took command of the II Corps to lead them into Russia. That summer he won at Deweltowo, seized Dunabourg, was repulsed at Jboukowo, and won at Oboiarszina. Fighting at Polotsk in August, he was badly wounded by grapeshot to the shoulder and had to hand over his command to General Gouvion St. Cyr, who won the battle the following day and a marshal's baton.
By October Oudinot had recovered enough to resume command of II Corps, and in November he and his men won at Lochnitza. As one of the more intact corps of the army, II Corps was given an important part during the Battle of the Berezina. As Oudinot and his corps fought off the Russians on the far side of the Berezina, he was struck by a bullet and immediately fell to the ground. Feared for dead, his men were happily surprised to realize he was still alive, and they improvised a stretcher and carried him to the doctors. Oudinot's surgeon attended to him, but penetrating six inches into the wound and being unable to find the bullet, he left the bullet inside Oudinot.8
The next day Oudinot set off with just his aides to return to France as quickly as possible to recover. As they were resting at a small cottage, a group of Cossacks surrounded the cottage and demanded their surrender. Oudinot stood up, reached for his pistols, and stated, "If they take me alive at least they will see who I am." He led his men in the defense of the cottage, and upon hearing the sound of battle, some French cavalry rode to the scene to assist in driving off the Cossacks. Oudinot again did not escape wounding, as just as the Cossacks began to flee, one of their shots hit the ceiling of the cottage, causing a beam to fall and hit Oudinot in the head.9
1813 - 1815
Marshal Oudinot returned to a command in April of 1813 when he took command of XII Corps in Germany. In May he fought at Bautzen and Hoyerswerda, and then in June at Luckau. That August he was ordered to march on Berlin and was beaten by his former colleague Bernadotte at Gross-Beeren. That September Napoleon gave him command of two divisions of the Young Guard which he led into battle at Leipzig and Freyburg.
During the defense of France of 1814, Oudinot was again wounded, this time at Brienne. That February he took command of VII Corps and fought at La Rothière, Mormant, Méry-sur-Seine, and Bar-sur-Aube. The next month he fought at Veneuvre and then at Arcis-sur-Aube he was hit in the chest by a ball, his life being saved by the Grand Eagle of the Legion of Honor that absorbed the hit.
Oudinot was one of the marshals who called for Napoleon's abdication, and afterwards the returning Bourbons made him a Commander of Saint Louis and Peer of France. When Napoleon escaped from exile, Oudinot went to Metz and tried to gauge the support of the people. When the people began to riot in favor of Napoleon, he realized that the king's rule was over. He retired to Bar-le-Duc but was summoned to Paris by Napoleon. Napoleon tried to convince him to rejoin the army for the upcoming campaign, but Oudinot refused. He told Napoleon, "Since I will not serve you, sire, I will not serve anyone."10
Notes
Bibliography
Related Pages:
External Links:
Updated January 2017
© Nathan D. Jensen