General Gérard Christophe Michel Duroc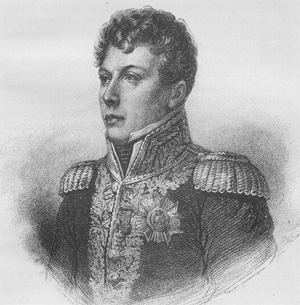 Close friend and aide-de-camp to Napoleon who served as Grand Marshal of the Palace and was killed at Bautzen
---
Born: August 25, 1772

Place of Birth: Pont-à-Mousson, Meurthe-et-Moselle, France

Died: May 23, 1813

Cause of Death: Mortally wounded

Place of Death: Bautzen, Germany

Arc de Triomphe: DUROC on the east pillar
Pronunciation:
Duroc is considered to be one of the few true friends of Napoleon. A noble by birth, he entered the military school at Pont-à-Mousson as a gentleman cadet in early 1789. Three years later he became a sous-lieutenant at the artillery school at Châlons, but a few months afterwards, due to the turmoil of the Revolution he resigned and emigrated from France. Almost immediately Duroc changed his mind and returned to France, and in early 1793 he was allowed to return to the school at Châlons. After continuing his education, that summer he was promoted to lieutenant and sent to the Army of Italy, where he would serve for many years.
Over the next years, Duroc would serve during the Siege of Toulon and be promoted to captain before the famous Italian campaign of 1796. At the start of the campaign, Captain Duroc served in the same crew as Andreossy before becoming an aide-de-camp to General Lespinasse. He distinguished himself at Primolano and Covolo, and by October General Bonaparte had noticed him and made him an aide-de-camp, beginning a friendship that would last until Duroc's death.
Accompanying Napoleon to Egypt, Duroc fought at Salahieh and was promoted to chef de bataillon. In March of 1799 he took part in the assault on Jaffa and was promoted a week later to chef de brigade. Fighting at Acre, he was wounded during the long siege. At his next big battle, the Battle of Abukir on July 25th, he was badly hurt when a shell burst nearby.
Duroc was one of the individuals chosen to return to France with Napoleon. As a trusted aide, he assisted during the coup of 18th Brumaire that brought Napoleon to power. Next he was sent to Berlin to negotiate with the Prussians, and then in February went to Basel for secret negotiations. Returning to France, he joined the Army of the Reserve, taking command of the 3rd Regiment of Horse Artillery and fighting at Marengo.
Napoleon continued to employ Duroc as a diplomat, sending him to Stuttgart and Vienna. In 1801 he was sent to St. Petersburg, and on his return trip he also went to Copenhagen. Upon his return to Paris he was made the Governor of the Palace of the Tuileries. During Duroc's time in Paris, Napoleon's stepdaughter, Hortense de Beauharnais, had developed strong feelings for him and wished to marry him and he had written her frequently when he was out of town. Despite Hortense's feelings for him, others including her own mother Josephine wished for her to marry Napoleon's brother Louis. Josephine, never popular in the Bonaparte family, hoped to bring Napoleon's brothers around to liking her through her daughter. Duroc's feelings are not known, but he allowed Hortense to be unhappily married to Louis, and he later married the daughter of a wealthy Spanish banker.1
In 1803 Duroc was promoted to général de division and began serving at the camp of Boulogne. In 1805, he became Grand Marshal of the Palace and received the Grand Eagle of the Legion of Honor, followed by the Grand Cordon of the Black Eagle. He accompanied Napoleon throughout the campaign of 1805, and when Oudinot was wounded, took command of the division of grenadiers. Since Oudinot refused to stay out of battle despite his wounds, Duroc and Oudinot agreed to share command of the division for the Battle of Austerlitz. After Austerlitz, Duroc negotiated the treaty of Schoenbrunn to keep the Prussians out of the Coalition against France.
In August of 1806, Duroc was rewarded with the Grand Cordon of the Red Eagle. After the Prussian defeat at Jena-Auerstädt, he negotiated the peace treaty with the kingdom of Saxony. Back in action, he was badly hurt in the shoulder at Kutno in December of that year. The next year, after the French victory at Friedland, Duroc carried the armistice to Tsar Alexander.
1808 saw Duroc being rewarded with a new title, Duke of Frioul. Sent to Spain, he signed the treaty that announced King Charles IV's renunciation of the throne of Spain. He then followed Napoleon to Erfurt, back to Spain, and then back to Germany for the Danube campaign of 1809, fighting at Essling and Wagram . He signed the armistice of Znaïm and met with the Archduke Charles to negotiate terms. For his services, he was again rewarded, this time becoming a Knight of the Iron Crown.
Duroc continued in his role as an aide and Grand Marshal of the Palace, accompanying Napoleon throughout the Russian campaign of 1812. In April of 1813, he became a senator, but still continued to follow Napoleon on campaign, serving at Lützen and Bautzen.
During the actions immediately following the Battle of Bautzen, Duroc had a presentiment of his death that morning, and arranged for his family to be taken care of.2 Later in the day a cannonball ricocheted off a tree, then hit and instantly killed General Kirgener, then ricocheted again and hit Duroc in the stomach, ripping open his abdomen and spilling his guts out. Carried to a house, he lay there dying as his friend Dr. Larrey was summoned, but the wound was too bad for Larrey to do anything. The Emperor visited Duroc and was visibly upset by his condition, with both of them knowing he stood no chance of survival. When General Drouot, also quite upset, asked the Emperor for orders, Napoleon was so upset that he refused to give orders. At Duroc's death, Napoleon wept, and then purchased the house in which Duroc had died and paid for a monument to be built to commemorate his friend.3
Notes
Louis Constant Wairy, Memoirs of Constant: First Valet de Chambre of the Emperor, On the Private Life of Napoleon, His Family, and His Court, trans. Elizabeth G. Martin, (New York: Charles Scribner's Sons, 1895), I:104-105.
Constant, Memoirs of Constant, IV:74-77.
Bibliography
Related Pages:
External Links:
Updated March 2020
© Nathan D. Jensen