General Jean Baptiste Drouet d'Erlon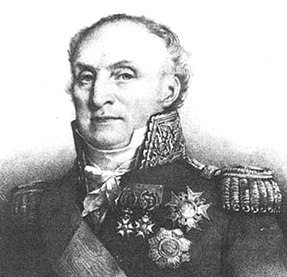 Général de division who frequently served under Lefebvre and became a corps commander
---
Born: July 29, 1765

Place of Birth: Reims, Marne, France

Died: January 25, 1844

Place of Death: Paris, France

Arc de Triomphe: DROUET on the east pillar
Pronunciation:
The son of a master carpenter, Jean-Baptiste Drouet d'Erlon first joined the army in 1782. Once the Revolution was underway, in 1792 he was serving with the chasseurs from Reims and he joined the Army of the North. In 1793 Drouet was with the Army of the Moselle when he finally became an officer, being elected capitaine of his battalion. The next year he joined the Army of the Sambre and Meuse and he became an aide-de-camp to Lefebvre, beginning a long working relationship. That year Drouet also took part in the sieges of Valenciennes and Condé, and the next year he received a promotion to chef de bataillon.
Drouet was promoted to chef de brigade in 1797, and late that year he joined the Army of the Rhine. In 1799 he became Lefebvre's chief of staff, then he joined Souham's division and was promoted to général de brigade. Drouet went on to fight at Zürich that September as part of Mortier's division. In 1800 Drouet joined Legrand's division in April and then in May he defended Dischingen. Next he joined Richepanse's division, and he distinguished himself and was wounded that December at the Battle of Hohenlinden. After Hohenlinden, Drouet continued to serve at the combats at Herdorf, Strasswalchen, and Lambach.
Drouet's next major command came in 1803 when he served in Hanover as part of the advance guard under Mortier. He won at Borstel that June and was rewarded with a promotion to général de division in August. As war broke out in 1805, Drouet took command of the 1st Division of I Corps and then in September of 1805 he took command of the 2nd Division and led them into action at the Battle of Austerlitz that December.
The next year Drouet continued to command a division for the Prussian campaign, serving at Schleiz, Halle, and Lubeck. In January he served at Mohrungen and he became chief of staff to his old comrade Marshal Lefebvre, and with Lefebvre he took part in the Siege of Danzig from March until May of 1807. During that siege he successfully took the isle of Holm which contributed to the eventual surrender of the defenders. Drouet stayed until the conclusion of the siege and then later that month he joined the army again as Marshal Lannes' chief of staff. Within a few weeks, he was fighting at Friedland where he was badly wounded.
General Drouet got a break for a period of time, commanding the 11th military division at Bordeaux in 1808. In 1809 he became Count d'Erlon and then in May he joined Lefebvre again as a chief of staff. He served with Lefebvre in Bavaria and the Tyrol and then took command of the Bavarian VII Corps when Lefebvre left. In the meantime Drouet d'Erlon received numerous awards including becoming a Commander of the Order of Charles-Frédéric of Baden, the Grand Cross of Military Merit of Maximilien-Joseph of Bavaria, a Commander of the Order of Saint-Henri of Saxony, and a Commander of the Order of the Lion of Bavaria.
Recalled to France in 1810, Drouet d'Erlon was next to Spain. In August he took command of the IX Corps and then in September he fought at Valladolid. In 1811 he served at the Battle of Fuentes de Oñoro and he was named commander of V Corps in Andalucia. The next year he commanded the 5th Infantry Division and the right wing of the Army of the South under Marshal Soult, and in August he fought near Cordoba and Jaen while retreating to join up with the rest of the army. That October he seized the fort of Chinchilla and was later named commander-in-chief of the Army of the Center.
General Drouet d'Erlon continued to serve in Spain, in June of 1813 fighting at Vitoria and a month later being given command of the center corps of the Army of the South. That July he also fought at the pass of Maya. Falling back to France, he fought at Saint-Pierre d'Irube in December and then at Orthez in February. After being repulsed at Vic-de-Bigorre in March, Drouet d'Erlon commanded a corps at the Battle of Toulouse in April until he learned of Napoleon's abdication.
With the return of the Bourbons, Drouet d'Erlon was treated well, becoming a Knight of Saint Louis and receiving the Grand Cross of the Legion of Honor. Nevertheless, he had not forgotten his old comrades in arms, and when General Exelmans was arrested for refusing to follow the orders given by the Bourbons, Drouet d'Erlon presided over the council of war that acquitted Exelmans. Meanwhile, he also plotted with Generals Lallemand and Lefebvre-Desnouettes and he was arrested on March 21, 1815 but released almost immediately.
Napoleon made Drouet d'Erlon a Peer of France and gave him the command of I Corps for the upcoming campaign in Belgium. Unfortunately for the French, during the battles of Ligny and Quatre-Bras, his corps marched back and forth between the two battles due to receiving conflicting messages and the corps did not participate in either battle. Had Drouet d'Erlon's corps been present at either battle it might have changed the outcome of the following days and possibly the war. Nevertheless, his corps saw plenty of action at the Battle of Waterloo where he distinguished himself and his men seized La Haie Sainte. After the loss of the battle, Drouet d'Erlon and his men fell back to the Loire.
Proscribed by the Bourbons, Drouet d'Erlon first fled to Munich then finally settled in Bayreuth in Germany where he opened a café and inn. Back in France he was condemned to death by a trial in absentia. Finally in 1825 he was pardoned by Charles X and he returned to France but was retired. After Louis Philippe came to power in 1830, Drouet d'Erlon resumed his military career. In 1843 he was made a Marshal of France.

Bibliography
Related Pages:
External Links:
Updated April 2019
© Nathan D. Jensen