General Claude Juste Alexandre Legrand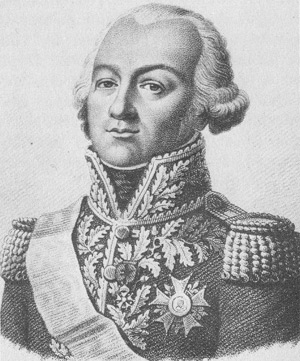 Général de division who fought at Hohenlinden, Austerlitz, Jena, Eylau, Aspern-Essling, Wagram, and the Berezina
---
Born: February 23, 1762

Place of Birth: Plessier-sur-Saint-Just, Oise, France

Died: January 9, 1815

Cause of Death: Wounds never fully healed

Place of Death: Paris, France

Arc de Triomphe: LEGRAND on the east pillar
Pronunciation:
Enlisting in the infantry regiment of Dauphin in 1777, Claude Juste Alexandre Legrand slowly rose through the enlisted ranks over the following years and by June of 1786 he had risen to the rank of sergeant-major. In 1790 Legrand joined the National Guard of Metz and in March of 1792 he became a lieutenant colonel of the 4th Battalion of Volunteers of Moselle. Serving with the Army of the Moselle, in September of 1793 he was promoted to général de brigade. 1794 saw Legrand serving in Championnet's division and fighting at Arlon and Fleurus before then being transferred to the Army of the Sambre and Meuse. On September 4th of 1795 he led a cavalry brigade across the Rhine near Dusseldorf and within two days he had seized Dusseldorf and taken 2000 prisoners. The next year he fought at Neuwied and Wurzburg.
Designated for the Army of England in early 1798, Legrand was later transferred to the Army of the Rhine where he served in Gouvion St. Cyr's division. With this division he fought at Pfullendorf and Stockach in March of 1799 and the next month he was promoted to général de division. Legrand next served briefly with the Army of the Danube and the Army of Switzerland. Joining the Army of the Lower Rhine in June, he took command of the troops stationed on the right bank of the Rhine. Fighting at Renchen on July 4th, he was victorious and then two days later he distinguished himself at Offenbourg, only to be driven back a few days after that. In November he was placed under Delaborde and then in March of 1800 he commanded the 2nd Division of Sainte-Suzanne's corps in the Army of Germany. With this corps he fought at Erbach and Dellmensingen and he continued to serve after Richepanse took charge of the corps. After fighting at Ampfing in December under Grenier, Legrand went on to fight at Hohenlinden.
Administrative posts followed and Legrand was appointed to command the 27th military division at Turin in July of 1801 and then two years later in March of 1803 he became an inspector general of infantry. In August of 1803 he took command of the 3rd Division of the camp of Saint-Omer, which was to later become Marshal Soult's IV Corps. As part of Soult's IV Corps in 1805, Legrand led his division on the campaign and into battle at Wertingen and Hollabrunn, and at Austerlitz he distinguished himself supporting the efforts against the Russian left wing. For his exceptional service he received the Grand Eagle of the Legion of Honor at the beginning of 1806. Continuing to command a division in IV Corps for the campaign of 1806 against Prussia, Legrand fought at Jena and Lübeck, and then in 1807 he fought at Bergfried, Eylau, Heilsberg, and Koenigsberg.
In 1808 Legrand was created a Count of the Empire and in early 1809 as Austrian hostilities became apparent, his division became the 1st Division of Masséna's IV Corps. After fighting at Ebersberg in early May, he also led his men into battle at Aspern-Essling where he was wounded. In July Legrand served at Wagram and Znaim and in November he became interim commander of IV Corps. In 1811 he commanded a division at Boulogne and he also married the daughter of General Schérer since his first wife had died in 1802. In 1812 Legrand received the Grand Cross of the Military Order of Charles Frederick of Baden and as the Russian campaign of 1812 got underway his division was designated the 6th Division of Oudinot's II Corps. During the campaign he served at Jaoukowo, Oboiaszina, and Polotsk. After the newly appointed Marshal Gouvion Saint Cyr was wounded in October, Legrand assumed temporary command of II Corps until Oudinot returned. Leading his division into action again, he fought bravely at the crossing of the Berezina but was grievously wounded and never fully recovered.
Legrand returned to France to try and recover and in April of 1813 he became a senator. In January of 1814 he served under Augereau and in February he organized the defense of Chalon-sur-Saône, repulsing attacks until he was finally driven out by superior numbers. Still suffering from his wounds received at the Battle of the Berezina, Legrand finally succumbed to them in January of the next year.

Bibliography
Updated April 2023
© Nathan D. Jensen