General Henri-François Delaborde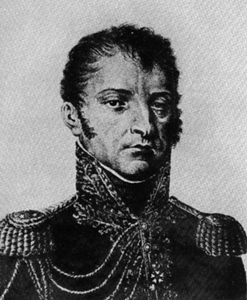 Général de division who suffered from rheumatism but nevertheless conducted himself well
---
Born: December 21, 1764

Place of Birth: Dijon, Côte-d'Or, France

Died: February 3, 1833

Place of Death: Paris, France

Arc de Triomphe: DELABORDE on the west pillar
Pronunciation:
The son of a baker, Henri-François Delaborde began studying in Dijon to join the church but ended up enlisting in the Condé Infantry Regiment in 1783. In 1791 he became a lieutenant with the 1st Battalion of Volunteers of Côte-d'Or, and the next year he became a lieutenant colonel with the 2nd Battalion. Present at Longway, he refused to sign the surrender and was then employed in the Army of the Moselle. In May of 1793 Delaborde served at Rheinzabern before joining the Army of the South and defeating the rebels from Marseille near Aix. In September of that year he was promoted to général de brigade and a month later to général de division. Sent to Toulon , he commanded the 1st Division and during the siege successfully seized the forts of Balaguier and Eguillete.
In 1794 General Delaborde bounced around to different commands before being recalled to Paris in April to explain his conduct. Next he was sent to the Army of the Western Pyrenees where he took command of the 2nd Division. During that campaign, he seized the valley of Bastan and the pass of Maya, fought at the camp of Saint-Martial, and fought at Roncevaux where he served with the infernal column. In November he served at Bergara and then was designated for the Army of the Rhine.
Relieved of command in February of 1795, Delaborde did not wait long to return to duty. In May he was reinstated and in June he joined the Army of the Rhine and Moselle, taking command of a division. In 1796 Delaborde was accused of having exchanged favors for gold and he quit his command to defend himself. That November he was acquitted of all the charges brought against him.
Delaborde returned to a command briefly in 1798 before again having no employment. Finally in November of that year he was given command of a division of the Army of Mainz. In July of 1799 he joined the Army of Bas-Rhin and then that year he defended Mannheim until the end of September. Next he laid siege to Philipsbourg but was forced to lift the siege in November. In March of 1800 he took command of the 3rd Division of the left wing of the Army of the Rhine and then in April he covered Mainz and Kastel. During the years of peace that followed, Delaborde commanded various military divisions and in 1804 he was rewarded and recognized as a Grand Officer of the Legion of Honor.
Delaborde was fairly inactive militarily for a while, possibly because he suffered badly from rheumatism at times and had difficulty traveling, frequently being transported in a litter.1 In 1807 he resumed an active command when he took command of the flying camp at Pontivy. That August he assumed command of a division under Junot and in October he entered Spain. Traveling to Portugal, he became Governor of Lisbon that December. The next year Delaborde's division fought the British at Rolica where he was wounded. Continuing to command a division, he fought at Corunna in January of 1809. Two months later he fought at Carvalho and Oporto before fighting at Oporto again in May. That September he commanded the II Corps until October when he was authorized to return to France.
Delaborde returned to France and was made a Count of the Empire. Next he commanded the 13th military division until 1812 when he became commander of the 1st Division of the Young Guard. Leading his men into Russia, he became Governor of Smolensk and then rejoined the army on the retreat. With the Latin he had learned while studying to join the church, Delaborde found he was able to hold conversations with Polish priests that year through that language.2
After returning to France, in February of 1813 General Delaborde was made Governor of Compiègne. That April he was rewarded with the Grand Cross of the Order of the Reunion and then he again took command of a division of the Young Guard, this time the 3rd Division. Fighting at Pirna in August, he was wounded in the arm and then authorized to return to France to recover from his wounds.
After Napoleon's abdication, the Bourbons made Delaborde a Knight of Saint Louis. Neverless, when Napoleon returned from Elba he rallied to Napoleon. Napoleon made him a chamberlain, commander of multiple military divisions, and a Peer of France, but he did not participate in the upcoming campaign. After Napoleon's second abdication, Delaborde was proscribed but he went on trial and was acquitted by a council of war.
Notes
Ibid., 160.
Bibliography
Updated February 2014
© Nathan D. Jensen