General Gilles Joseph Martin Bruneteau de Sainte-Suzanne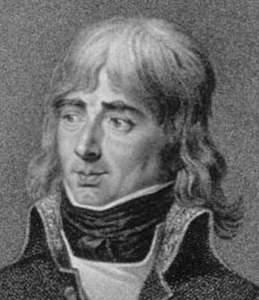 Général de division who served with the Army of the Rhine during the Revolution
---
Born: March 7, 1760

Place of Birth: Poivre, Aube, France

Died: August 26, 1830

Place of Death: Paris, France

Arc de Triomphe: S

TE

SUZANNE on the east pillar
A career soldier, Gilles-Joseph-Martin Bruneteau de Sainte-Suzanne first joined the army in 1779 as a sous-lieutenant in the regiment of Anjou. Five years later he was promoted to lieutenant, and then when the Revolution came in 1791 he became a capitaine of grenadiers. Sent to the Army of the Rhine in 1793, Sainte-Suzanne distinguished himself near Bingen. A month later the representatives of the people at Mainz promoted him to chef de bataillon, but he was never confirmed in this grade and so remained a capitaine. Next Sainte-Suzanne went to the Army of the West.
In the summer of 1795 Sainte-Suzanne was posted to the 71st demi-brigade and employed in the Army of the Rhine and Moselle. That October he was promoted to général de brigade, skipping all the intermediate ranks. In 1796 Sainte-Suzanne joined Beaupuy's division and fought at Kork, Renchen, Rastadt, Ettlingen, and Aalen. After that last battle, he received a promotion to général de division and then took command of the 4th Division of the Army of the Rhine. Sainte-Suzanne went on to fight at Emmendingen in October and then he took part in the defense of Kehl.
July of 1797 saw General Sainte-Suzanne joining the Topography Bureau. Over the next few years he served in the Army of Germany, the 5th military division, the Army of Mainz, and the Army of Italy before joining the Army of the Rhine. With the Army of the Rhine he took command of the left corps in March of 1800, then battled the Austrians at Erbach in May.
In 1801 Saint-Suzanne became a Councilor of State and inspector general of infantry. Three years later he became a Senator, received the Grand Cross of the Legion of Honor, and retired from the military. In 1807 Sainte-Suzanne came out of retirement to command the 2nd Legion of the National Guard at Metz, and the following year he became a Count of the Empire. In 1809 he commanded the camp of Boulogne and a division of the National Guard under Marshal Bernadotte.
After Napoleon's abdication, the returning Bourbons made Sainte-Suzanne a Peer of France and Knight of Saint Louis. He did not take part in the Hundred Days, and afterwards at the trial of Marshal Ney he abstained and recommended that the Chamber of Peers should ask the king for clemency.1
Notes
Bibliography
Updated May 2019
© Nathan D. Jensen