General Jean-Gabriel Marchand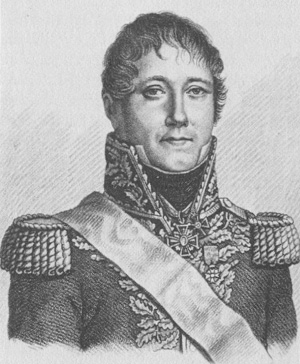 Général de division who frequently served under Marshal Ney
---
Born: December 10, 1765

Place of Birth: Albenc, Isère, France

Died: November 12, 1851

Place of Death: Saint-Ismier, France

Arc de Triomphe: MARCHAND on the south pillar
Pronunciation:
Jean-Gabriel Marchand was originally a lawyer in the Parlement of Grenoble, but as the Revolution began to be threatened by other nations, he volunteered and became a captain in the 4th Battalion of Volunteers of Isère in late 1791. Most of his time during the Revolution would be spent with the Army of Italy. In 1795 he fought at Petit-Gibraltar and then Loano, and after the latter battle was promoted to chef de bataillon by Schérer.
After General Bonaparte took command of the army, Marchand served in the action of Cossaria in April of 1796. That July he was serving under Joubert in Masséna's division at the combat of Bochetta-di-Campion. Later that month, he was wounded when he was shot in the chest defending his post. Taking command of the 3rd Battalion, he fought at Brenta, Saint-Martin, and Caldiero before being taken prisoner at Madona della Corona. Fifteen days later he was released on a prisoner exchange, and then he was promoted to chef de brigade and continued to serve under Joubert.
In September of 1798, Marchand was appointed the commander of Rome under Gouvion St. Cyr, and then became an aide-de-camp to Joubert. The next year he was next to Joubert when Joubert was hit and killed at Novi . In October of 1799 Marchand received a promotion to général de brigade, and then in December he joined the Army of the Rhine.
After some administrative positions, in late 1803 Marchand took command of the 2nd Brigade of Dupont's division in the camp of Montreuil, which in 1805 become the 1st Division of Ney's VI Corps. During the campaigning of 1805, Marchand distinguished himself at Haslach, Albeck, and Dürenstein , and received a promotion to général de division in December. The next year he took command of Loison's division in VI Corps, and with this division fought at Jena, took part in the siege of Magdebourg, and fought at Soldau. In 1807 he fought at Depen and led his division into action at Friedland, earning a Grand Eagle of the Legion of Honor afterwards for his performance.
Made a Count of the Empire in 1808, Marchand then became the interim commander of VI Corps while Ney was gone, and led the corps to Mainz. After VI Corps arrived in Spain, he took command of the 1st Division, and fought at Mayorga. After taking part in the pursuit of the English Army under General Moore, he was victorious at Puebla de la Tribe. In mid-1809 he took command of VI Corps again, and was beaten at Tamamès. In 1810 he took part in the sieges of Ciudad-Rodrigo and Almeida, and then fought at Busaco. The next year he fought at Redinha, Chao de Lamas, and Fuentes de Onoro before returning to France.
In March of 1812, General Marchand was appointed chief of staff of the right wing of the Grande Armée under Jerome Bonaparte. Napoleon had appointed the experienced Marchand to this position in the hopes that he could guide the much less experienced Jerome. After Jerome abandoned the army in July, Marchand took command of the 25th Wurtemberg Division of Ney's III Corps, and fought with them at Smolensk , Valutina, and Borodino.
After defending Kowno in December, Marchand temporarily took command of IV Corps from Prince Eugene de Beauharnais. In March of 1813, he took command of the 39th Infantry Division under Ney and served with them at Wiessenfels, Lützen, and Bautzen. Detached to XI Corps in August, he served under Macdonald then and took part in the Battle of Leipzig . The start of 1814 saw Marchand commanding the draft in Isère and the 7th military division at Grenoble. After being victorious at Echelles, he drove the Austrians out of Chambéry, but then was forced to evacuate the fort of Ecluse and he fell back into Grenoble.
After Napoleon's abdication, the Bourbons left him in charge of the military division at Grenoble. With Napoleon's return from Elba, Marchand tried unsuccessfully to stop Napoleon at Grenoble. When that failed, he retired to the country until Napoleon's second abdication, when he rejoined the army. The next year the Bourbons brought him to trial for abandoning Grenoble to Napoleon, but he was acquitted of all charges.

Bibliography
Updated prior to 2014
© Nathan D. Jensen