General Jérôme Bonaparte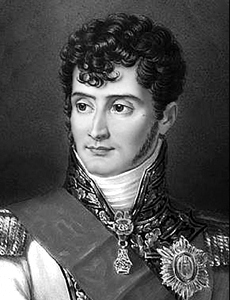 Born: November 9, 1784

Place of Birth: Ajaccio, Corsica, France

Died: June 24, 1860

Place of Death: Villegenis, France

Arc de Triomphe: J

E

BONAPARTE on the north pillar
Pronunciation:
The youngest brother of Napoleon, Jérôme Bonaparte initially aspired to join the French navy. After Napoleon's coup of 18 Brumaire, Jérôme began to live in the Tuileries. In January of 1801 he joined Admiral Ganteaume's fleet and he took part in the failed expeditions to resupply and reinforce the French forces in Egypt. On June 24th Jérôme participated in the action that captured the British ship HMS Swiftsure. Then in November he joined Latouche-Tréville's squadron and he went to Saint-Domingue where he assisted at the action of Port-au-Prince in February of 1802. Next Jérôme was sent back to France with the dispatches of Villaret de Joyeuse and then in August he set out for Martinique. In November he was promoted to lieutenant of vessel and he later took command of the brig Epervier at the Antilles. In 1803 Jérôme quit his command and went to the United States on an American ship, disembarking at Norfolk and then settling in Baltimore. While there he met and married Elizabeth Patterson, the daughter of a rich merchant. Jérôme next tried to return to France that October but he was shipwrecked at Lewiston and he returned to Baltimore. Trying again in March of 1805, he was accompanied by his pregnant wife but Napoleon refused to recognize the marriage and forbid them from landing in France. Jérôme landed elsewhere in Europe and made his way back to France without his wife. Once back, he agreed that the marriage was null since it had not been approved by Napoleon and his mother, and he was divorced by imperial decree. His wife Elizabeth finally landed in Great Britain, where she gave birth to their son.
Back in Napoleon's good graces, Jérôme was promoted to captain of frigate in June of 1805 and then in July he took command of the naval forces at Genoa. That November he was promoted to captain of vessel and he took command of Vétéran in Admiral Willaumez's squadron. After crossing the Atlantic, he was separated from the squadron and he began to return to France. Along the way they spotted a British convoy and he successfully captured part of the convoy, however, a British fleet then began to chase his ship. He took refuge at Concarneau and then returned to the emperor's side.
Jérôme joined the Grande Armée for the campaign of 1806 against Prussia, taking command of a Bavarian division. He later commanded a corps of Bavarians and Wurttembergers known as the Army of Allies and conquered Silesia and laid siege to Glogau. Next Jérôme's corps was renamed IX corps and he received the surrender of Brieg and Schweidnitz. In March he was promoted to général de division in the French army and in June he took the surrender of Neisse and Glatz. The next month Napoleon named Jérôme King of the newly established Kingdom of Westphalia. Jérôme quit his command and in August he married Princess Catherine of Wurttemberg. As a king he was known as something of a playboy, living extravagantly and carefree. In 1809 Jérôme commanded the Westphalian X Corps of the Grande Armée during the campaign against Austria.
In April of 1812 Jérôme Bonaparte was given command of the right wing of the Grande Armée for the war with Russia. However, during the campaign that summer, the Russians escaped him and Napoleon criticized him and placed him under the command of Marshal Davout. Unhappy and unwilling to serve under Davout's orders, Jérôme left the army and returned to Westphalia's capital, Cassel. The next year he left Cassel in September as the situation deteriorated for France and French allies. He returned briefly to Cassel but after the disaster of the Battle of Leipzig he returned to France. Jérôme did not take an active part in the defense of France of 1814 but in March he escorted Empress Marie Louis to Blois.
After Napoleon's abdication and the Bourbon Restoration, Jérôme left France for Berne, then Styria, and finally Trieste. He stayed there until March of 1815 when Napoleon returned to France. Jérôme secretly left Trieste on a Neapolitan ship and at one point the ship had to land in Istria, but he successfully avoided Austrian police. He made his way to Ancona where he joined Marshal Murat, King of Naples. Jérôme followed Murat back to Naples and once there he embarked on a French frigate which returned him to France in May. Napoleon welcomed his brother back and in June he made Jérôme a Peer of France and gave him command of the 6th Division of General Reille's II Corps. Jérôme went on to fight at Quatre-Bras where he was slightly wounded by a ball to the left side and then he fought at the Battle of Waterloo two days later where he was again wounded. After the loss of the battle, he managed to rally some soldiers at Avesnes and then lead them to Laon to rejoin Marshal Soult who was rallying the army. Next Jérôme hurried back to Paris to meet Napoleon and once there, Fouché encouraged him to leave the capital. He took refuge with his wife at Goeppingen and then in August of 1816 he took the name Prince of Montfort and went to live in Austria.
In 1819 Jérôme established himself at Trieste again and over the following years he went on to live in Rome, Florence, and Tuscany. In 1847 he addressed a petition to the French chambers and another petition to the Minister of the Interior to be allowed to return to France. This was approved and Jérôme returned to France where in 1848 he was named Governor of Les Invalides. In 1850 he was named a Marshal of France and after his nephew Napoleon III took power in 1852 he served as president of the senate and was named a prince of the blood. Jérôme Bonaparte died of pulmonary bronchitis in June of 1860.

Bibliography
External Links:
Updated October 2021
© Nathan D. Jensen