Admiral Louis-René-Madeleine Levassor de Latouche-Tréville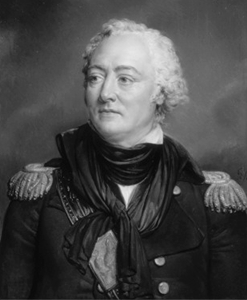 Successful naval officer who served during the American Revolutionary War and repulsed Nelson's attacks on Boulogne in 1801
---
Born: June 3, 1745

Place of Birth: Rochefort, Charente-Maritime, France

Died: August 19, 1804

Cause of Death: Illness

Place of Death: Toulon, France

Arc de Triomphe: LATOUCHE on the north pillar
Pronunciation:
The son of a French admiral and nephew of a lieutenant general of naval armies, Louis-René-Madeleine Levassor de Latouche-Tréville followed the family tradition and entered the navy as a garde de la marine in 1758 at age twelve. In 1759 he embarked on the vessel Dragon and he served at the combat of Belle-Isle-en-Mer. The next year Latouche was appointed helmsman on his uncle's ship Louise and then in 1761 he took part in a bombardment on a British vessel at the mouth of the Charente. Over the following years he served on numerous ships and in the Caribbean, notably being promoted to ensign of vessel in 1768 and becoming an aide-de-camp of the governor of Martinique. From 1773 to 1775 Latouche served at Rochefort, and then in 1776 as the French began to support the Americans in their quest for independence he was ordered to carry a load of powder to the United States. In 1777 he was promoted to lieutenant of vessel and then in 1778 he commanded the corvette Rossignol that escorted trading vessels in the Gulf of Gascony. Latouche was next named a Knight of Saint Louis and during his service in the Gulf of Gascony he took five ships and supported a battle against a British frigate.
With the French deciding to send an army to the United States, in 1780 Latouche took command of Hermione and he was tasked with transporting Lafayette to America. On June 7, 1780 he and his ship engaged HMS Iris in a combat, and then on March 16, 1781 he was again engaged in combat at the Chesapeake Bay. A promotion to captain of vessel followed for Latouche in June and then on July 21, 1781 he was wounded in the arm by a ball while fighting against British ships. In 1782 Latouche took command of the frigates Aigle and Gloire that were tasked with transporting money, important packages, and talented officers to North America to support Admiral Vaudreuil's squadron. His frigates fought the ship HMS Hector on September 5th and then they successfully arrived in the United States. However on September 14th his ships were spotted by the British and Latouche was taken prisoner, but he had successfully delivered his cargo. He was first taken to New York and then to England where he remained until the conclusion of the American Revolutionary War.
Once back in France, Latouche served at Rochefort and was ordered to map the isle of Oléron. Afterwards he was decorated with the Order of Cincinnatus and he served as director of ports and arsenal and then as inspector general of auxiliary cannoniers of the navy. As the French government's financial troubles spiraled out of control, Latouche-Tréville was elected the sole deputy of the nobility of the bailiwick of Montargis to the Estates General. On August 4, 1789 he met with the Third Estate and joined them.
Returning to the navy in 1792, Latouche-Tréville took command of the vessel Languedoc. He left Brest in September of 1792 with four vessels to join the squadron of Rear Admiral Truguet in the Mediterranean. Latouche-Tréville was promoted to rear admiral in January of 1793 and he went on to serve at the action of Nice and in the attacks on Oneglia and Cagliari. His next task was to threaten Naples due to their insult of the French ambassador at Constantinople, however, he was ordered to defer the threats. In September of 1793 Latouche-Tréville was imprisoned due to his nobility and he was detained at La Force prison until September of 1794, having remained in prison for a year and only being released after the Thermidorian Reaction and fall of Robespierre. In 1795 he was reintegrated in his rank but left without a command.
With Napoleon and the Consulate taking power in late 1799, Latouche-Tréville was given command of the naval forces at Brest in April of 1800. He commanded from his flagship Terrible and in 1801 he was sent to command the flotilla of Boulogne, a collection of ships prepared to invade Great Britain. That August he successfully repulsed two separate attacks by British Admiral Nelson on the flotilla. In December of 1801 Latouche-Tréville took command of a squadron formed at Rochefort and he sailed for Saint-Domingue where he joined the squadron of Admiral Villaret-Joyeuse in 1802. During his time at Saint-Domingue he seized Port-au-Prince and then returned to France in October of 1803 where he was then promoted to vice admiral in December. Next Latouche-Tréville was named commander-in-chief of the Mediterranean fleet formed at Toulon and he was named a Grand Officer of the Legion of Honor. However, he died on board his ship Bucentaure in the harbor of Toulon in August of 1804.

Bibliography
Updated January 2017
© Nathan D. Jensen