Admiral Laurent-Jean-François Truguet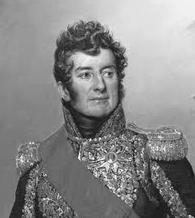 Admiral who served as Minister of Marine from 1795 to 1797
---
Born: January 10, 1752

Place of Birth: Toulon, Var, France

Died: December 26, 1839

Place of Death: Toulon, France

Arc de Triomphe: TRUGUET on the north pillar
Pronunciation:
The son of an admiral, Laurent-Jean-François Truguet followed in his father's footsteps in a naval career. After being named a garde de la marine at age thirteen at Toulon in 1765, the next year he set sail on the first of many voyages. Truguet spent much of his early career aboard ships based out of Toulon and he was promoted to ensign of vessel in 1773. In 1778 he joined the French expedition to support the American Revolutionary War. During that war he served under Admirals d'Estaing, de Guichen, de Grasse, and de Vaudreuil. In 1778 Truguet fought at the combat of Saint Lucia and in 1779 he was promoted to lieutenant of vessel. That September he took part in the attack at Savannah where he saved the life of Admiral d'Estaing but was badly wounded in the process. However, five months later he was named a Knight of Saint Louis in recognition of this important feat. Truguet returned to France to recover from his wound.
After the conclusion of the American Revolutionary War, Truguet was given command of a ship in 1784 but then his friend the Count of Choiseul-Gouffier helped Truguet obtain a post as assistant to the ambassador to the Ottoman Empire. While in Turkey, Truguet studied the hydrography of the Dardanelles and the Sea of Marmara. In the meantime he was also ordered to open negotiations with the Beys of Egypt to potentially open a new route of commerce to India. Truguet found time to write and publish while fulfilling his official duties, for he published a Treatise of the Practical Marine at Constantinople in 1787. In 1788 he returned to France.
After the onset of the Revolution, Truguet commanded a ship and was promoted to captain of vessel in 1791. In July of 1792 he was promoted to rear admiral and the next month he took command of the ships at Toulon. Making his flagship Tonnant, he next set out on an expedition and bombarded Nice and Oneglia but failed at Cagliari. In January of 1794 the Committee of Public Safety relieved Truguet of command and imprisoned him. Truguet avoided the guillotine during these tumultuous times and after Robespierre's fall from power at the Thermidorian Reaction Truguet was released from prison.
Admiral Truguet did not rejoin the French navy until April of 1795. The next month he was promoted to vice admiral and then in November of 1795 he was named Minister of Marine and Minister of the Colonies. In this position Truguet helped organize the expedition to Ireland of 1796 which ultimately failed to disembark troops in Ireland. In July of 1797 he was replaced as Minister of Marine and then a few months later he was named ambassador to Spain. Truguet remained in Spain until June of 1798 and afterwards his political opponents succeeded in getting him exiled to Holland.
After Napoleon seized power in November of 1799, he allowed Truguet to return to France and named Truguet a councilor of state. In June of 1801 Truguet was named admiral of the Mediterranean fleet formed at Cadiz, and then in 1803 he took command of the fleet at Brest. However, in 1804 he resigned from his post in protest of Napoleon's establishment of the empire.
Truguet remained unemployed by the administration for the next five years. After the British successfully attacked and nearly destroyed an ill-prepared French fleet at the isle of Aix in 1809, Truguet was brought back to service to command the squadron formed at Rochefort. In 1811 he became the maritime prefect of the coats of Holland. Truguet was still serving in Holland when the forces of the Sixth Coalition arrived in late 1813 and he was taken prisoner at Rotterdam at the end of 1813. After Napoleon's abdication in April of 1814 Truguet was returned to France where the restored Bourbons awarded him the Grand Cordon of the Legion of Honor. When Napoleon resumed power in 1815 for the Hundred Days, Truguet was not employed by the Emperor. After Napoleon's second abdication, Louis XVIII named Truguet commander at Brest. After Louis-Philippe came to power in 1830, Truguet was awarded the equivalent of a marshal's baton for the navy.

Bibliography
Updated January 2017
© Nathan D. Jensen