Admiral Louis Thomas Villaret de Joyeuse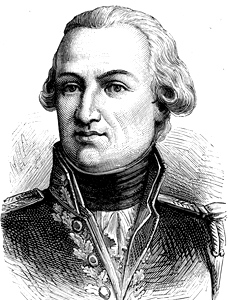 French admiral who protected a vital convoy of grain from the United States in 1794
---
Born: May 29, 1748

Place of Birth: Auch, Gers, France

Died: July 24, 1812

Place of Death: Venice, Italy

Arc de Triomphe: VILLARET J

SE

on the north pillar
Pronunciation:
Originally enlisting in the gendarmes of the king, Louis-Thomas Villaret de Joyeuse was forced to leave the gendarmes after getting into a duel and killing his adversary. Shortly thereafter he volunteered to join the navy and left on a ship in May of 1765. Over the next many years, Villaret served on a variety of ships, sailing to Cayenne, Antilles, Saint-Domingue, Île de France, and Bengal. During the 1770s he served much of his time in the Indian Ocean and served under Armand de Saint-Félix. In 1780 Villaret served in a number of combats and by this time he had begun to command his own vessel. While raiding the Indian Ocean in search of British ships, he wrote letters to British commanders requesting introductions, a tongue in cheek request for battle.1 In 1783 he was commanding the frigate Naïde when he entered into combat with the British ship HMS Sceptre and after five hours of contested combat he was forced to surrender. Taken prisoner, Villaret was transported to Madras and then released. Later that year he became a Knight of Saint Louis and he next returned to France where in 1784 he was promoted to lieutenant of vessel.
After the onset of the French Revolution, Villaret de Joyeuse was first sent to Saint-Domingue in 1790. Two years later he was promoted to captain of vessel and at the end of the year he took command of the vessel Trajan at Brest. In 1793 Villaret was appointed commander of the fleet assembled at Brest and then promoted to rear admiral. Next he was ordered to sail to meet up with a convoy full of grain purchased from the United States and ensure its safe arrival in France. Villaret and his fleet met up with the convoy but they were soon intercepted by a British squadron under Admiral Howe aiming to prevent the delivery of the grain to the revolutionaries in France. After some initial skirmishing on the 28th and 29th of May of 1794, Villaret and his fleet entered into battle with the British fleet on the 1st of June and were defeated, losing eight ships. However, he had successfully distracted and wounded the British fleet enough that the convoy was able to slip by and complete its objective of delivering food to France. That September Villaret was promoted to vice admiral.
In June of 1795 Villaret de Joyeuse was again defeated by the British, this time by Admiral Bridport at the naval combat of Groix. The next year he was placed in command of the expedition to Ireland, but instead he desired to lead his fleet to carry support to Tipu Sultan in his war against the British in India. Accordingly, Villaret de Joyeuse stalled and delayed the expedition to Ireland, coming up with excuses at the lack of progress of preparation.2 But he was then replaced by Admiral Morard de Galles after General Hoche perceived Villaret de Joyeuse as not supporting the expedition and complained to Minister of Marine Truguet. In April of 1797 Villaret was elected a deputy of Morbihan to the Council of 500 and during his time there he developed a friendship with and supported the privateer Robert Surcouf. In September of 1797 when the Coup of 18 Fructidor ousted the royalists, Villaret was proscribed and he fled and took refuge on the isle of Oléron.
After Napoleon's coup d'état to take power in late 1799, Villaret de Joyeuse returned to the navy and again served at Brest. In 1801 he was given command of the fleet of the expedition to Saint-Domingue and he successfully led them across the Atlantic, arriving off Saint-Domingue in late January of 1802. Villaret returned to France in May and he was then named captain general of Martinique and Saint Lucia, so he returned to the Caribbean to fulfill that post. In 1805 he was awarded the Grand Eagle of the Legion of Honor in recognition of his service to France and in 1808 he was named a Count of the Empire.
Villaret de Joyeuse was still commanding Martinique in 1809 when the British attacked and bombarded Fort Bambou at Fort-de-France. He held out for three weeks before surrendering in February of 1809. Afterwards Villaret was returned to France by the British and he was taken before a council of inquiry that investigated his conduct defending Martinique. Disgraced by the surrender, he was kept unemployed in Rouen until 1811 when he named governor general of Venice. A year later he died while serving in Venice.
Notes
Bibliography
External Links:
Updated May 2019
© Nathan D. Jensen