Admiral Justin-Bonaventure Morard de Galles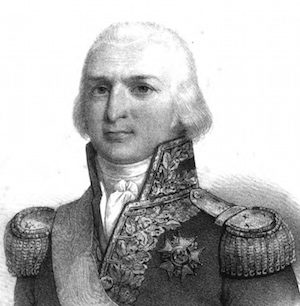 Admiral who commanded the navy of the French expedition to Ireland of 1796
---
Born: March 30, 1741

Place of Birth: Goncelin, Isère, France

Died: July 23, 1809

Place of Death: Guéret, France


Pronunciation:
Born into a noble family, Justin-Bonaventure Morard de Galles initially intended to be a gendarme but in 1757 on his sixteenth birthday he became a garde la marine at Brest. He set sail the next year as an officer and in 1759 he served in the Americas and in combat with British ships. In 1761 Morard de Galles was shipwrecked but he survived, and then in 1765 he served under Admiral de Grasse against the Barbary pirates. At the end of 1765 he was promoted to ensign of vessel. Over the following years Morard de Galles served in a variety of areas, including the waters of Africa, Spain, Holland, Madagascar, the Antilles, Martinique, and Saint-Domingue. In 1777 he received a promotion to lieutenant of vessel and in 1778 he was recognized as a Knight of Saint Louis. That year he also served at the naval Battle of Ushant.
In 1779 Morard de Galles was assigned to the ship Couronne in Admiral de Guichen's fleet and he took part in the American Revolutionary War. Morard de Galles fought at the naval combats of April 17, May 15, and May 19 of 1780. In 1781 he was promoted to captain of vessel and he distinguished himself and was wounded at the combat of La Praya. The next year Morard de Galles took command of the vessel Annibal and he served at the combats of February 17, April 13, July 6, and September 3 of 1782. At the last battle he received three wounds and afterwards he was sent to Île de France to recover.
In 1785 Morard de Galles returned to Brest in France on leave. Left unemployed by the navy, he set out as a passenger to return to Île de France where he remained for the next few years. In 1790 he returned to France and then in 1792 he was promoted to rear admiral. That year Morard de Galles was given command of the ships formed in the harbor of Brest and then on January 1, 1793 he was promoted to vice admiral. Later in 1793 he sailed out from Brest with his squadron repeatedly and each time he returned to Brest. That November Morard de Galles was relieved as a noble by the representatives of the people and then imprisoned. He remained imprisoned until the Thermidorian Reaction in July of 1794 overthrew Robespierre and brought about the end of the Reign of Terror.
Morard de Galles returned to the navy in March of 1795 and the next year he returned to Brest where he took charge of the defenses of the port. After General Hoche's repeated complaints to the Minister of Marine Truguet about Admiral Villaret-Joyeuse regarding the expedition to Ireland, Morard de Galles was selected by Truguet to replace Villaret-Joyeuse as the naval commander. Morard de Galles quickly completed preparations and left Brest with the fleet on December 15, 1796. Unfortunately for the expedition, a storm separated the fleet and the frigate Fraternité, carrying Morard de Galles and Hoche, was blown significantly off course. By the time Morard de Galles and Hoche arrived at the designated rendezvous of Bantry Bay they discovered that the rest of the fleet had arrived and left since the commanders were not present.
Morard de Galles and Hoche returned to France, and Morard de Galles next served on ship Indomptable for six months of 1797. His last major command came later that year when he again took command of the defenses of the port of Brest. Morard de Galles was named a senator in 1799 and he remained at Brest until February of 1800. He was later recognized as a Grand Officer of the Legion of Honor in 1804 and a Count of the Empire in 1808.

Bibliography
Related Pages:
Updated January 2017
© Nathan D. Jensen