General François-Joseph Drouot Lamarche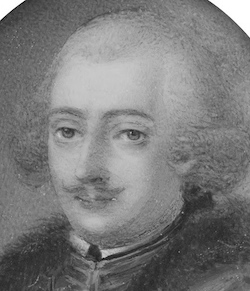 General who served with the Army of the North and Army of the Ardennes in 1792 and 1793
---
Born: July 14, 1733

Place of Birth: Wisches, Bas-Rhin, France

Died: May 18, 1814

Place of Death: Sarrebourg, France

Arc de Triomphe: LAMARCHE on the north pillar
Pronunciation:
A career soldier, François-Joseph Drouot Lamarche first enlisted in the dragoon regiment of Frieze in 1751. During the Seven Years War he served in the Army of Germany, was promoted to lieutenant, and was wounded by a saber blow to the right hand. Continuing to serve in that war, in 1761 Lamarche was promoted to capitaine and the following year he took command of the dragoons of foreign volunteers of Wurmser. Lamarche went on to fight at Naunheim that August where he was badly wounded by a shot that wounded his hip and his lungs. Over twenty years later in 1784 he was promoted to lieutenant colonel of hussars, a rank he would hold until the Revolution.
After the onset of the Revolution, in 1791 Lamarche was appointed colonel of the 5th Hussars. The next year he served in the Army of the North under General Dillon and he was promoted to maréchal de camp. In late 1792 Lamarche joined the Army of the Ardennes and he served in the attack on the château of Namur in December. Continuing his rise, in March of 1793 he was promoted to lieutenant general and he took command of the advance guard of General Dumouriez. That month Lamarche served at Tirlemont and the Battle of Neerwinden . Dumouriez defected not long after and Lamarche was given command of the Army of the Ardennes but ordered subordinate to the overall command of General Dampierre. That May Lamarche served at the combat near Valenciennes and after Dampierre was mortally wounded the representatives of the people with the army gave Lamarche command of the Army of the North. Lamarche went on evacuate the camp of Famars and then was given command of a division when General Custine took command of the army.
At the end of July of 1793, Lamarche was ordered suspended and arrested. He was not released until after the Thermidorian Reaction brought an end to the Terror. Once free, Lamarche returned to his home at Epinal where he retired. In 1800 he returned to the army to command the 9th demi-brigade of veterans until 1807.

Bibliography
Updated March 2016
© Nathan D. Jensen