General Auguste-Marie-Henri Picot de Dampierre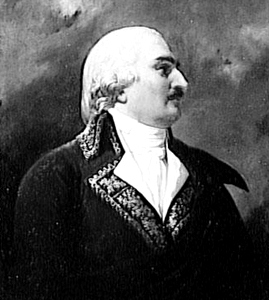 Army commander during the Revolution who was mortally wounded at Raismes
---
Born: August 19, 1756

Place of Birth: Paris, Paris, France

Died: May 9, 1793

Cause of Death: Mortally wounded

Place of Death: Valenciennes, France

Arc de Triomphe: DAMPIERRE on the north pillar
Pronunciation:
A career soldier, Auguste-Marie-Henri Picot de Dampierre first joined the army in 1772 at age 15 when he joined the French Guards. Eight years later he was promoted to sous-lieutenant, and then in 1784 he quit the French Guards due to a dislike of working with Marshal Biron. The Duke of Chartres requested Dampierre join the Chartres Regiment as a capitaine, and Dampierre agreed. In 1788 Dampierre was promoted to major in the Chasseurs of Normandy.
With the arrival of the Revolution, in 1791 Dampierre was promoted to lieutenant colonel in the 5th Dragoons and then he became an aide-de-camp to Marshal Rochambeau. The next year he was promoted to colonel of the 5th Dragoons and for a time served under General Biron, the nephew of his his former commander. Dampierre fought at Quiévrain that April where he rallied the troops running away, and then in June he was placed under Dumouriez's command. A promotion to maréchal de camp followed that August and then Dampierre served under Beurnonville at Valmy in September when the Prussians were turned back. Two months later he commanded the right wing at the Battle of Jemappes .
In March of 1793 Dampierre was promoted to général de division, fought at Neerwinden under the Duke of Chartres, and was named commander at Quesnoy. After Dumouriez's defection, Dampierre was named commander-in-chief of the Army of the North and Ardennes. That April he reoccupied the camp of Famars before being repulsed by the Austrians near Saint-Amand. Dampierre next tried to relieve Condé but his men were repulsed again. On May 8th he was leading his men at Raismes near the edge of the forest when a ball carried off his leg at the thigh. Transported to Valenciennes, he died the next day.
Dampierre's daughter Louise later married General Dessolle.

Bibliography
Updated May 2014
© Nathan D. Jensen