Marshal Claude Victor Perrin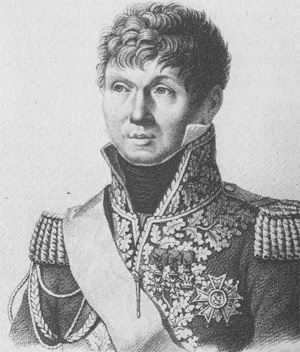 Talented general who was awarded his marshal's baton by Napoleon after Friedland
---
Born: December 7, 1764

Place of Birth: Lamarche, Vosges, France

Died: March 1, 1841

Place of Death: Paris, France

Arc de Triomphe: VICTOR on the west pillar
Pronunciation:
The son of a royal notary, Claude Victor-Perrin first joined the army in 1781 when he enlisted in the artillery regiment of Grenoble, initially serving as a musician. During his time there he earned the nickname "le beau soleil", the beautiful sun, for his sunny, friendly nature, but he was also known for the occasional outburst of temper. In 1791 he left the army and got married, becoming a grocer in Valence. As the Revolution picked up steam and enemies, he joined the National Guard at Valence. In October of 1791 he volunteered and joined the 3rd Battalion of Volunteers of Drôme. The next year he joined the 5th Battalion of Volunteers of Bouches-du-Rhône where he became a lieutenant colonel. Serving with the Army of Italy, he first saw combat at Coaraze and then was sent to Toulon.
At the Siege of Toulon, Victor's first chance to shine came when he led his men in a night attack on the fort of Mount Faron. Isolated from the rest of the army, he and his men withstood fierce counterattacks and then forced their way back to friendly territory. In recognition of this, he was promoted to chef de brigade by the representatives of the people. In the meantime he met Captain Bonaparte and the two began to discuss plans to take the city. When the time came to fulfill Bonaparte's plan, Victor led the men forward in the attack on the redoubt named Petit Gibraltar. Although he was wounded by grapeshot to the stomach, the attack succeeded and clinched the success, forcing the English to abandon Toulon. Afterwards, Victor received a promotion to général de brigade from the representatives of the people.
In January of 1794 General Victor was sent to the Army of the Eastern Pyrenees. In May he took command of the 4th Brigade of Pérignon's division and fought at Boulou and later Collioure. That August he was serving with Sauret's division at the Battle of Saint-Laurent de la Mouga and then in November fought at Montagne Noire. Next he served at the siege of Roses until February of 1795. That August Victor joined the Army of Italy, and in October received a command in Masséna's division. He fought at Borghetto in October and then Loano in November.
In 1796 when Napoleon Bonaparte took command of the Army of Italy, Victor was commanding a brigade in Augereau's division. That April he fought at Dego , and then in June he joined Masséna's division. In August he freed Peschiera, then in September he fought at Roveredo and Cerea and was then wounded at Saint-Georges. Late that December he took command of the reserve of the Army of Italy and then in January fought at Rivoli and then distinguished himself at Mantua and la Favorite. After these successes, Napoleon promoted him to général de division.
Next General Victor took on the Papal troops, seizing Ancona and Macerata in February. In March of 1797 he took command of the 8th division and stayed in Italy. 1798 saw Victor designated for the Army of England, but he requested to stay with the Army of Italy and this was granted. In 1799 as war was again underway, Victor fought at Pastrengo, Magnano, Bassignano, and Marengo. That June he was wounded at the Trebbia, and then in October fought at Santa Margarita, and then in November at Fossano and Genola. Next he was driven back and out of Mondovi, Garessio, and finally Orméa.
In 1800, when First Consul Bonaparte formed the Army of the Reserve, Victor was given command of a corps of two divisions. That June he came up to reinforce Lannes at Montebello, and then less than a week later it was his corps that took the brunt of the Austrian attack at Marengo before Lannes moved up to support him. His exemplary conduct and contribution to the victory at Marengo earned him a saber of honor.
July of 1800 saw Victor moving to Batavia, part of Holland, where he took command in August. Victor would remain in Holland for a number of years, and in 1802 he divorced his first wife. Also during that year he was appointed Captain General of Louisiana, but he never crossed the Atlantic to take up the position and Napoleon sold the territory to the United States a year later. In 1804 he married his second wife and was disappointed to not be one of the first marshals of the newly formed empire. 1805 saw Victor becoming ambassador to Denmark and being rewarded with the Grand Eagle of the Legion of Honor.
Finally in October of 1806 Victor returned to an active campaign, joining V Corps as the chief of staff and working with his old colleague and friend, Marshal Lannes. In this capacity he fought at Saalfeld and Jena, and then signed the capitulation of Spandau. That December he fought at Pultusk , and then in January of 1807 he was given command of X Corps. Unfortunately for Victor, he only held his command for a few weeks before being surprised and taken prisoner by a party of twenty five Prussian chasseurs. Two months later he was exchanged for Prussian General Blucher and released, and then in May was given command of a corps ordered to lay siege to Graudenz. That June he replaced the wounded Bernadotte in command of I Corps and led them admirably at the Battle of Friedland. A month afterwards Napoleon rewarded him, making him a Marshal of the Empire, the first after the initial creation of 1804. In the meantime he became governor of Prussia and Berlin.
1808 saw Victor and others sent to Spain, where he commanded the I Corps. He was also rewarded as the Duke of Belluno, though he had hoped for a battle title like that which many of the other marshals had received. That November he defeated Blake at Espinosa and then served at Somosierra , and then served in December at Madrid. During the fighting of 1809 he fought and won at Uclès, Messa d'Ybor, Medellin, and Alcabon before being repulsed by Sir Arthur Wellesley at Talavera in July. Victor spent 1810 in Spain, entering Coroue, taking part in the siege of Cadiz, and seizing Fort Matagorda. In 1811 he won at Chiclana in March and then in December received word to return to France in preparation for the Russian campaign.
In April of 1812 Victor took command of the IX Corps of La Grande Armée, and in July led them into Russia. His corps was not part of the main thrust, and so it was more intact when the retreat began. That October he was at Smolensk and helped Oudinot's corps, and in November he won at Smoliany. At the Battle of the Berezina, Victor commanded the rear guard, playing an integral part in the survival of the French army. As the army continued to retreat, he also took command of II Corps due to Oudinot's wounds.
Victor continued to command II Corps in Germany, and in August of 1813 fought at Dresden. He took part in the Battle of Leipzig and fell back with the army after the defeat. In 1814 he fought at Brienne, la Rothière, Mormant, and Valjouan. At the Battle of Montereau , Victor and his men arrived late, keeping the French from turning a small victory into a huge one. Napoleon was very angry with Victor's late arrival, and promptly replaced him with General Gérard. Hurt by this decision, Victor angrily told Napoleon that he would not leave and had not forgotten how to use a musket, implying that he was more than willing to fight at any rank for the defense of France. Impressed by Victor's outburst, Napoleon gave him a new command in the Imperial Guard's Young Guard, where he would be more directly under Napoleon's command. Now with the Young Guard, Victor fought at Neuilly-Saint-Front and Craonne, where he was badly wounded by a shot.
After Napoleon's abdication, Victor received rewards, becoming a Knight of the Golden Fleece and Commander of the Christ of Portugal and receiving the Grand Cross of the Order of Charles III of Spain. When Napoleon returned from Elba, Victor briefly investigated the willingness of the people and the army to stop Napoleon, but realized the futility of such actions. He joined King Louis XVIII as they fled France and in response Napoleon removed him from the list of marshals but allowed him to keep his pension. After the king returned to power, he rewarded Victor as a Peer of France. Next Victor was made president of the commission that investigated officers who served with Napoleon during the Hundred Days. Victor's zeal in persecuting his former colleagues earned him much enmity, and he also voted for death at the trial of Marshal Ney.
While on St. Helena, Napoleon remarked that "Victor was better than one might suppose."1
Notes
Bibliography
Related Pages:
External Links:
Updated January 2017
© Nathan D. Jensen