General Claude-Jacques Lecourbe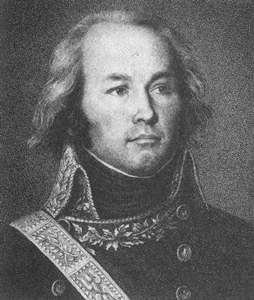 Notable general of the Revolution who was disgraced by association with Moreau but held Belfort against all odds in 1815
---
Born: February 22, 1758

Place of Birth: Besançon, Doubs, France

Died: October 22, 1815

Cause of Death: Illness

Place of Death: Béfort, France

Arc de Triomphe: LECOURBE on the east pillar
Pronunciation:
The son of an officer, Claude-Jacques Lecourbe studied at Poligny and Lons-le-Saulnier but left that school for refusing to accept punishment for indiscipline. In 1777 he joined the Regiment of Aquitaine as a fusilier and then in later years he went on to serve at the siege of Gibraltar and at the fighting for Minorca.
With the arrival of the Revolution in 1789, Lecourbe joined the National Guard of Ruffey as a capitaine. Two years later he was elected a capitaine in the 7th Battalion of Volunteers of Jura and then promoted to lieutenant colonel of his battalion. Serving with the Army of the Rhine, in 1792 Lecourbe took part in the occupation of Porentruy and the camp of Neuf-Brisach before serving at Mainz. The following year he joined the Army of the North and that September he fought at Herzeele and Hondschoote before fighting at Bisseghem where he was wounded by a shot to the left thigh. Despite this wound, Lecourbe fought at Wattignies the next month and distinguished himself there.
Lecourbe was next sent to the Vendée with his battalion, but in December he was denounced and accused of moderatism. He was quickly arrested and then imprisoned at Amiens, then transferred to Arras and finally Nantes. In April of 1794 a revolutionary tribunal acquitted him of all charges and he rejoined his battalion at Amiens.
In May of 1794 Lecourbe transferred to the Army of the Moselle and he was promoted to chef de brigade. Less than a month later he was promoted to général de brigade in the Army of the Ardennes and he commanded a brigade under Marceau in the right wing for the Battle of Fleurus . Next Lecourbe served with the Army of the Sambre and Meuse and won at Sombreffe before fighting at Namur, the Ourthe, and the Roer. 1795 saw him continuing to fight, first at Luxembourg and then the siege of Mainz and the combat on the Pfrimm.
In 1796 Lecourbe was given command of a brigade in the 7th Division, but in April when the army was reorganized he was not given a command. However, General Moreau intervened and ensured he had a brigade and in May Lecourbe took command of a brigade of Taponier's division. That summer Lecourbe fought at Ettlingen, Gernsbach, Cannstadt, Neresheim , and Bruck. In October he fought at Biberach where he was bruised in the chest and then he fought at Emmendingen, and then in November he took part in the defense of Kehl.
1797 was a less busy year for Lecourbe for his most notable action was serving during the crossing of the Rhine that April. In 1798 he and his men seized Mannheim, and then he was named to Lefebvre's division. Sent to the Army of Switzerland that November, a few months later the Directory promoted Lecourbe to général de division in February of 1799. Lecourbe took command of the right wing of the army and invaded Grisons. That March he won at Finstermunz where he and his men took 1300 prisoners and then won again at Martinsbruck. They next suffered a setback when they were pushed back out of Martinsbruck and then forced to fall back as the Army of Switzerland fell back. As they were retreating, Lecourbe and his men fought off the enemy that April at Remus and Zernetz. Given command of the 1st Division at the end of May of 1799, in June Lecourbe defeated the Austrians at Wasen where he was wounded in the arm. A month later he was repulsed at Kossberg and Brunnen, and then in August he seized Saint-Gothard, Grimsel, Furka, and Oberalp.
The campaign continued on and Lecourbe was next given command of the 2nd Division. That September his division successfully delayed Suvarov's march at Airolo and Saint-Gothard, and then repulsed the enemy at Seedorf. At the end of the month Lecourbe was named to replace Moreau as commander-in-chief of the Army of the Rhine and so he left the Army of Switzerland and arrived at Strasbourg to take his new command that October. He immediately got to work, leading his army across the Rhine at the end of the month and then seizing Heilbronn and Pforzheim. Despite some successes, Lecourbe was forced to fall back and he was defeated at Wisloch in early December. Afterwards, Moreau was reappointed commander-in-chief and Lecourbe took command of the right wing of the army.
After waiting for the winter to pass, the Army of the Rhine and Lecourbe set out on a new campaign in the spring of 1800. Lecourbe crossed the Rhine at the end of April and then in May he won at Stockach, fought at Messkirch, took Memmingen, and occupied Augsbourg. Continuing onward, in June he crossed the Lech and the Danube and then defeated Klinglin at Hochstaedt, seized Donauawoerth, won at Nordlingen, and fought at Neubourg. Lecourbe continued to command the wing of the army successfully, seizing Fuessen and Feldkirch in July before finally going on leave in September as the diplomats attempted to negotiate a treaty. When diplomatic efforts failed, Lecourbe rejoined his troops that November and then in December he seized Rosenheim, won at Salzburghofen, seized Salzbourg, and won at Kremsmunster.
As peace was finally obtained in 1801, General Lecourbe was named inspector general of infantry of the 6th and 7th military divisions. In 1802 he bought a chateau and established himself at Paris, but his career was about to be ruined by politics. When yet another conspiracy to assassinate Napoleon was discovered and stopped, General Moreau was implicated and put on trial. Due to Lecourbe's association with Moreau throughout many campaigns, along with his brother Judge Lecourbe's outspoken attitude about the trial, Lecourbe was forcibly retired in 1804 and exiled from Paris. He went to Ruffey where he built a chateau and would remain for a number of years.
In 1813 General Moreau returned from the United States and joined the new coalition against France. As soon as the French police learned of this, they put Lecourbe under surveillance, but he did not take part in any fighting for either side. After Napoleon's abdication in 1814, Lecourbe was summoned to Paris by the Count of Artois and reinstated as a general in the army.
When Napoleon escaped from exile in 1815 for the Hundred Days, Lecourbe initially refused to support Napoleon. However, once France appeared threatened by foreign powers, he offered his services to Napoleon, who named him the commander of the 18th military division, a Count of the Empire, and a Peer of France. Lecourbe took command of the troops at Belfort trying to defend France's eastern frontier. Despite the French loss of the Battle of Waterloo in Belgium, Lecourbe refused to surrender Belfort to the Austrian army and held out against all odds. Finally he signed an armistice in July of 1815, and afterwards he retired again and was awarded the Grand Cross of the Legion of Honor.

Bibliography
External Links:
Updated February 2018
© Nathan D. Jensen