General Louis-Marie-Joseph-Maximilien de Caffarelli du Falga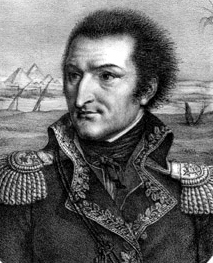 Engineering general with a wooden leg who was mortally wounded at the Siege of Acre
---
Born: February 13, 1756

Place of Birth: Falga, Haute-Garonne, France

Died: April 27, 1799

Cause of Death: Mortally wounded

Place of Death: Acre, Syria

Arc de Triomphe: CAFFARELLI on the south pillar
Pronunciation:
A colorful character, Louis-Marie-Joseph-Maximilien de Caffarelli du Falga first enrolled in the engineering school of Mézières in 1775. Commissioned as a lieutenant, he was finally promoted to capitaine in April of 1791. In March of 1792 Caffarelli was attached to the Army of the Rhine at Strasbourg and then later he refused to give an oath to the new government. Due to this, he was suspended from duty that August and he retired to Bourbonne-les-Bains. Two months later Caffarelli was reassigned to the Ministry of War by the new Minister of War Jean-Nicolas Pache. Caffarelli served in this position until February of 1794 when he was thrown in prison.
Finally released in December of 1794, Caffarelli retired to Falga but was then reintegrated in the army in 1795 as a chef de bataillon and deputy director of fortifications. He was employed in Paris for a time before he joined the Army of the Sambre and Meuse in July, and then in September he distinguished himself at the crossing of the Rhine. A month later Caffarelli was promoted to chef de brigade and he served with Marceau at Meisenheim. Before long another order to suspend him from duty came, but he remained in his functions and the order was reversed. In December Caffarelli continued to follow Marceau's retreat, and he fought at Staudernheim-sur-la-Nahe where one of the last cannonballs fired by the enemy took off a good part of his left leg. Transported to Luxembourg, his leg was amputated in an attempt to save his life. A promotion to général de brigade followed for Caffarelli, and in 1796 he joined the Army of the Sambre and Meuse, now sporting a wooden leg. The following year he was named a member of the central committee of fortifications.
In 1798 General Caffarelli was given command of the engineers of the Army of England. He was sent to Boulogne to study the possibility of attacking England, but he was later replaced and then named commander of the engineers of the Army of the Orient. Becoming good friends with Napoleon, he took part in the expedition to Egypt and served at the actions of Alexandria and Salahieh. Next Caffarelli fortified Cairo and then joined Napoleon for the expedition to Syria. He took part in the Siege of Jaffa and then the Siege of Acre, where a ball shattered his right elbow as he visited a trench. Doctor Larrey amputated the arm, but a few weeks later Caffarelli succumbed to the wound and died.

Bibliography
Updated June 2015
© Nathan D. Jensen