General Jean Baptiste Camille de Canclaux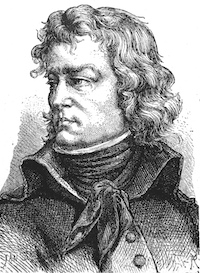 Army commander during the French Revolution who successfully defended Nantes during the rebellion in the Vendée
---
Born: August 2, 1740

Place of Birth: Paris, Paris, France

Died: December 27, 1817

Place of Death: Paris, France

Arc de Triomphe: CANCLAUX on the west pillar
Pronunciation:
The son of a member of the Great Council, Jean Baptiste Camille Canclaux entered the cavalry school at Besançon at a young age. Going on to serve in the Seven Years War, he received a promotion to capitaine in 1760. Promotions slowly followed for Canclaux as he was promoted to major in 1768, mestre de camp in 1773, and then maréchal de camp in 1788. In the meantime he had also been named a Knight of Saint Louis in 1774.
After the onset of the French Revolution, General Canclaux was tasked to stop some of the rebellions across France. In July of 1792 he battled the insurgents near Quimper and two months later he was promoted to lieutenant general. That December Canclaux took command of the 13th military division and he organized the embarkment of the troops destined for the French colonies. In May of 1793 he was named commander of the Army of the Coasts of Brest and then in June he successfully defended Nantes against 80,000 Vendéen rebels. Three months later Canclaux won at Montaigu but he was then defeated at Torfou before winning at Clisson and Saint-Symphorien. Despite his recent victories, Canclaux was relieved of his command in October and he retired to Saussay. A year later, in October of 1794 he was recalled to service to take command of the Army of the West. Canclaux successfully led the army in defeating Charette at Montaigu and Mortagne-sur-Sèvre. Next in 1795 he was designated to take command of the Army of the South, but instead he retired from the military again. At the end of 1796 he was named ambassador to Naples where he would serve until the end of 1798.
In late 1798 Canclaux returned to France and he was then named a member of the military committee that answered to the Directory. After Napoleon Bonaparte took power, Canclaux was named commander of the 14th military division at Caen and ordered to raise 40,000 horses. In 1801 he was named inspector general of cavalry and in 1804 he became a senator. The following year Canclaux became the secretary of the Senate, and then in October of 1806 he took command of the National Guard of Seine-Inférieure until December of 1807. Canclaux was further recognized when he was named a Count of the Empire in 1808.
After Napoleon's abdication in April of 1814, Canclaux was named a Peer of France by the restored Bourbons. When Napoleon returned from exile and resumed power for the Hundred Days in 1815, Canclaux refused to involve himself in events and he retired from public life. After Napoleon's second abdication, Canclaux returned to the Chamber of Peers where he took part in the trial of Marshal Ney and voted for death.

Bibliography
Updated March 2022
© Nathan D. Jensen