General Edme-Etienne Borne Desfourneaux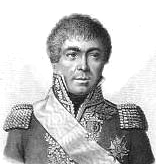 General who served much of his career in Saint-Domingue
---
Born: April 22, 1767

Place of Birth: Vézelay, Yonne, France

Died: February 20, 1849

Place of Death: Paris, France

Arc de Triomphe: DESFOURNEAUX on the west pillar
Pronunciation:
A career soldier, Edme-Etienne Borne Desfourneaux first enlisted in the infantry regiment of Conti in 1784 at age seventeen. At the dawn of the Revolution, he was serving in garrison at Amiens and in 1790 he was commissioned as a sous-lieutenant. The next year Desfourneaux was promoted to lieutenant and then in November of 1791 he was elected capitaine in the 3rd Battalion of Volunteers of Pas-de-Calais. Only two months later he was promoted to lieutenant colonel of the battalion.
In July of 1792 Desfourneaux embarked for Saint-Domingue in the Caribbean. The following January he was named military commander of the arrondissement of Saint-Marc. Desfourneaux next assaulted and took the camp of Thilorier and then he attacked the post of Ouanaminte where he was wounded by a shot. In February of 1793 he was promoted to colonel of the 48th Infantry and he went on to seize Fort Le Sec later. Desfourneaux continued to rise, for in May he was promoted to général de brigade and named commander-in-chief of the Army of the West in Saint-Domingue. Throughout the rest of 1793, he successfully drove the Spanish out of the French part of the island, but in the process he received four wounds. In 1794 Desfourneaux and his army seized the fort of Crête Sale but in June they lost Port-au-Prince. That August he returned to France and then in December he was again promoted, this time to général de division.
Desfourneaux's next assignment was to return to Saint-Domingue and serve under General Lavaux. Unfortunately he was unable to make it there and his ship was forced to stop at the United States for supplies. After giving up on reaching Saint-Domingue, Desfourneaux returned to Brest in France. In March of 1796 he set out again on the frigate La Méduse and this time he successfully reached his destination, disembarking in May. That June he was sent to the Windward Isles to inspect the troops and then in 1797 he was named commander at Port-au-Prince and then governor. In September of 1797 Desfourneaux left Saint-Domingue to improve his health and he arrived at Rochefort in France in January of 1798. Five months later in June of 1798 he was named a special representative of the government to Guadeloupe and he arrived there in November. In 1799 Desfourneaux returned to France where he was ordered to organize the depot of the isle of Ré.
In the year 1800, Desfourneaux was made available to the Minister of Marine and he was given command of the reinforcements formed to help French troops in Egypt. Setting sail in February of 1801, he and his force were intercepted by the British in the Strait of Gibraltar. A naval battle commenced and Desfourneaux was wounded in the hip during the fighting, with he and his men taken prisoner. However, before long he was released by the British on parole and he returned to France. That October Desfourneaux was ordered to take an expeditionary corps to Saint-Domingue and he arrived at Cap Français in February of 1802. In March Desfourneaux led his men and seized Gonaïves, forced General Morpas to surrender, and then defeated Toussaint Louverture at Piacenza. Shortly thereafter he fell quite ill and was sent to the Spanish part of the island, and in August General Leclerc ordered Desfourneaux to return to France for his health.
Desfourneaux retired from the army in 1803 but his military career wasn't quite finished. In 1808 he was named a Knight of the Empire and in 1811 he was elected a deputy of Yonne to the Corps Législatif, a position he would hold until 1815. Desfourneaux was named a Baron of the Empire in 1813 and after Napoleon's abdication in 1814 the restored Bourbons gave him the Grand Cordon of the Legion of Honor. During the Hundred Days of 1815 when Napoleon resumed power, Desfourneaux served in the chamber as a representative of Joigny. That June he was ordered to command part of the defense of Paris and then in August he was put on non-activity.

Bibliography
Updated September 2015
© Nathan D. Jensen