Doctor Nicolas-René Dufriche Desgenettes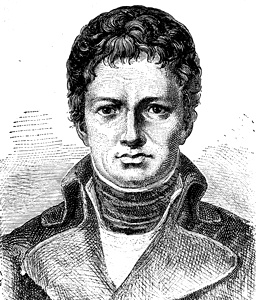 Chief Doctor and Director of Military Hospitals of the French Army
---
Born: May 23, 1762

Place of Birth: Alençon, Orne, France

Died: February 3, 1837

Place of Death: Paris, France

Arc de Triomphe: DESGENETTES on the south pillar
Of noble birth, Nicolas-René-Dufriches Desgenettes initially studied Latin and French literature, receiving a Master of Arts. He traveled frequently through Europe and then gained an interest in medicine and surgery and began to study those sciences. Desgenettes defended his medical thesis at Montpellier in 1789 and then decided to join the army as a doctor. Due to his fluent Italian, he joined the Army of Italy where he would remain for a number of years.
In 1796 General Napoleon Bonaparte arrived to take command of the Army of Italy. Desgenettes then met Napoleon and impressed him with his intelligence and knowledge of culture. When Napoleon decided to partake in the expedition to Egypt, he named Desgenettes as the Chief Doctor of the expedition. Desgenettes served on the campaign in this capacity, but despite his knowledge and sanitary precautions he could not prevent an epidemic of the plague from infecting the army at Jaffa and Acre. To give confidence to the soldiers he plunged a lancette of pus of the plague into his arm, though Doctor Larrey claimed that Desgenettes faked it, and Desgenettes later denied the incident.
In 1802 Desgenettes finally returned to France where he was employed at the military hospital Val-de-Grâce and named Director of the Service of Health and Medicine of the Armies. He took part in many of the campaigns of the Empire, helping to improve the care of the soldiers, and in 1810 he was made a Baron of the Empire.
In 1812 Desgenettes participated in the campaign into Russia but he was then captured during the retreat. When Tsar Alexander learned of Desgenettes' capture, he freed Desgenettes due to the care that Desgenettes had provided Russian soldiers throughout the years. Desgenettes was given a Russian guard that escorted him to the French advance posts to ensure that he safely rejoined the French.
For the campaign in Germany of 1813, Desgenettes was appointed the Chief Doctor of the Grande Armée. However, that year after the Battle of Leipzig he was serving in Torgau when that city was blockaded. When the city was captured, Desgenettes was taken prisoner and was not allowed to return to France until after Napoleon's abdication in 1814.
When Napoleon returned from exile in 1815 for the Hundred Days, Desgenettes rallied to him. Napoleon appointed Desgenettes as Chief Doctor of the Imperial Guard, and Desgenettes served at the Battle of Waterloo. After Napoleon's second abdication, the Bourbons did not retaliate against Desgenettes, considering his talents too valuable and honor above reproach, and therefore they retained him in his position at the Val-de-Grâce hospital.

Bibliography
Updated August 2014
© Nathan D. Jensen