General Jean-Henri-Becays Ferrand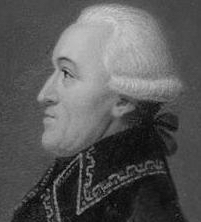 Général de division who led the defense of Valenciennes in 1793
---
Born: September 10, 1736

Place of Birth: Lacaussade, Lot-et-Garonne, France

Died: November 28, 1805

Place of Death: La Planchette, France


Pronunciation:
Born into a noble family, Jean-Henri-Becays Ferrand first joined the army as a lieutenant in the infantry regiment of Normandy at the young age of ten. In 1747 and 1748 he saw action at Lawfeld, Berg op Zoom, Lillo, and Maestricht. Ferrand next saw action during the Seven Years War, receiving a promotion to capitaine in 1755 and then being wounded in 1760 at Clostercamp. After the conclusion of that war, Ferrand stayed with the army and in 1773 he was appointed major of Valenciennes.
Ferrand was still serving at Valenciennes at the outbreak of the Revolution in 1789. Two years later in 1791 he was appointed colonel of the National Guard of Valenciennes, and then in August of 1792 he was named commander of Valenciennes. Later that month General Dumouriez promoted Ferrand to maréchal de camp and took him with him to the Army of the North. Ferrand seized Saint-Amand in September and then commanded the left wing at Jemappes in November.
In March of 1793 General Ferrand was named commander at Valenciennes again and then two months later he was promoted to général de division. Ferrand set out to direct the defense of Valenciennes, keeping the city out of the hands of the Austrian forces. He was finally forced to surrender the city at the end of July and he was taken prisoner. However, he was immediately released on the condition that he not fight against the coalition forces, and he agreed. Due to Ferrand's noble birth, he was arrested the following month in August of 1793 but he managed to survive the Reign of Terror, being freed in 1794 after the Thermidorian Reaction brought down Robespierre. Ferrand eventually retired from the army and later served as a prefect.
Please see the Appendix about the name FERRAND on the Arc de Triomphe.

Bibliography
Updated March 2015
© Nathan D. Jensen