General Charles-Louis-Joseph de Gau de Frégeville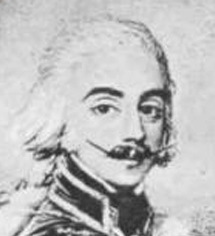 Noble cavalry officer of the early Revolution and friend to Lucien Bonaparte
---
Born: November 1, 1762

Place of Birth: Teillet, Tarn, France

Died: April 4, 1841

Place of Death: Paris, France

Arc de Triomphe: FREGEVILLE on the west pillar
Pronunciation:
Born into a noble family, Charles-Louis-Joseph de Gau de Frégeville officially began his military career by obtaining the rank of sous-lieutenant in the Condé Dragoons in 1779. He served on the coasts of Brittany with his regiment and then received a promotion to capitaine in 1781. Over the next few years he visited Prussia and Germany to expand upon his military knowledge.
After the arrival of the Revolution, in 1790 Frégeville was appointed commander of the mounted National Guard of Montpellier. During the forthcoming tumult, he repressed the troubles at Nîmes and Beaucaire. In January of 1792 Frégeville was named a capitaine in the 3rd Chasseurs à Cheval and then in April he was appointed a lieutenant colonel in the 2nd Hussars. His colonel planned to defect to the enemy and tried to convince the noble Frégeville to join him, but Frégeville refused. Assigned to the Army of the Center, Frégeville was promoted to colonel of the 1st Hussars a week before the Battle of Valmy and then went on to serve at Valmy. The next month he took command of the 2nd Hussars and then in November he served under General Dumouriez at the Battle of Jemappes .
In March of 1793 Frégeville served at Hal, Brussels, Tirlemont, and Neerwinden . Next he was called to Paris and then in May he was promoted to général de brigade. Frégeville was sent to the Army of the Eastern Pyrenees to take command of the advance guard. Now fighting the Spanish, he was overcome at Corbère in August and then in September he fought at Orles where he was taken prisoner.
Frégeville remained a prisoner of war until November of 1795 after peace had been signed between France and Spain. He retired to Montpellier where he later helped to quell an uprising. In 1797 and 1798 Frégeville served in the 9th military division and then in 1799 he was elected a deputy of Hérault to the Council of 500. Involved in politics, Frégeville became a friend of Lucien Bonaparte and supported Napoleon Bonaparte's coup of 18 Brumaire. The day after the coup, Frégeville and two colleagues escorted Lucien Bonaparte to safety when it appeared that violence might break out. At the end of the year he was named a deputy of Hérault in the Corps Législatif.
In March of 1800 Frégeville was promoted to général de division and he then began to organize regiments to be sent to Italy. That November he was employed as inspector general of cavalry of the Army of Italy, and then in December he served at the crossing of the Mincio. The next year Frégeville was named commander of the 9th military division at Montpellier.
In 1804 Frégeville was named a Commander of the Legion of Honor, and then when war broke out in 1805 he took command of a cuirassier division in the Army of Italy. In February of 1806 he was named commander-in-chief of the cavalry of the Army of Naples, and he led his cavalry in seizing Civitella del Tronto. Afterwards he was appointed governor of Pouille until March of 1807 when he was sent to the Grande Armée for allegedly abusing his power. Frégeville's friendship with Lucien Bonaparte may have further hurt his career, as Lucien was openly defying his brother Napoleon's orders, and Frégeville would not hold a command under Napoleon after September of 1807.
After Napoleon's abdication in 1814, the restored Bourbons named Frégeville a Knight of Saint Louis and a Grand Officer of the Legion of Honor. When Napoleon returned from exile in 1815 for the Hundred Days, Frégeville was ordered to inspect the 15th Chasseurs à Cheval. Next he was given command of the cavalry in the Eastern Pyrenees, and after Napoleon abdicated again he refused to resign his command, instead being forcibly retired again.

Bibliography
Updated January 2017
© Nathan D. Jensen