General Alphonse Louis Gentil de Saint-Alphonse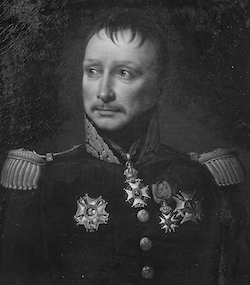 Aide-de-camp to Bernadotte who later served as a chief of staff and cavalry general
---
Born: December 6, 1777

Place of Birth: Versailles, Yvelines, France

Died: August 7, 1837

Place of Death: Toulouse, France

Arc de Triomphe: GENTIL S

T

ALP

SE

on the east pillar
Pronunciation:
The son of a prominent valet, Alphonse Louis Gentil de Saint-Alphonse first joined the army in July of 1799 when he joined the 3rd Hussars. He served with the Army of the Rhine and then towards the end of 1802 he was attached to the staff sent to Louisiana. Gentil de Saint-Alphonse was commissioned as a sous-lieutenant in January of 1803 and in March he was employed in the staff of Tobago. Another promotion followed for he was promoted to lieutenant in July and then in October he joined the 12th Cavalry. In 1804 Gentil de Saint-Alphonse joined the 4th Hussars and the Army of Hanover.
When the Grande Armée marched to war in late August of 1805, Gentil de Saint-Alphonse served with Marshal Bernadotte's I Corps. In March of 1806 he became an aide-de-camp to Bernadotte. Continuing to serve, in early 1807 Gentil de Saint-Alphonse was wounded by a shot at Mohrungen and then he was promoted to capitaine a few weeks later. He served in Germany in 1809 and in 1810 he was promoted to chef d'escadrons. In 1811 Gentil de Saint-Alphonse joined the staff of Marshal Murat the King of Naples before joining the 6th Hussars in Italy. For the 1812 campaign against Russia, he served as chief of staff of the 2nd Light Cavalry Division in II Cavalry Corps.
Having survived the retreat from Russia, in April of 1813 Gentil de Saint-Alphonse was named chief of staff of II Corps. He served on the campaign in Saxony and in September he became chief of staff of Marshal Macdonald's XI Corps. In late December Gentil de Saint-Alphonse was sent to Italy where he took command of the 2nd Brigade of Mermet's cavalry division in February. The restored Bourbons named him a Knight of Saint Louis and he did not serve during the Hundred Days in 1815. Later Gentil de Saint-Alphonse continued to lead a successful career.

Bibliography
Updated February 2021
© Nathan D. Jensen