Colonel Joseph Higonet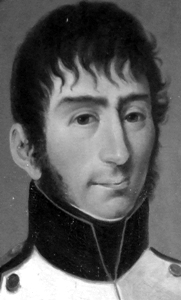 Colonel of the 108th of the Line who was killed at Auerstadt
---
Born: December 11, 1771

Place of Birth: Saint-Geniez d'Olt, Aveyron, France

Died: October 14, 1806

Cause of Death: Killed in action

Place of Death: Auerstadt, Germany

Arc de Triomphe: HIGONET on the east pillar
Joseph Higonet first joined the military when he like many others volunteered during the Revolution. In July of 1792 he volunteered and was named a capitaine with the 2nd Battalion of Volunteers of Aveyron. Immediately sent to the Army of the Alps, the next year he fought at the Siege of Toulon where he was wounded by a shot to the left shoulder. In 1796 Higonet commanded a demi-brigade of line infantry and took part in the campaign in Italy that year under General Bonaparte. He distinguished himself at the Battle of Rivoli in 1797 when he and his company seized three enemy cannons.
Captain Higonet joined the 85th Ligne and went with them on the expedition to Egypt. Higonet again distinguished himself, this time at the Battle of the Pyramids . In 1799 he fought at El-Arisch where he received a shot to the face. The next year Higonet fought at Heliopolis where he sprung upon a battery but was wounded by a pistol shot to the head. Later that year he was at Cairo when the population revolted, and afterwards he was promoted to chef de bataillon. In March of 1801 Higonet fought at Canope where he was again wounded, this time by a shot to the left hand.
Once back in France, Higonet was employed in various military divisions until 1804 when he joined the Grenadiers à Pied of the Consular Guard. That year he was also named a Commander of the Legion of Honor and then promoted to colonel and given command of the 108th Ligne. In 1805 Colonel Higonet led his regiment throughout the campaign in Austria and notably distinguished himself that November at the bridge of Marienzell. He fought at Austerlitz that year, and the next year he was leading his men in battle when he was killed at Auerstadt.

Bibliography
Updated August 2016
© Nathan D. Jensen