General Amédée-Emmanuel-François Laharpe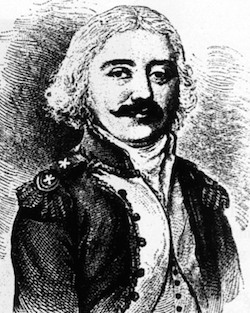 Swiss born général de division who was killed at Codogno
---
Born: October 17, 1754

Place of Birth: Rolle, Switzerland

Died: May 8, 1796

Cause of Death: Killed in action

Place of Death: Codogno, Italy

Arc de Triomphe: LAHARPE on the south pillar
Originally from Switzerland, Laharpe, sometimes spelled La Harpe, gained valuable military experience in a Swiss regiment in the service of Holland. After returning to Switzerland, in 1781 he became of captain of fusiliers at Morges and then later that year became a captain of grenadiers. Sometime in the next ten years, he was proscribed and fled to France to escape punishment.
As the French Revolution got underway, Laharpe was elected a lieutenant colonel of the 4th Batallion of Seine-et-Oise in October of 1791. In 1792 he was in charge of Bitche, and then at the start of 1793 he joined the 35th Infantry Regiment. Laharpe spent 1793 with the Army of the Alps and then taking part in the Siege of Toulon . Towards the end of the siege, Laharpe received a promotion to chef de brigade, and within a few days he received a second promotion to général de brigade under Masséna.
In September of 1794 General Laharpe fought at Cairo and then occupied Vado. The next year he fought at the combat of Vado, and then in August he received a promotion to général de division. Commanding the 1st Division of the advance guard under General Masséna, Laharpe led his men into action at Loano in November. In April of 1796, with the new General Bonaparte leading the way, he took part in the victories of Montenotte and Millesimo , but his career was soon to be cut short.
On the 8th of May, Laharpe and his men captured the city of Codogno. That evening as he ate dinner with his staff, they learned of an Austrian force advancing through the town. Laharpe and his staff rushed outside to investigate, and after the Austrian force was found and captured, his staff realized their general was not with them. A hurried search of the area found his body, with one shot having killed him. Due to the confusion and limited visibility during the night, it was impossible to ascertain whether he was killed by enemy or friendly fire.1
Notes
Bibliography
Updated February 2014
© Nathan D. Jensen