General Jean Jacques Bernardin Colaud de La Salcette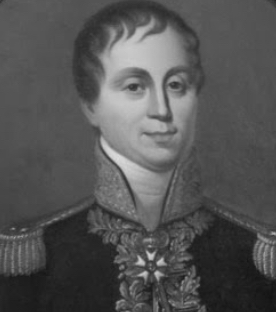 General in Italy in 1796 and commander of Preveza from 1797-1798 until the Ottomans took the area by force
---
Born: December 27, 1759

Place of Birth: Grenoble, Isère, France

Died: September 3, 1834

Place of Death: Grenoble, France

Arc de Triomphe: LASALCETTE on the south pillar
Pronunciation:
The son of a lawyer in the parlement of Grenoble, Jean Jacques Bernadin Colaud de La Salcette entered the army in 1775. Ten years later he was promoted to lieutenant and then in 1791 he was promoted to capitaine. In 1791 La Salcette traveled to the Antilles as an aide-de-camp to Béhague and by 1792 he had returned to France where he became an aide-de-camp to Théodore de Lameth. Serving with the Army of the North, in March of 1793 La Salcette became an aide-de-camp to Menou and he was then promoted to chef de bataillon and reassigned to the Army of Italy. Later that year he fought at the combats of June 8th and June 12th and in September he resigned from his position due to being a noble.
In 1795 La Salcette was reintegrated into the army and promoted to chef de brigade on the same day. Sent to join Sérurier's division in the Army of Italy, he was promoted to général de brigade in October. At the end of March of 1796 as General Bonaparte took command of the army, La Salcette was placed with the staff of the army. In this position he served with a number of divisions at a number of actions. La Salcette served at Dego , Cheraso, the Siege of Mantua , Saint-Antoine, and Saint-Georges. In March of 1797 he was named commander at Milan and later that year he briefly commanded at Brescia and Ancona. That November La Salcette was sent to Corfu which had been ceded to France by the terms of the Treaty of Campo Formio. La Salcette was named governor of Zante and commander of the départements of Ithaque and Mer Egée. In 1798 the Ottoman Empire attacked and La Salcette defended Preveza before being wounded and taken prisoner at the combat of Nicopolis on October 23rd. Sent to Albania, he was held until March of 1801 when he was exchanged. After returning to France, La Salcette was put on non-activity.
In 1802 La Salcette was reemployed to serve in the 7th military division as commander of the département of Isère. Two years later in 1804 he was named a Commander of the Legion of Honor. In 1805 La Salcette served as chief of staff of the Reserve Corps under Marshal Kellermann and then at the end of 1806 he became governor of Hanover. Four years later in 1810 he was appointed commander at Rome in the 30th military division and then in 1811 he was named a Baron of the Empire. In 1814 when Marshal Murat the King of Naples turned against Napoleon and France, La Salcette evacuated Civita Vecchia thanks to an agreement between Murat and Fouché. In 1815 when Napoleon resumed power for the Hundred Days he appointed La Salcette as commander of the 7th military division at Grenoble. La Salcette lost his position when the Bourbons were restored to the throne.

Bibliography
Updated June 2020
© Nathan D. Jensen