Marshal Jean Mathieu Philibert Sérurier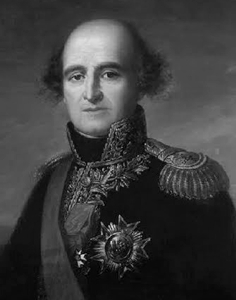 One of Napoleon's divisional generals in Italy in 1796 who later became a Marshal of France
---
Born: December 8, 1742

Place of Birth: Laon, Aisne, France

Died: December 21, 1819

Place of Death: Paris, France

Arc de Triomphe: SERURIER on the south pillar
Pronunciation:
The son of a mole catcher and minor noble, Jean-Mathieu-Philibert Sérurier was only thirteen when his father purchased a commission as a lieutenant for him in the militia of Laon. Serving during the Seven Years War, Sérurier served in Germany and fought at Warburg in 1760 where his jaw was broken by a shot. He went on to serve in the expedition to Portugal in 1762 and then after the war became an infantry instructor.
In 1770 Sérurier was sent to Corsica to command a detachment of chasseurs. After returning to France in 1774, it would be four more years before he was finally promoted to capitaine. Finally earning enough money, he married a woman from Laon, Louise Marie Itasse, in 1779. Two years later he became a Knight of Saint Louis. Over the years Sérurier gained a reputation for being an honest man who did his duty, but his lack of money and distinguished birth held him back from further advancement.
In 1789 just before the Revolution began, Sérurier was appointed a major in the infantry regiment of Médoc. In 1791 he was appointed lieutenant colonel of this regiment and he traveled with them to Perpignan where they were garrisoned. While there, his soldiers revolted, seizing the flags and money of the regiment, but Sérurier defused the situation. Next he and his regiment were sent to the Army of the Var where they served against Saillant and the insurgents of Ardèche. In August of 1792 Sérurier was promoted to colonel of the 70th Ligne and he went to the camp of Tournoux.
Denounced as a royalist, Sérurier was stripped of his command arrested in October of 1792. However, Paul Barras intervened and got Sérurier released and reintegrated in his rank in January of 1793. Now free, Sérurier went to Nice and then distinguished himself at the combat of Utelle. That May he seized Isola, and then the next month he was promoted to général de brigade and named commander at Utelle. In 1794 Sérurier was promoted to général de division, and then in April of 1795 he took command of a division of the Army of Italy. That summer Sérurier directed the defense of the pass of Terme and then won at Saint-Martin de Lantosque before contributing to the victory at Loano in November.
1796 saw the much younger General Bonaparte arrive to take command of the Army of Italy. Sérurier, as commander of the 2nd Division, gave Bonaparte his respect and stability. As Bonaparte launched an offensive that April, Sérurier and his men seized Ceva, failed in the attack on Saint-Michel, but then defeated the Piedmontese at Mondovi . Following up this success, Sérurier seized Fossano. Continuing to lead his men in the campaign, he fought at Borghetto at the end of May before being designated to command the Siege of Mantua . Sérurier commanded the siege until August 1st when Bonaparte ordered him to lift the siege and march his troops to help fight off the relief forces. Sérurier fell ill to malaria and handed his command over to General Fiorella who led them into battle with distinction. Sérurier instead went to Livorno to recover until December of that year when he was well enough to again take command of the siege of Mantua. In January of 1797 he distinguished himself against Provera at La Favorite, and then on February 2nd he accepted the surrender of Mantua. Over the course of the campaign his soldiers had nicknamed him the "Virgin of Italy" for his upright and honest ways.
General Sérurier resumed command of a division in the Army of Italy, and then in March served at the combats of the Piave and the Tagliamento, and then at Gradisca. Falling ill again, he handed off his command and then in June was sent by General Bonaparte to take 22 captured enemy flags to the Directory. Once his mission was complete, Sérurier returned to the Army of Italy and then became governor of Venice. In 1798 he took command of the the troops in the Cisalpine and then became infantry inspector general of the interior.
With a new campaign brewing in Italy in 1799, Sérurier was ordered to command a division there again. He distinguished himself at Pastrengo before being repulsed before Verona. After serving at Magnano in April, he fought at Verderio against Suvarov but was forced to surrender after his men ran out of ammunition. Suvarov treated Sérurier well and released him on parole and Sérurier returned in Paris.
When Napoleon returned from Egypt, Sérurier took part in the coup d'état that brought Napoleon to power by commanding the reserve at the Pont du Jour. Napoleon named Sérurier to the Senate and allowed him to retire from the military. In 1803 Sérurier headed up the commission tasked to determine the borders between France and Piedmont, and in 1805 he was appointed Governor of Les Invalides. More honors followed for Sérurier was created a Marshal of the Empire and given the Grand Eagle of the Legion of Honor and Grand Cordon of the Iron Crown.
In 1808 Sérurier was created a Count of the Empire, and in 1809 he was named commander general of the National Guard of Paris. 1811 saw Sérurier leading the council that was investigating the reasons for General Decaen's surrender of Île de France to the British.
In 1814 as the Allies closed in on Paris, Marshal Sérurier ordered the destruction and burning of the 1417 flags taken from enemy armies over the years that were stored at Les Invalides. He also personally destroyed the sword and sash of Frederick the Great to prevent the Prussians from retaking them. The returning Bourbons made Sérurier a Peer of France, but after the Hundred Days and Napoleon's second abdication, they removed him from his post as Governor of Les Invalides and put him on non-activity. As a Peer of France, Sérurier was present at the trial of Marshal Ney and voted for death at the trial.

Bibliography
Related Pages:
External Links:
Updated May 2019
© Nathan D. Jensen